Tony Gravely knows how his next opponent Saimon Oliveira must be feeling, on the eve of his big UFC debut.
The two bantamweights are due to face off at UFC 270 on Jan. 22. It will be Oliveira's first dance in the promotion after fighting in the Contender Series last year. It's the same route that Gravely, 30, took before his first UFC bout two years ago.
"I know he's excited and I know what those emotions are like getting into the UFC," Gravely told The AllStar. "I still have those emotions. But I'm looking to spoil that debut."
In Oliveira, Gravely fights a 30-year-old Brazilian who's on a five-fight win streak, with a finish rate of 89%, according to data compiled by The AllStar.
"He's a tough guy. That's why I'm here to fight the best," Gravely said. "He seems to like standup a lot but he's also a pretty good grappler too. I don't think he's that good off his back which plays into my favor. I like being on top.
"But it should be a good fight. I expect him to be tough. I expect him to fight from beginning to end. He's a scrapper and he doesn't quit. Fights like that really make me excited because I picture myself being the same way. So I don't think we're going to have any trouble finding each other in the middle."
Lessons learned
The American will take some lessons from his last fight – a loss to Nate Maness – into his upcoming encounter. In particular, not getting overconfident when things are going your way.
"You get so close to finishing a fight and then the next round I think I kind of lost focus of the way I got to that moment. [In the first round] I took my time, I didn't load up on punches, I attacked his legs, I attacked his body, and I kept working up. I just kinda threw that out the window in the second round. The whole time I just wanted to hit him with the big shot which realistically I should've continued to do what got me to that point in the first place.
"I think that's a learning experience. That takes some time and some maturity in that level to understand that a fight isn't over until it's over. You can be as confident as you want with the way you approach it but until it's over anything can happen."
---
Fighter profile
Tony Gravely is a 30 year old male fighter from the United States with 21 pro wins and 7 losses. Gravely is scheduled to fight Saimon Oliveira at UFC 270: N'Gannou vs. Gane on Saturday January 22, 2022.
Recent form coming into this matchup
Gravely has gone 3-2 in the last 5 professional MMA fights.
Tony Gravely's next opponent: Saimon Oliveira
Saimon Oliveira's recent form coming into this matchup
Saimon Oliveira is a 30 year old male fighter from Brazil with 18 pro wins and 3 losses. Oliveira is scheduled to fight Tony Gravely at UFC 270: N'Gannou vs. Gane on Saturday January 22, 2022.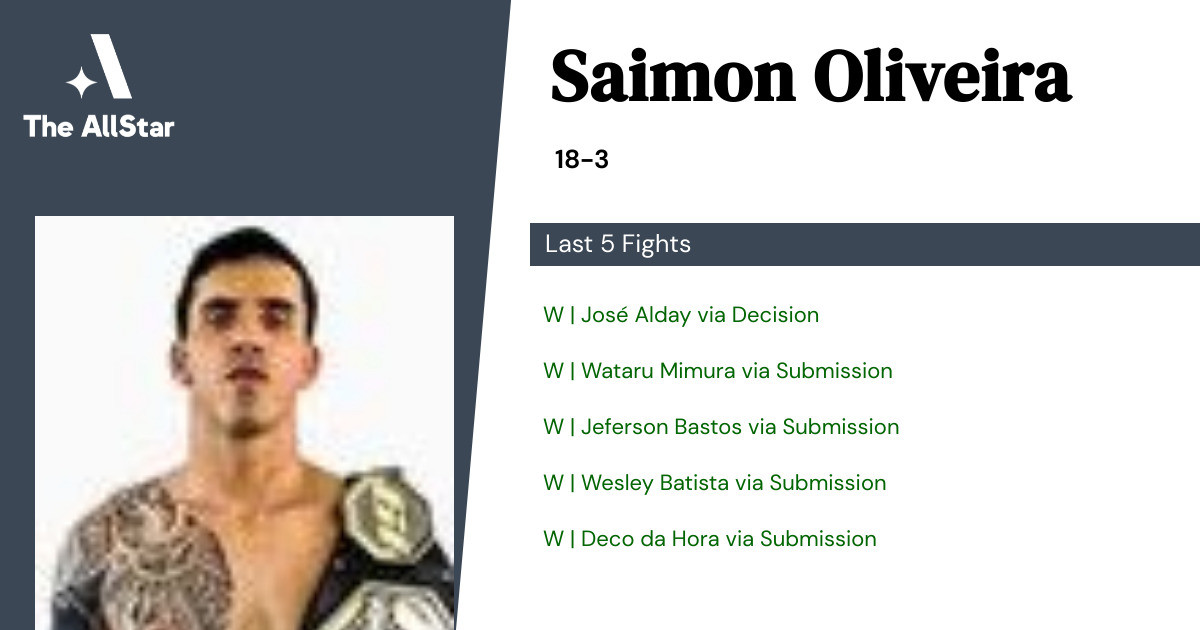 Oliveira has gone 5-0 in the last 5 professional MMA fights.
Win vs José Alday • Decision R3 5:00 • 2021-09-07
Win vs Wataru Mimura • Submission R1 1:14 • 2019-12-08
Win vs Jeferson Bastos • Submission R1 1:22 • 2019-07-20
Win vs Wesley Batista • Submission R1 2:06 • 2018-09-14
Win vs Deco da Hora • Submission R1 4:45 • 2018-09-14
How to watch and bet on Tony Gravely vs Saimon Oliveira
Keep track of all the latest odds and line-movements at our bout page for this matchup.