Jamie Mullarkey is set for battle against a fellow heavy-handed lightweight in Jalin Turner at UFC 272. Coming off of back-to-back knockout wins in 2021, Mullarkey is riding a wave of confidence heading into the prelim showcase bout.
After a rough start in the promotion with consecutive losses in his first two appearances, the 27-year-old Australian managed to correct course with a knockout over Khama Worthy in March, and another in October against Devonte Smith; he attributes this turn-around inside the cage to becoming more familiar with the UFC process.
"I think going into that third fight against Khama Worthy… I was just a little bit more familiar with how the UFC worked… Going into that fight week, I'd been through it all twice before, so I was just a bit more familiar with things," Mullarkey told The AllStar.
Mullarkey went on to say that he felt he had to "put a stamp" on his most recent win over Smith, with that being the last fight on his previous contract; the victory that night earning him a new multi-fight deal with the promotion.
While that newfound comfortability certainly helps come fight night, the work he puts in at both Central Coast MMA and Freestyle MMA he claims has helped him evolve as an all-around fighter.
This is his third full training camp at Freestyle, on top of the time he spent there in 2019 helping current UFC featherweight champion Alexander Volkanovski prepare for his bout against Max Holloway. Mullarkey praised the old school work ethic of the gym, and their willingness to evolve with the game.
"Joe's [Lopez] unreal," Mullarkey said. "He's a world championship coach… he's a tough trainer, and he's got a lot of good things to show… that's what it's about. You've gotta go different places, experience different things… Everyone's got something new to show you. So I'm really enjoying the training that I'm getting in with the likes of Alex Volkanovski, Colby Thicknesse, Joe, and all the boys down at freestyle."
Interestingly, Mullarkey and Turner were scheduled to fight in early 2020, however, an injury forced the Australian to withdraw from the fight, being replaced by fellow Aussie and regular sparring partner Josh Culibao.
"Me and Jalin have actually been circling each other for the last couple of years now… I was supposed to fight him in 2020… I've wanted this fight for a while, and two years later we've gone full circle and we're gonna get in and put on a show."
Though Culibao didn't get his hand raised in that 2020 bout, Mullarkey notes "it's good to get some rounds in" with a training partner that's been in the cage with Turner and has that experience under their belt. Though even with that insider knowledge through the fight camp, "The Hooligan" believes he could be in for a "tricky first round", but ultimately sees himself with another knockout win on his record.
"I think once I get in there, get in Jalin's face and let him know that I'm gonna control the fight, I'm gonna dictate the pace of the fight… it's gonna go my way. I see a late stoppage coming," Mullarkey revealed.
As both men seek to establish themselves from the unranked masses of the lightweight division, it seems this bout may be the catalyst that propels the victor toward a ranked opponent, and ever closer to the top of the ladder.
"I think this is a really big fight for both of us and I'm looking to make an account [of myself]," Mullarkey said. "I didn't come all this way for nothing… I'm sure Jalin's the exact same. We're both standing in each other's way of that top 20, top 15, so let's do it."
---
Fighter profile
Jamie Mullarkey is a 27 year old male fighter from Australia with 14 pro wins and 4 losses. Mullarkey is scheduled to fight Jalin Turner at UFC 272: Covington vs. Masvidal on Saturday March 5, 2022.
Jamie Mullarkey's recent form coming into this matchup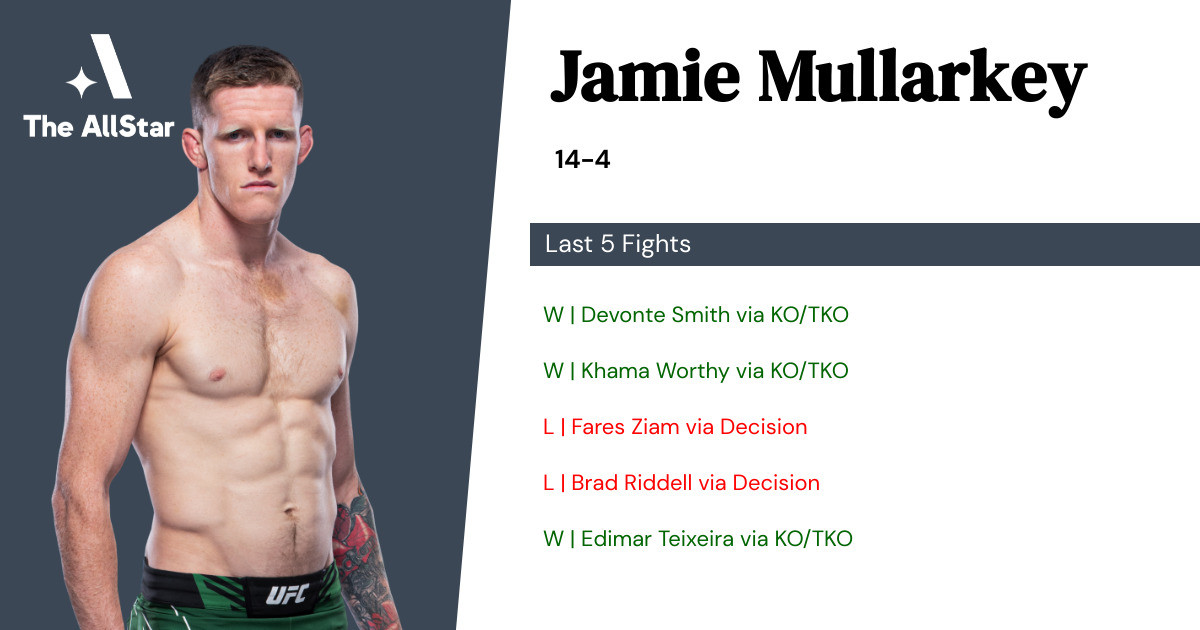 Jamie Mullarkey has gone 3-2 in the last 5 professional MMA fights.
Win vs Devonte Smith • KO/TKO R2 2:51 • 2021-10-02
Win vs Khama Worthy • KO/TKO R1 0:46 • 2021-03-27
Loss vs Fares Ziam • Decision R3 5:00 • 2020-10-17
Loss vs Brad Riddell • Decision R3 5:00 • 2019-10-05
Win vs Edimar Teixeira • KO/TKO R2 5:00 • 2019-05-03
Jamie Mullarkey's next opponent: Jalin "The Tarantula" Turner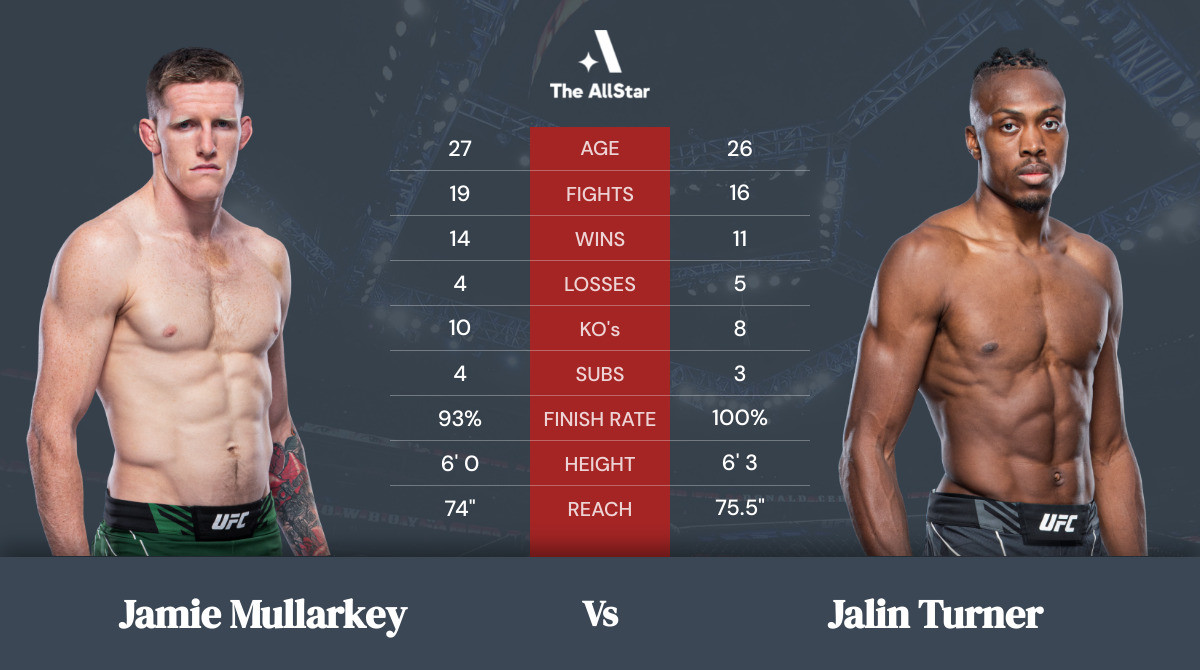 Jalin "The Tarantula" Turner's recent form coming into this matchup
Jalin "The Tarantula" Turner is a 26 year old male fighter from United States with 11 pro wins and 5 losses. Turner is scheduled to fight Jamie Mullarkey at UFC 272: Covington vs. Masvidal on Saturday March 5, 2022.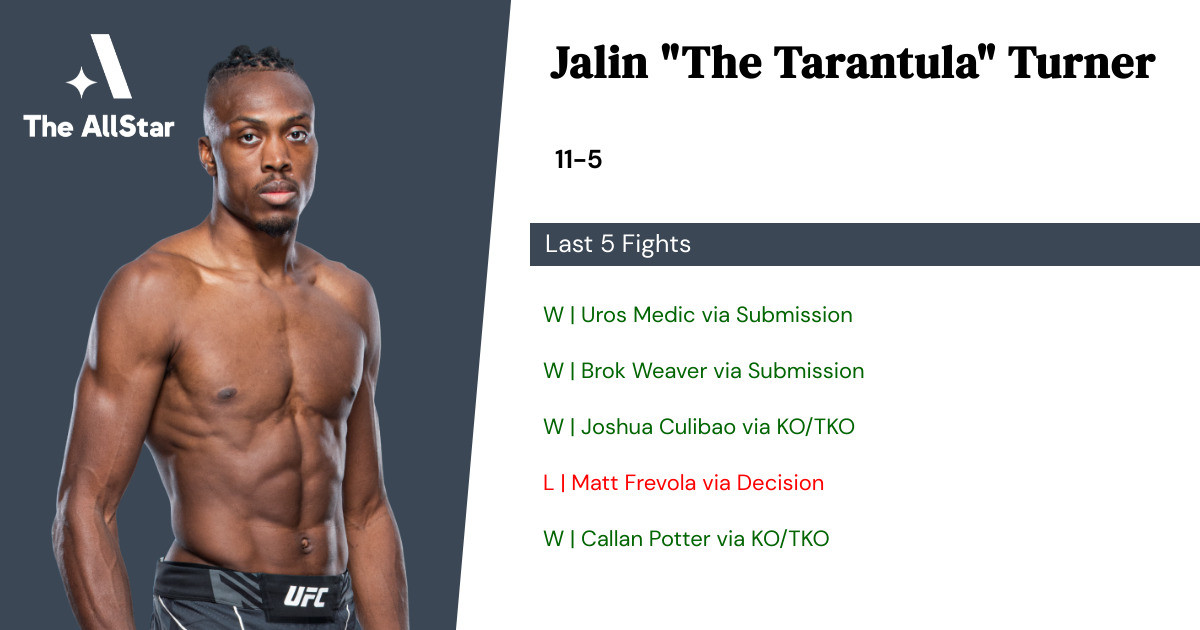 Jalin Turner has gone 4-1 in the last 5 professional MMA fights.
Win vs Uros Medic • Submission R1 4:01 • 2021-09-25
Win vs Brok Weaver • Submission R2 4:20 • 2020-09-12
Win vs Joshua Culibao • KO/TKO R2 3:01 • 2020-02-22
Loss vs Matt Frevola • Decision R3 5:00 • 2019-04-13
Win vs Callan Potter • KO/TKO R1 0:53 • 2019-02-09
How to watch and bet on Jamie Mullarkey vs Jalin Turner
Keep track of all the latest odds and line-movements at our bout page for this matchup.