Marcin Tybura is set to face Jairzinho Rozenstruik at UFC 273 in Jacksonville, Florida on April 9th. On paper, it is a classic grappler-versus-striker affair between two high-ranked heavyweights.
Tybura takes a realistic perspective into the fight against Rozenstruik acknowledging his opponent's major strength. He knows he has to be strategic when navigating the Octagon.
"I think [Rozenstruik] is very dangerous in the stand-up. I wouldn't say he's much aggressive during the fight but he's dangerous. Heavy hands from him is the biggest thing I have to deal with," Tybura told The AllStar.
"There's a good striking difference. I can't go crazy and go forward quickly. I have to wait a little bit for him. I'm not going to surprise anyone. I'm going to try to take him down and finish him there."
Between February 2020 and June 2021, Tybura was able to string together five straight wins. This is a challenge in any division in the UFC, but at heavyweight, it's a truly great feat.
Not only is the division highly competitive, but the power the athletes possess at heavyweight provides fans with a steady stream of highlight-reel knockouts. The higher you climb, the more difficult the task.
At UFC 267, he was matched up against Alexander Volkov. This opportunity proved challenging for Tybura who went the distance but lost on all three judges' scorecards.
"The thing that happened during the first round when I hit my head with his head got me a little knocked down. It caused me a little bit of trouble to recover after that. You can't make mistakes," Tybura said reflecting on his most recent defeat.
"It was tough, I don't like to lose. I worked really hard for this one…You just want to succeed. I know how much I suffered for this one, and I didn't win."
Tybura did learn about himself in the Volkov defeat and said, "I know I'm not that far from winning against the top 5."
The heavyweight title picture is very much up in the air with the current champion, Francis Ngannou, in very public contract negotiations with the UFC. It was recently disclosed that he also has an injury that may keep him out until December of this year or later.
When asked about his place in the title picture if he wins Tybura said, "Maybe, but there's lots of things going on at the top. I don't know if Francis is staying or leaving. I think I will need at least two more wins. It's a little bit harder for European fighters to get the title. The UFC is an American company and they want a challenger and champion to have a bigger name in the U.S."
With the title picture so unclear, and rumors of an interim belt being produced again. Names such as Jon Jones and Stipe Miocic are being floated and some heavyweights on the cusp of a title shot are not keen on the idea of them fighting.
Tybura, on the other hand, is focused on himself and doing what he has to in order to be recognized as a top-five contender in the division.
"You know, I'm far away from saying that something is not right or is right," Tybura said. "It's business for the UFC. I know fans have their own opinion, but if Stipe Miocic is fighting for the title I don't mind. I'm just focusing on doing enough to get my title shot. "
Fighter profile
Marcin "Tybur" Tybura is a 36 year old male fighter from Poland with 22 pro wins and 7 losses. Tybura is scheduled to fight Jairzinho Rozenstruik at UFC 273: Volkanovski vs. Korean Zombie on Saturday April 9, 2022.
Marcin Tybura's recent form coming into this matchup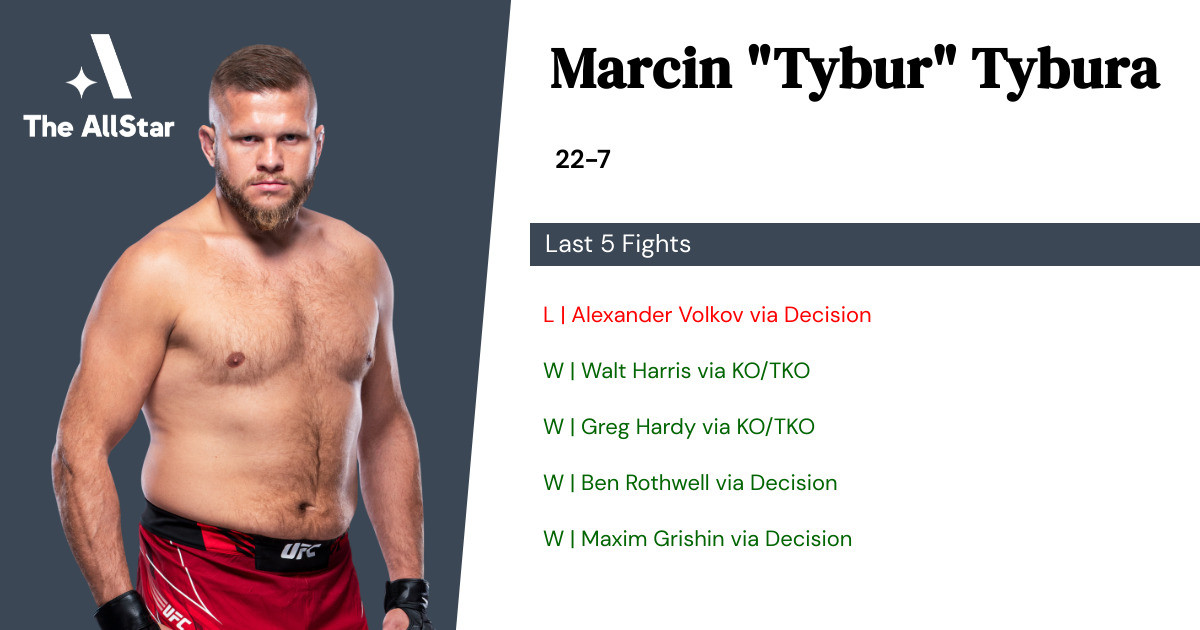 Marcin Tybura has gone 4-1 in the last 5 professional MMA fights.
Loss vs Alexander Volkov • Decision R3 5:00 • 2021-10-30
Win vs Walt Harris • KO/TKO R1 4:06 • 2021-06-05
Win vs Greg Hardy • KO/TKO R2 4:31 • 2020-12-19
Win vs Ben Rothwell • Decision R3 5:00 • 2020-10-10
Win vs Maxim Grishin • Decision R3 5:00 • 2020-07-11
Marcin Tybura's next opponent: Jairzinho "Bigi Boy" Rozenstruik
Jairzinho "Bigi Boy" Rozenstruik's recent form coming into this matchup
Jairzinho "Bigi Boy" Rozenstruik is a 33 year old male fighter from Suriname with 12 pro wins and 3 losses. Rozenstruik is scheduled to fight Marcin Tybura at UFC 273: Volkanovski vs. Korean Zombie on Saturday April 9, 2022.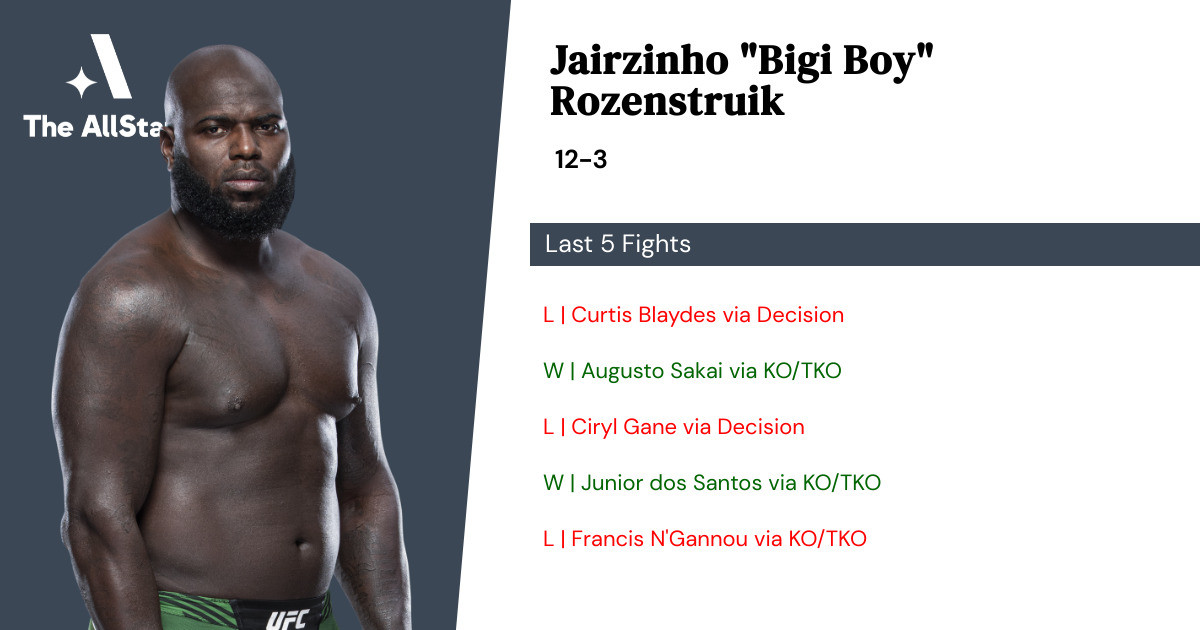 Jairzinho Rozenstruik has gone 2-3 in the last 5 professional MMA fights.
How to watch and bet on Marcin Tybura vs Jairzinho Rozenstruik