A split decision win has left UFC flyweight champion Valentina Shevchenko facing rare criticism from some MMA fans.
Her UFC 275 title defense opposite Taila Santos saw the champ taken to the ground and controlled for long periods of the fight. It was an uncommon look for Shevchenko, leading some, including one fight judge, to believe her Brazilian rival should have had her hand raised.
After the narrow victory, Shevchenko took the time to address claims that Santos was the rightful winner of their clash, and gave her account of the scoring controversy.
"She was kind-of, like, inactive," 'Bullet' told reporters at the post-fight press conference.
Striking power
"Me, even being in that position, I was striking – and I felt the power of the strikes. I felt how she reacted because it was hurting her. Through the fight, going from round to round, you could see more damage showing on her face, more and more."
"This is what counts most in MMA. Damage."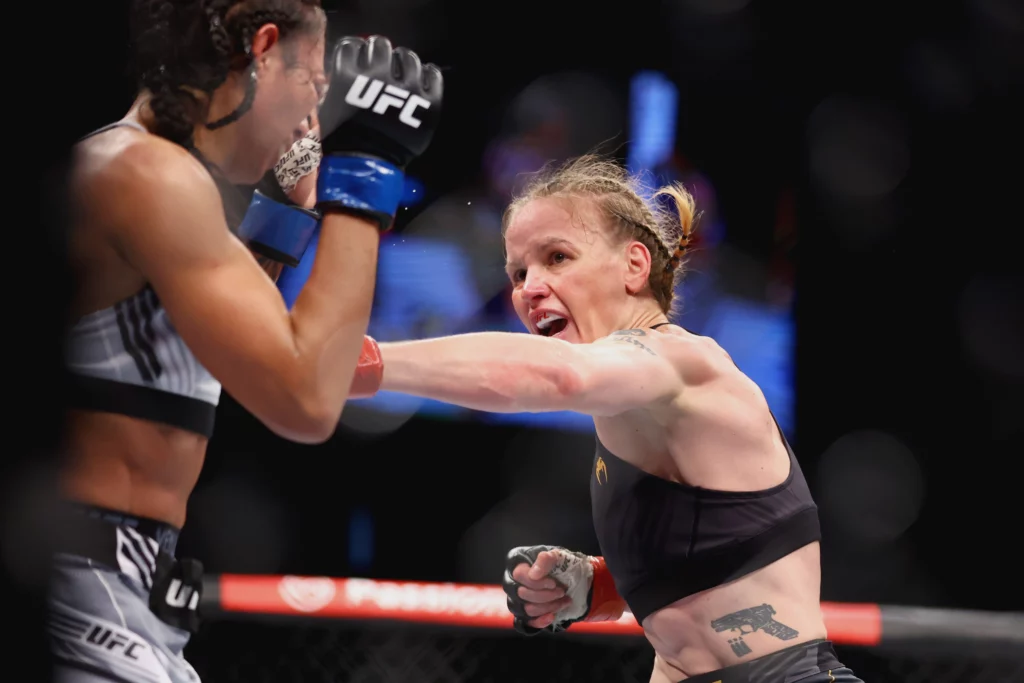 Asked whether she was worried during the fight that she was losing, the 34-year-old asserted that's not something that crosses her thoughts, and that she carries a 'champions mindset'.
"Some fighters, in between rounds, they're like 'how do you see it, who won the round?' they're asking their corners. But to avoid this situation, you have to work… You have to work every single second before the fight ends, and this is what I did."
Head clash
"If you [give] everything that you have and leave your heart and soul in the fight, you can be proud of yourself no matter what."
Adding further fuel to the drama surrounding the 125-pound title bout, an accidental clash of heads early in the fourth round caused a stop in the action and looked to do significant damage to the challenger.
Santos' brow instantly swelled as a result of the impact*. After a short break, the two flyweights carried on with the Brazilian still on shaky legs.
*Update: Santos is currently awaiting surgery for a broken orbital bone, per MMA Fighting
Shevchenko is unconvinced that the headbutt swung momentum back in her favour.
"I dont know if it was that point when she started to break down… When you feel pressure and when you feel that your opponent is not giving up and willing to fight to the end, this is what [broke her]."
Weight difference
"It's five rounds, it's 25 minutes – not just one strike. It's constantly hitting and hitting, and it's affecting how they're going into round one, into the second, into the third – and it was definitely all the strikes that [did that]."
One reason that, she believes, made the contest a more difficult outing than usual was the weight difference between Santos and herself. Though both fighters weighed in at the championship limit of 125lbs, Shevchenko claims she walked into the arena having only gained 5lbs after her weight cut, while she believes her dance partner was noticeably heavier.
"It was kind of noticeable, she was big… Coming into the arena, my weight was 130 pounds – I didn't gain almost [anything]. She looked [bigger] – maybe this is why she had a little bit more success taking the position."
The martial arts veteran is now looking past the fervor around the hotly contested match-up and focusing on future challenges. Her sights are still set on a move to bantamweight for a chance at a second belt, but Shevchenko says she has options on the table to think about before making a solid decision on what's next.
"[A bantamweight title fight] is still something that I really consider. But also I have to mention that in July we have, at flyweight, an amazing fight between… Lauren Murphy vs Miesha Tate."
"If Miesha wins the fight, I think this is what fans are gonna love to see – and [at the] end of the year, a pay-per-view main event… I think it's gonna be great."