AJ Fletcher feels an added sense of urgency to leave his UFC 278 bout against Ange Loosa victorious.
"The Ghost" is coming off the first loss of his professional mixed martial arts career. As a result, he feels as if he needs to validate his spot on the roster with a win.
"I had a good outing but I'm coming off of a loss. I'm not waiting until, you know, I have two or three losses to feel like my back is against the wall – I feel like my back is against the wall right now," Fletcher told The AllStar.
The unanimous decision loss just so happened to be on the night of his UFC debut. Fletcher made his premiere with the company against Matt Semelsberger at UFC Vegas 50 on March 12th. On the heels of his first-round flying knee finish on Dana White's Contender Series, the Louisiana native did not have the debut he was looking for.
"I wanted the storybook ending to my debut. I wanted to, you know, raise my hand and start my UFC career on the right path. But, it didn't happen that way and it doesn't happen that way for a lot of people that have successful UFC careers."
However, losing his undefeated record doesn't seem to have altered Fletcher's focus. He claimed that loss forced him to look more closely at his inefficiencies in order to grow as a fighter.
"I would say I was more disappointed in some of the decisions that I made in terms of like, technical things – I was ready to get back to the gym as soon as (I) watched the film and (saw) what (I) needed to start correcting. (That) just kept me hungry and I feel like getting to a new level (and) getting into the UFC, having some spark like that to kind of reignite that flame, it can be a blessing in disguise so I'm trying to take it as such."
"There's going to be highs and lows, and if you see a neck bro sometimes you got to jump on it if there's a minute thirty seconds, whatever it is, left in the round. You got to know those times and also know how to keep yourself safe in certain spots."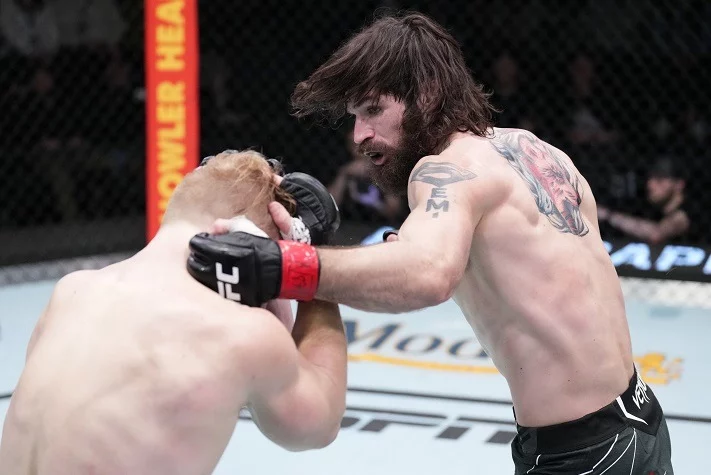 There are no easy fights in the UFC, and Fletcher's opponent Ange Loosa is no different. Loosa holds a 75% finishing rate. The Swiss fighter also dropped his UFC debut back in April. However, it was on short notice and just two weeks after his previous contest. While certainly impressed by Ange's skills, Fletcher doesn't seem fazed at all:
"Man he's good, (he's a) good tough guy – He does have a pretty good jab though but, without giving away my gameplan too much, I think he leaves a little bit- a little bit desired in some areas. I think I'll be able to take advantage of those pretty quickly. I think I get him out of there in one (round), maybe two if he's tough- Ange's tough but, I just think I find those openings early (in) this fight."
This confidence that Fletcher possesses doesn't seem to stem from a place of ignorance, however. The 25-year-old prospect mentioned that after he watched the film of his upcoming opponent's last fight, some glaring holes in Ange's game became evident to him.
"I don't want to say he's one-dimensional in the defense aspect, but I think that puzzle is going to be a lot quicker to solve than someone like Matt or even somebody like myself. I think he's good at what he does but, I think it's also kind of direct what he does."
---
Fighter profile
"The Ghost" AJ Fletcher is a 25-year-old male fighter from the United States with 9 pro wins and 1 loss. Fletcher is scheduled to fight Ange Loosa at UFC 278: Usman vs. Edwards 2 on Saturday, August 20, 2022.
AJ Fletcher's recent form coming into this matchup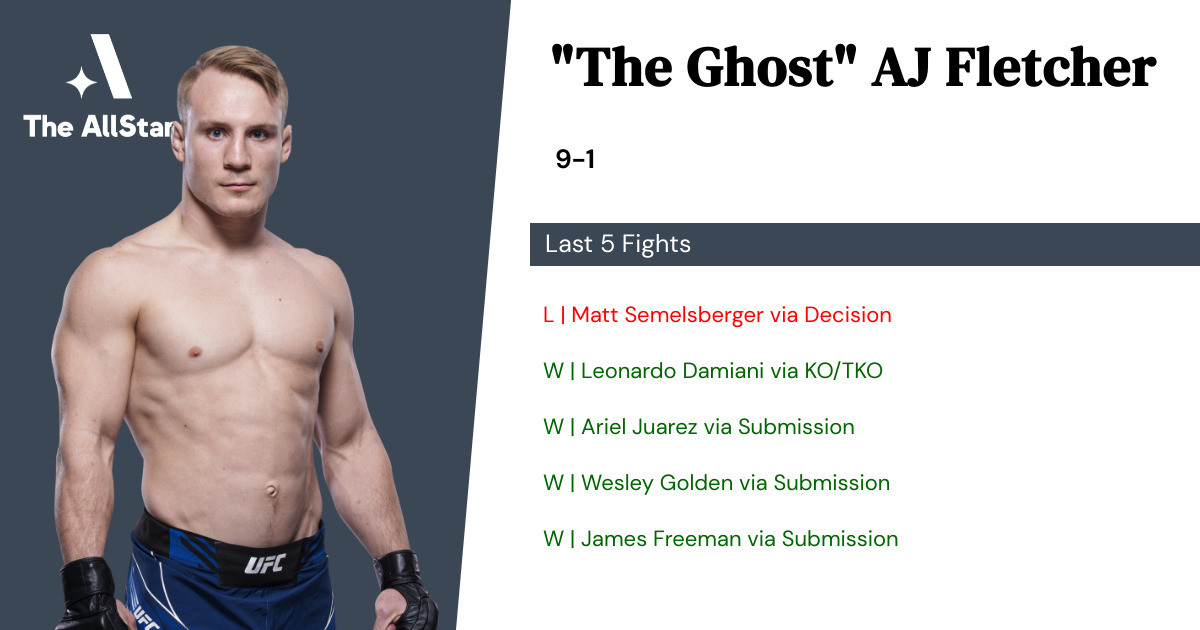 AJ Fletcher has gone 4-1 in the last 5 professional MMA fights.
Loss vs Matt Semelsberger • Decision R3 5:00 • 2022-03-12
Win vs Leonardo Damiani • KO/TKO R1 2:24 • 2021-08-31
Win vs Ariel Juarez • Submission R1 3:13 • 2021-04-23
Win vs Wesley Golden • Submission R1 1:07 • 2021-03-05
Win vs James Freeman • Submission R1 • 2020-11-07