Elise Reed lives a fast and furious lifestyle.
Not only is she a business owner, but she's an active member of the military. One week she may be off in the woods of Louisiana doing military training, and the next week she's back in New Jersey running Kickside MMA. Oh, and she's also a UFC fighter due to appear on Saturday's massive UFC 279 card.
In an interview with The AllStar, Reed spoke about the juggling act of switching between so many roles: "It's a job in itself, juggling it all. I have really good employees, really good staff, so that helps. If I'm not training for one thing, or doing one thing, I'm pretty much doing one of the other two, and 99 percent of the time I'm doing two things at once".
Elise described the art of such a lifestyle as a "dance," as one pursuit gives motivation to another. It's a way of life that she's chosen for herself, and she doesn't know another way: "I've always been busy. Even in college, I was an NCAA athlete, I was a civil engineer in a leadership position, so I don't know how to sit still. So it's better to have things to keep me busy".
As Reed puts it, the creativity of one activity sharpens her to push harder in another, and that culminates in her MMA game. While only having seven pro MMA fights, she heads into her fourth UFC appearance this Saturday against the debuting Melissa "Super Melly" Martinez.
Elise has gained experience quickly in the UFC, and she believes that the ups and downs of her time there will already set her a step ahead of her debuting opponent. Her UFC debut- a loss to Sijara Eubanks- was a "wake-up call," but one that propelled her to bite down on her mouthpiece harder and get back to work to improve.
On her matchup with Melissa Martinez, Elise said, "I love the matchup, obviously I like anybody that wants to strike, but I want to put on a show for everybody, and striking is what I think is the most exciting, and I'm biased.
"But I also think this is gonna be a matchup where I get to show different skillsets. We went very hard in this camp. Definitely wrestling, definitely ground, obviously if standup's there, that's what we're gonna go to."
Reed believes that the fight is quietly one of the most-fan friendly on the card, but she doesn't intend on going the full 15 minutes with Martinez: She believes the fight will be "a finish."
"People have seen in some of my fights…where I have a solid pace. I look forward to putting that on her and being able to mix it up in standup or on the ground. It's gonna be her worst nightmare."
---
Fighter profile
Elise Reed is a 29-year-old female fighter from the United States with 5 pro wins and 2 losses. Reed is scheduled to fight Melissa Martinez at UFC 279: Chimaev vs. Diaz on Saturday, September 10, 2022.
Elise Reed's recent form coming into this matchup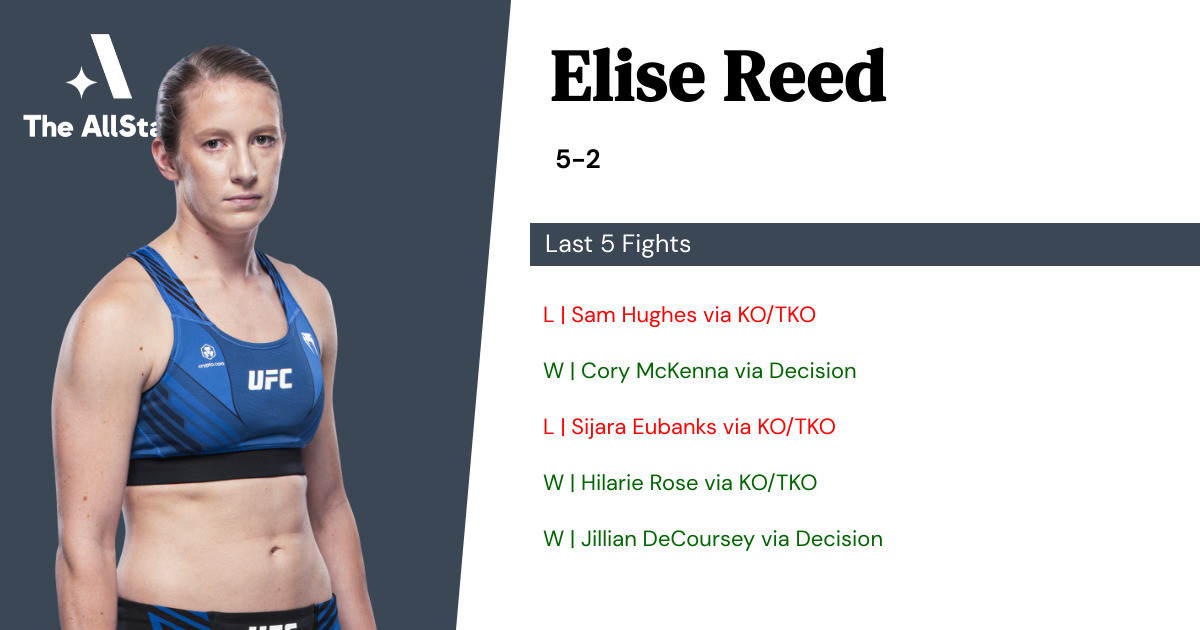 Elise Reed has gone 3-2 in the last 5 professional MMA fights.
Loss vs Sam Hughes • KO/TKO R3 3:52 • 2022-05-21
Win vs Cory McKenna • Decision R3 5:00 • 2022-03-19
Loss vs Sijara Eubanks • KO/TKO R1 3:49 • 2021-07-24
Win vs Hilarie Rose • KO/TKO R2 4:57 • 2021-05-29
Win vs Jillian DeCoursey • Decision R4 3:00 • 2020-12-18
Elise Reed's next opponent: Melissa "Super Melly" Martinez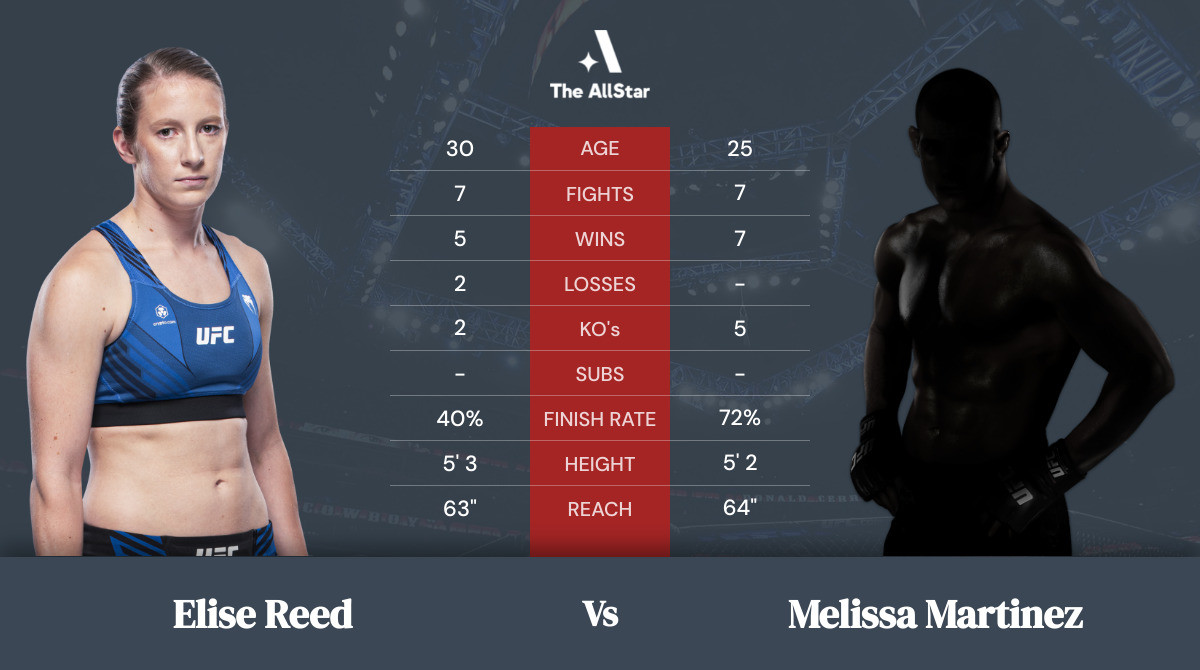 Melissa "Super Melly" Martinez's recent form coming into this matchup
Melissa "Super Melly" Martinez is a 25 year old female fighter from Mexico with 7 pro wins and 0 losses. Martinez is scheduled to fight Elise Reed at UFC 279: Chimaev vs. Diaz on Saturday September 10, 2022.
Melissa Martinez has gone 5-0 in the last 5 professional MMA fights.
Win vs Desiree Yanez • Decision R5 5:00 • 2019-12-07
Win vs Caroline Gallardo • KO/TKO R2 0:50 • 2019-04-26
Win vs Francis Hernandez • KO/TKO R1 2:33 • 2018-09-28
Win vs Ivanna Martinenghi • Decision R3 5:00 • 2018-04-20
Win vs Gloria Isabel Bravo Barrios • KO/TKO R1 4:18 • 2017-11-11
How to watch and bet on Elise Reed vs Melissa Martinez