"If sambo was easy, it would be called jiu jitsu."
The phrase that lightweight legend and Sambo practitioner Khabib Nurmagomedov made famous in 2013 will be tested at the highest of levels nearly a decade later. Islam Makhachev, Nurmagomedov's protege, will receive his long-awaited title shot against jiu jitsu master and arguably the greatest submission artist in UFC history, Charles Oliveira.
Oliveira's countryman, Gilbert Burns, is all too familiar with this rivalry. As a multiple-time world champion in Brazilian jiu jitsu, Burns highly rates the ability to finish a fight with a quick submission. While many are quick to align Makhachev's potential with Khabib's legacy, Gilbert isn't yet sold on that notion.
Makachev "finishes a lot of guys and he has a very good submission game, better than Khabib. But, the numbers don't say that. You know, a lot of guys say that you know – 'Makachev is so good' this and that. But the numbers (don't) say that. And people (say), 'Oh, he's the new Khabib.' No, he's not Khabib. He lost by knockout, he got taken down by Thiago Moises. He doesn't have a lot of finishes. Yeah he finished Dan Hooker, yeah he did finish Moises."
The match-up is significant for both men: Oliveira will attempt to reclaim the lightweight title after being stripped of the championship via a controversial weight miss back in May. It also marks the first championship opportunity for Makhachev, who is on a 10-fight winning streak.
Charles Oliveira
Without a doubt, Oliveira will be the best opponent on Makhachev's resume to date. On top of that, Burns suggested that the Brazilian simply has better attributes in this particular matchup.
"Look at the finishes that Charles has – Charles' striking is way better than Islam's. Charles is huge, he's way bigger than me – I do think Charles is going to win. I don't think it's going to be easy, I think Charles finds a way to put himself in a war. It's going to be a war but I do believe Charles is going to win, I want him to win."
Burns admitted that his affection for Oliveira does not stem from their native Brazil or highly credentialed jiu jitsu backgrounds, but for the character that he possesses.
"I know him more personally, he's a very good guy. Not just because (he's) from Brazil (or because he's) from jiu jitsu but for who he is (and) who he represents. He's one of the good guys too and I want the best for him."
---
Fighter profile
Charles "do Bronx" Oliveira is a 32 year old male fighter from Brazil with 33 pro wins and 8 losses. Oliveira is scheduled to fight Islam Makhachev at UFC 280: Oliveira vs. Makhachev on Saturday October 22, 2022.
Charles Oliveira's recent form coming into this matchup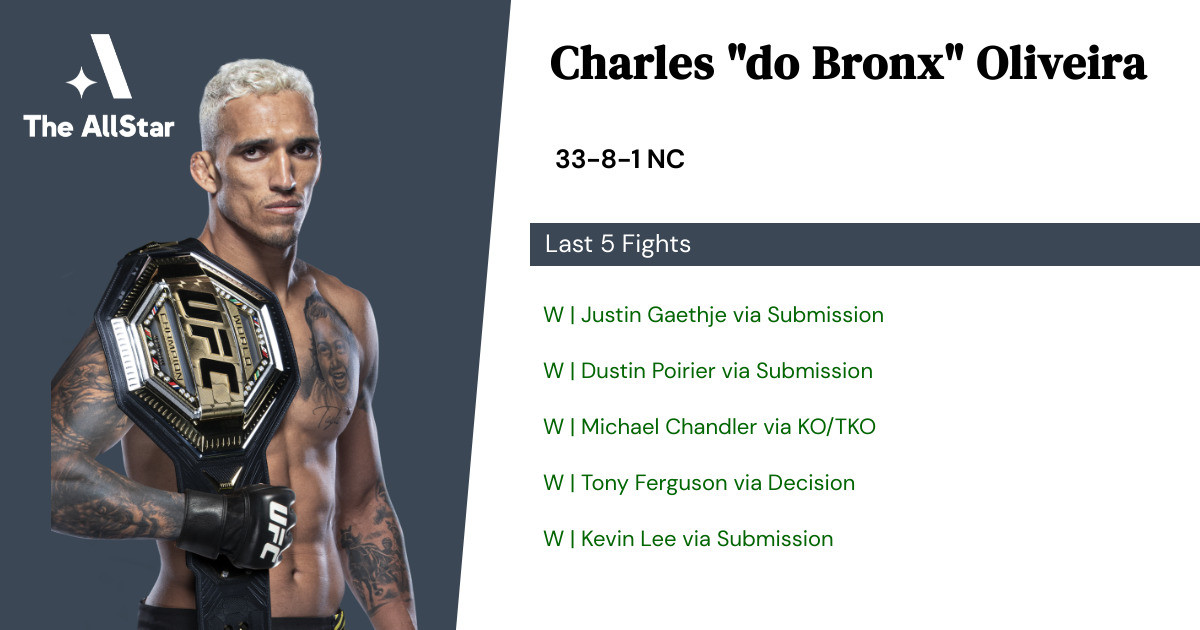 Charles Oliveira has gone 5-0 in the last 5 professional MMA fights.
Win vs Justin Gaethje • Submission R1 3:22 • 2022-05-07
Win vs Dustin Poirier • Submission R3 1:02 • 2021-12-11
Win vs Michael Chandler • KO/TKO R2 0:19 • 2021-05-15
Win vs Tony Ferguson • Decision R3 5:00 • 2020-12-12
Win vs Kevin Lee • Submission R3 0:28 • 2020-03-14
Charles Oliveira's next opponent: Islam Makhachev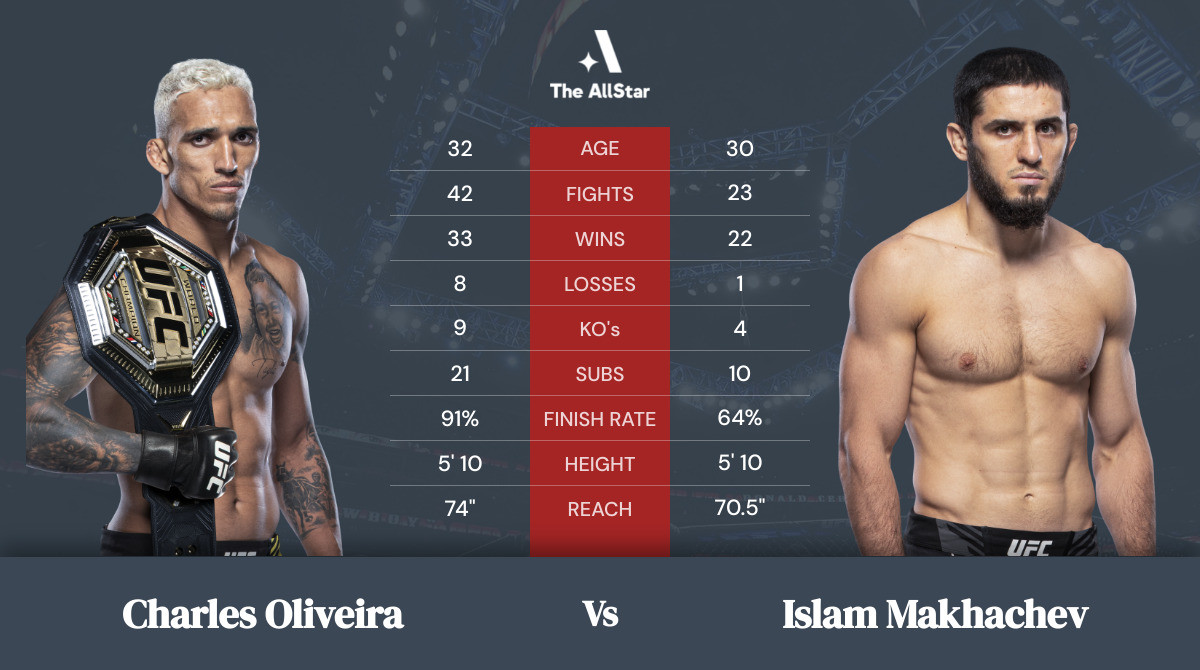 Islam Makhachev's recent form coming into this matchup
Islam Makhachev is a 30 year old male fighter from Russia with 22 pro wins and 1 losses. Makhachev is scheduled to fight Charles Oliveira at UFC 280: Oliveira vs. Makhachev on Saturday October 22, 2022.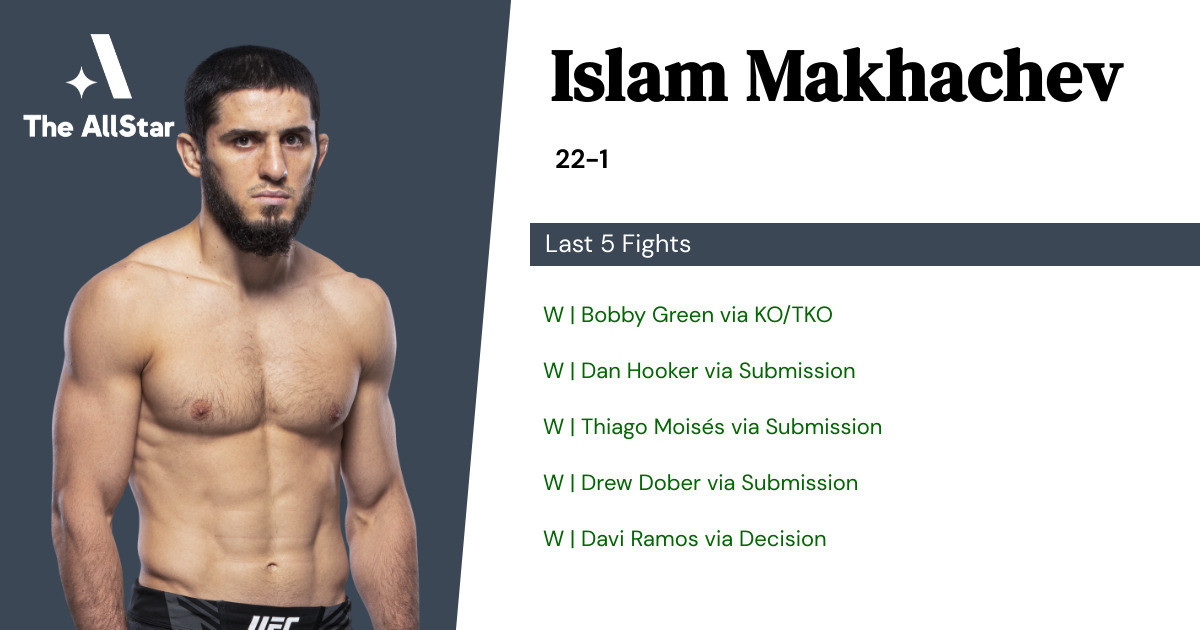 Islam Makhachev has gone 5-0 in the last 5 professional MMA fights.
Win vs Bobby Green • KO/TKO R1 3:23 • 2022-02-26
Win vs Dan Hooker • Submission R1 2:23 • 2021-10-30
Win vs Thiago Moisés • Submission R4 2:38 • 2021-07-17
Win vs Drew Dober • Submission R3 1:37 • 2021-03-06
Win vs Davi Ramos • Decision R3 5:00 • 2019-09-07
How to watch and bet on Charles Oliveira vs Islam Makhachev