Could the MMA community have a meltdown during UFC 280?
Few matchups in mixed martial arts can fuel the fanatical fires that Charles Oliveira versus Islam Makhachev can elicit.
Makhachev and Oliveira will face off on October 22 for the vacant lightweight title at UFC 280 in Abu Dhabi. This fight is capturing the attention of many and experts are dissecting the machinations of this matchup.
The striking of Oliveira has been on point in the last few fights and his Chute Boxe knowledge is coming through now more than ever. The devastating nature of this heavy-force striking style is very apparent.
"I'm interested to know maybe what clicked with him that changed that," Sean Madden told The AllStar. "They throw everything so forcefully. They use all their weapons really well. Their clinch is solid, too. He's got the perfect body type for that. It's been cool to see him unlock that per se. And I think it's going to be a big X factor in this next fight for sure."
Although Oliveira has been excelling on the feet with his striking, the idea is that this fight will eventually go to the mat but there are several variables that underpin who initiates the wrestling game.
An obvious inference to make is that Makhachev will shoot for the takedown but it gets more nuanced after that. How does Makhachev disguise his intent to shoot? What can Oliveira do to hurt his opponent early and ward off that wrestling charge?
"Don't hesitate, don't wait for the takedown," Madden said about Oliveira. "You know he's going to shoot, right? So let's make him take a bad shot. Let's put him in some trouble early. Let's hit him and make him uncomfortable."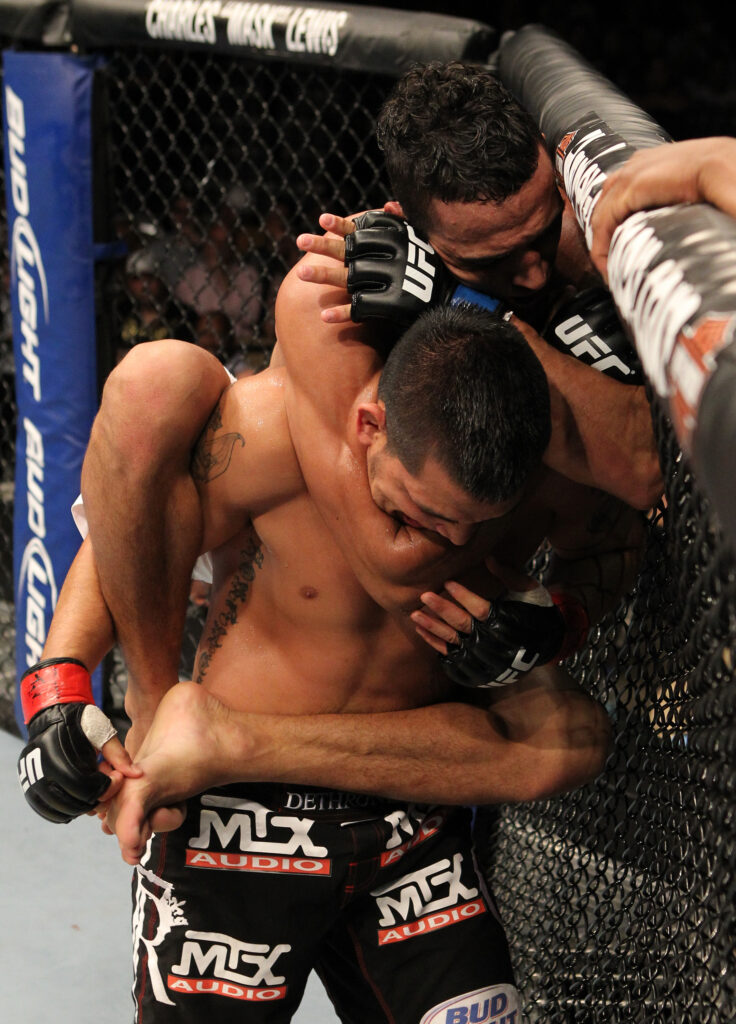 Madden adds, "When he tries to take a bad shot we have a better chance of defending it or running him into something when he comes in. Everyone knows he's going to shoot and if you sit there and wait and try to time the takedown it's already too late."
Another interesting variable is Makhachev being Khabib's protege and that being packaged in the lightweight GOAT conversation. There is a seeming pronounced level of pressure on Makhachev to actualize his potential into reality and become UFC champion as many of his compatriots prognosticated.
"Skill for skill, I think Charles has more ways to win the fight," the Easton Muay Thai coach stated. "I think there's more paths to victory for Charles. Islam is very good at the thing that he does; one of the best at what he does. But I do think Charles has more ways to win this fight and I think that's something that has to be strongly considered when you talk about stylistic matchups. He's going to have an opportunity every round when the fight starts standing.
"He's going to have an opportunity every single time Islam takes him to the ground for a submission attempt to create a scramble or to put Islam in a real bad spot.
Wild scrambles and submission attempts are expected in this clash. Either Makhachev dominates on top and locks a choke or Oliveira catches something in transition.
Madden continued, "Maybe he defends the shot, scrambles, and ends up on Islam's back then what do we have? We haven't seen someone on Islam's back yet. I don't know how his choke defense is. Charles is one of the best to do it there. So if he gets to Islam's back somehow the fight community is going to have a meltdown during that fight. It's going to be crazy."
---
Fighter profile
Charles "do Bronx" Oliveira is a 32-year-old male fighter from Brazil with 33 pro wins and 8 losses. Oliveira is scheduled to fight Islam Makhachev at UFC 280: Oliveira vs. Makhachev on Saturday, October 22, 2022.
Charles Oliveira's recent form coming into this matchup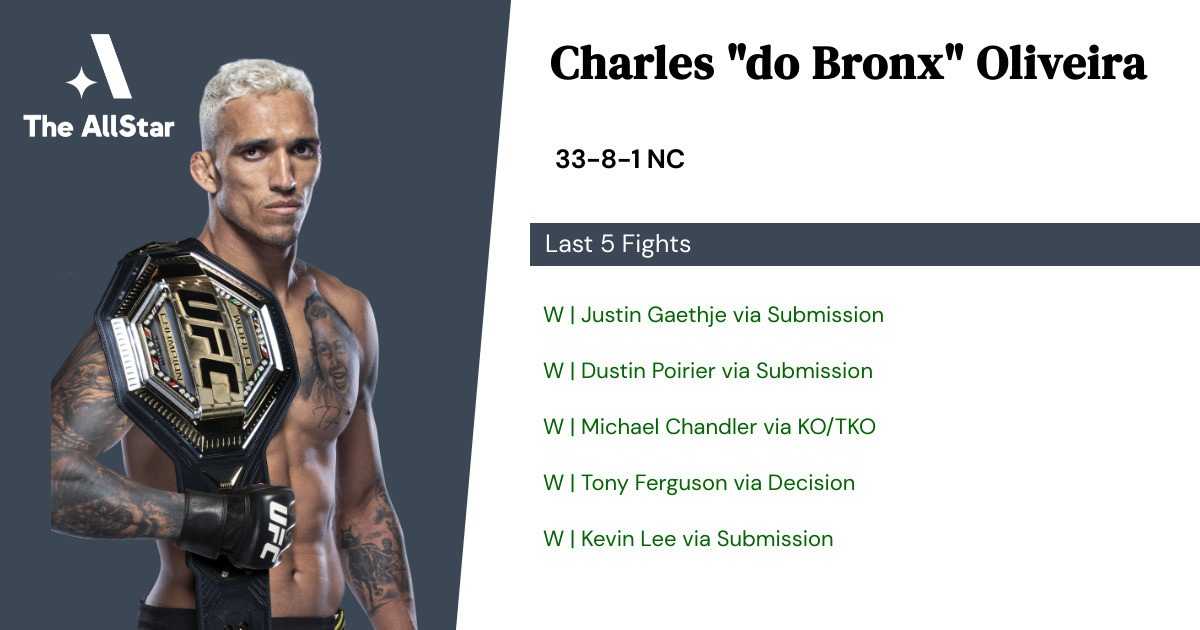 Charles Oliveira has gone 5-0 in the last 5 professional MMA fights.
Win vs Justin Gaethje • Submission R1 3:22 • 2022-05-07
Win vs Dustin Poirier • Submission R3 1:02 • 2021-12-11
Win vs Michael Chandler • KO/TKO R2 0:19 • 2021-05-15
Win vs Tony Ferguson • Decision R3 5:00 • 2020-12-12
Win vs Kevin Lee • Submission R3 0:28 • 2020-03-14
Charles Oliveira's next opponent: Islam Makhachev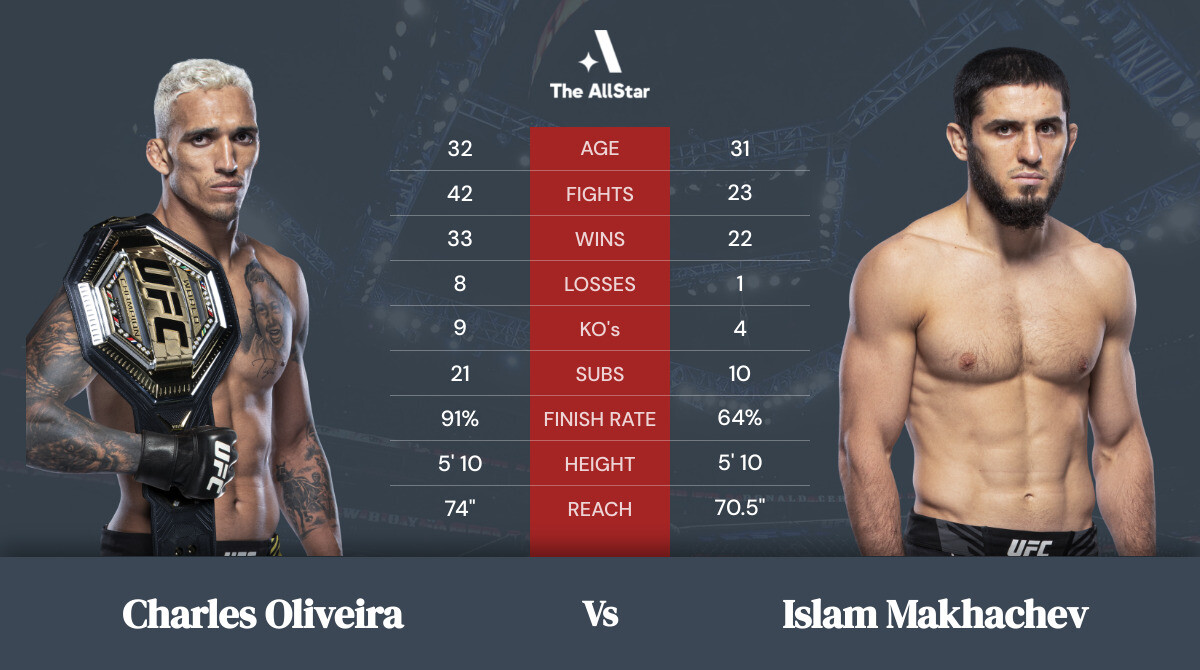 Islam Makhachev's recent form coming into this matchup
Islam Makhachev is a 31-year-old male fighter from Russia with 22 pro wins and 1 loss. Makhachev is scheduled to fight Charles Oliveira at UFC 280: Oliveira vs. Makhachev on Saturday, October 22, 2022.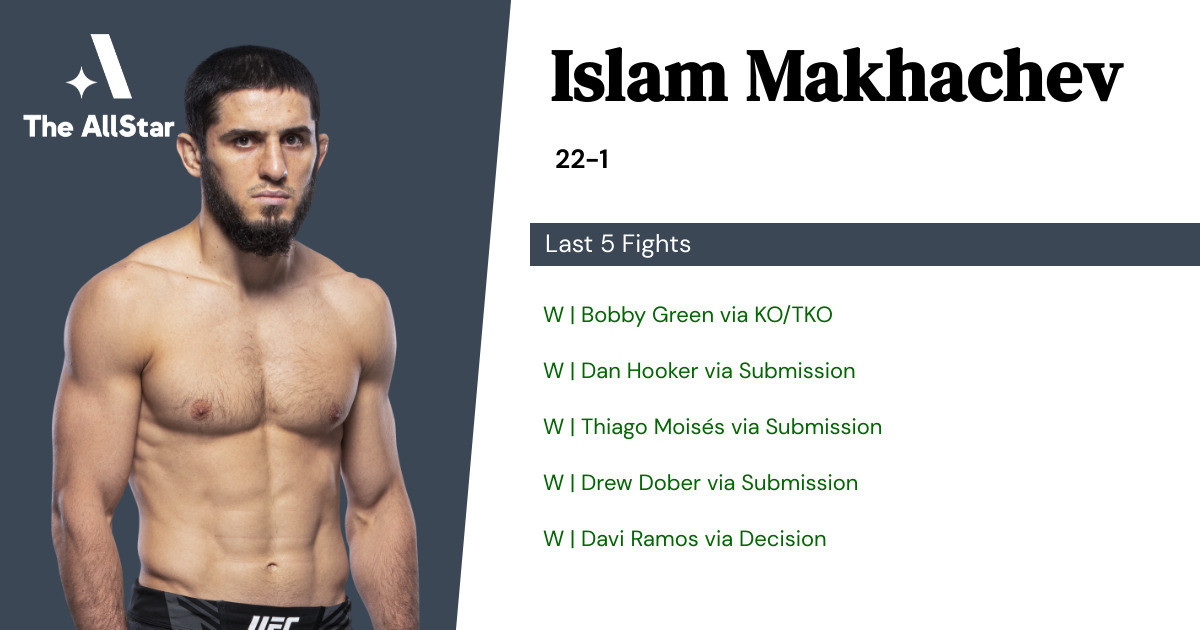 Islam Makhachev has gone 5-0 in the last 5 professional MMA fights.
Win vs Bobby Green • KO/TKO R1 3:23 • 2022-02-26
Win vs Dan Hooker • Submission R1 2:23 • 2021-10-30
Win vs Thiago Moisés • Submission R4 2:38 • 2021-07-17
Win vs Drew Dober • Submission R3 1:37 • 2021-03-06
Win vs Davi Ramos • Decision R3 5:00 • 2019-09-07
How to watch and bet on Charles Oliveira vs Islam Makhachev