Muay Thai coach Sean Madden believes that Israel Adesanya's mastery of MMA striking will give him an advantage in his upcoming fight with Alex Pereira.
Adesanya takes on Pereira with the UFC middleweight championship on the line at UFC 281 on November 12th in Madison Square Garden.
The two men faced each other twice in kickboxing, with Pereira emerging victorious on both occasions. In the second contest, the Brazilian knocked Adesanya out.
'Stylebender' is widely regarded as one of the pound-for-pound best fighters in the world, having defended his middleweight title five times. Madden has said that Adesanya's pedigree could tip things in his favor.
"It's a very different Izzy to when they fought last in kickboxing and it's a different ruleset. There is a difference in the number of rounds, the length of the rounds, the space that they're fighting in," Madden told The AllStar.
"Izzy and Eugene [Bareman] are smart enough to utilize all of those things to their advantage."
Another factor that Madden believes could help Adesanya is his experience of fighting five rounds. The champion has gone the 25-minute distance seven times in his career and has secured victories in six of these contests. He has defeated Jared Cannonier, Robert Whittaker, Marvin Vettori, Yoel Romero, Kelvin Gastelum, and Brad Tavares in five-round bouts.
In these fights Adesanya has been adept at keeping his opponents at range and out-striking them from a distance, fully utilizing his long reach and height.
"How many five-round fights has Izzy done for the UFC already? How many Alex has done in MMA? Zero. That's going to be a factor in this fight too."
---
Madden believes that the bigger dimensions of the UFC Octagon, compared to the average kickboxing ring, will benefit Adesanya's striking style. Madden referenced one of Adesanya's kickboxing bouts where he suffered a defeat in a smaller ring.
"I remember when Izzy fought Jason Wilnis in Glory for the middleweight belt. It was in a super small venue and they had it in a smaller ring than normal," Madden said. "Izzy didn't have the normal space he does to work. Jason's pressure ended up having him win that fight."
"Izzy is going to use the space to his advantage and with that room to work he's very hard to beat."
Madden did not rule out the possibility of Pereira winning the bout, citing his knockout power which has already brought him two devastating finishes in his short UFC career.
"Alex has more than a puncher's chance. We could see it with Sean Strickland. He made his reads and was patient. He knows all it takes is one shot to put someone down and hurt them."
"It's going to be exciting all the way to the final bell because of that possibility of Alex landing that shot."
Fighter profile
Israel "The Last Stylebender" Adesanya is a 33-year-old male fighter from Nigeria with 23 pro wins and 1 loss. Adesanya is scheduled to fight Alex Pereira at UFC 281: Adesanya vs. Pereira on Saturday, November 12, 2022.
Israel Adesanya's recent form coming into this matchup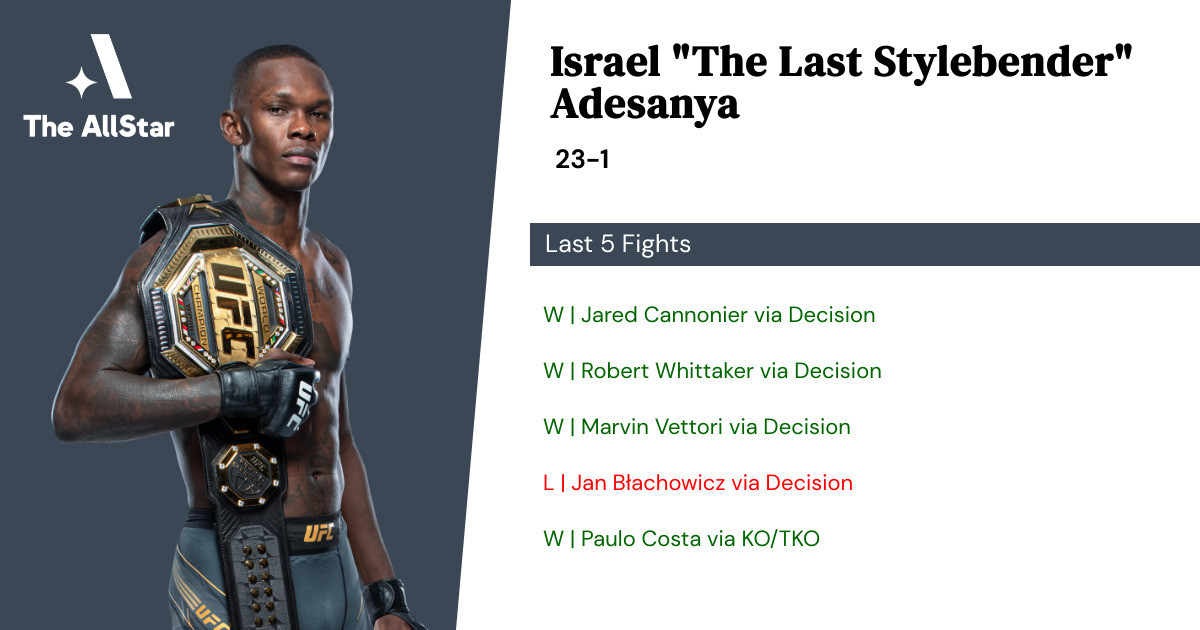 Israel Adesanya has gone 4-1 in the last 5 professional MMA fights.
Win vs Jared Cannonier • Decision R5 5:00 • 2022-07-02
Win vs Robert Whittaker • Decision R5 5:00 • 2022-02-12
Win vs Marvin Vettori • Decision R5 5:00 • 2021-06-12
Loss vs Jan Błachowicz • Decision R5 5:00 • 2021-03-06
Win vs Paulo Costa • KO/TKO R2 3:59 • 2020-09-26
Israel Adesanya's next opponent: Alex "Poatan" Pereira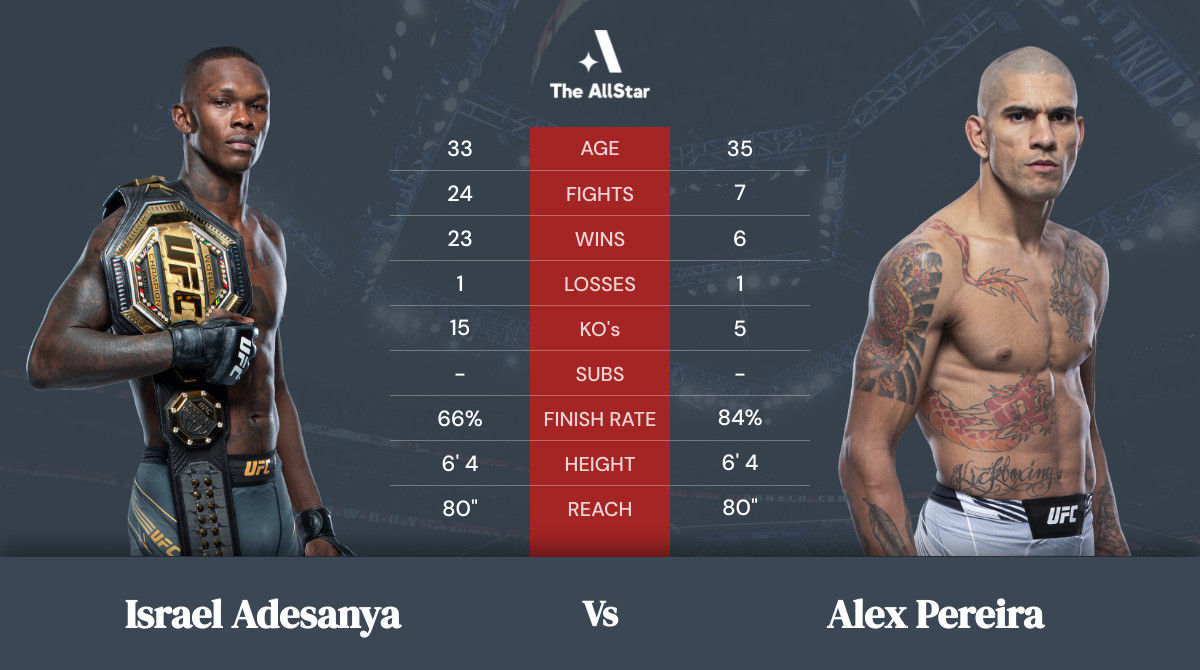 Alex "Poatan" Pereira's recent form coming into this matchup
Alex "Poatan" Pereira is a 35-year-old male fighter from Brazil with 6 pro wins and 1 loss. Pereira is scheduled to fight Israel Adesanya at UFC 281: Adesanya vs. Pereira on Saturday, November 12, 2022.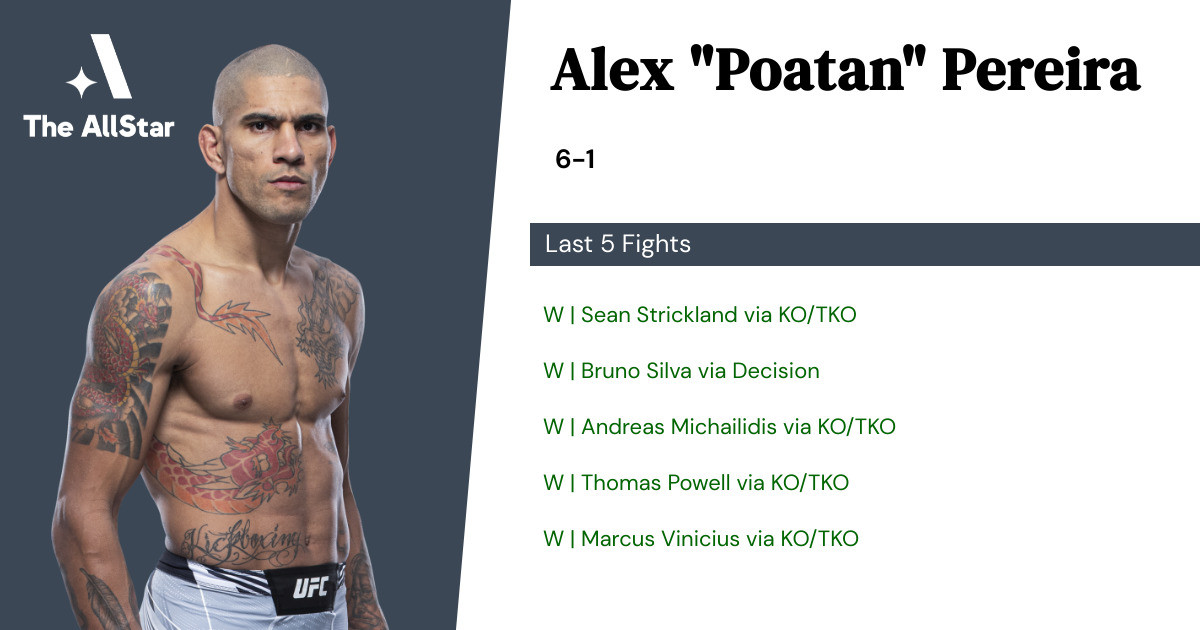 Alex Pereira has gone 5-0 in the last 5 professional MMA fights.
Win vs Sean Strickland • KO/TKO R1 2:36 • 2022-07-02
Win vs Bruno Silva • Decision R3 5:00 • 2022-03-12
Win vs Andreas Michailidis • KO/TKO R2 0:18 • 2021-11-06
Win vs Thomas Powell • KO/TKO R1 4:04 • 2020-11-20
Win vs Marcus Vinicius • KO/TKO R2 4:28 • 2016-05-21
How to watch and bet on Israel Adesanya vs Alex Pereira