At UFC Columbus, heavyweight powerhouses Curtis Blaydes and Chris Daukaus meet in a contest to determine who belongs in the title picture, with the winner moving one step closer to reigning champion Francis Ngannou. As it stands the 'Fight Night' card features a wealth of talent, with the flyweight division being on the show for all to see.
On the upper echelon of the billing, top-ranked Kai Kara-France squares off with undefeated Russian Askar Askarov, with the victor positioning themselves nicely for a future title opportunity. Earlier on, however, a pair of the weight classes lower-ranked athletes will compete in a potential 'Fight of the Night' affair.
Sitting at a remarkable 20-3 as a professional, Czech Republic's David Dvorak rides a 16 fight win streak having not tasted defeat in close to a decade. Now ranked in the top 15, life for him since joining the UFC has been nothing but fruitful as he's earned three decisive victories.
Scheduled to face Matheus Nicolau on March 26, "Undertaker" couldn't be happier with the way his career is panning out. Though he's been side-lined for ten months, he feels ready to return to action and wants an active 2022.
"I had surgery, just one operation on my elbow," he explained to The AllStar.
"I needed time to recover and [get over] other small injuries in my ankle and knee, everything was broken. I just took my time and now I'm ready.
"It was a very good recovery. I spent a few days in hospital and [had] around one month out of training, but after that I [could] go back to my training camp and start light training. You can't go as fast as possible, you have to start slowly. So the recovery was very good. I was patient."
With plenty of time to recover and polish his skillset, Dvorak will undoubtedly enter the Octagon as a better athlete. A fair portion of this can be attributed to his time spent abroad, where he trained with a multitude of high level fighters and coaches.
"I spent three weeks at Xtreme Couture, training with [Aljamain] Sterling, Amir Albazi and many other good, small guys," Dvorak said. "I was in Poland at Jan Blachowicz's gym [too]. I spent when one week there and it was a good experience.
"I try to learn a lot from [different] guys. For example when I was in Xtreme Couture, I saw guys like Francis Ngannou and how they trained, what they were doing and tried to learn."
Despite labelling his opponent as a nice guy Dvorak's no stranger to fighting friends, though he prefers not to. During his last appearance, a short notice change saw former training partner Juancamilo Ronderos lace up the gloves across from him, prompting a series of previously unfelt emotions.
"I don't like it," Dvorak revealed. "I did my training camp before and trained with my last opponent. He's a really nice guy and helped me for my second fight in the UFC, he was good [help]. I would like to beat a different guy [however], a guy from Russia. Brazil or wherever, a guy from far away. Not a guy who's my training partner."
Winning via a one-armed rear-naked choke, the 29-year-old extended his promotional record to 3-0. Now on course to break the top 10, he's not prepared to slow down for Nicolau.
"It's going to be a very good fight, because this guys really good at standup and is a good jiu-jitsu guy," Dvorak said. "He knows how to wrestle – he's a complex fighter [just] like me. It will be fun because he's similar to me, when I see him I see myself. I want to show the best [version of myself], take the victory and be [ranked] number eight.
"I know I will win this fight, 100%. He looks a nice guy, he doesn't do trash talking or [anything] like that. I don't want to say something bad about him as he's a good guy. I just want to beat him, that's all. After our fight we can have have some fun and go for a beer.
"I'd like to finish [this] fight in Columbus but I don't think about it [too much]. I want to do my best and show everything that [I've done] in class for the last ten months. It doesn't matter if I finish him in first round or [by] decision."
---
Fighter profile
"Undertaker" David Dvořák is a 29 year old male fighter from Czech Republic with 20 pro wins and 3 losses. Dvořák is scheduled to fight Matheus Nicolau at UFC Fight Night: Blaydes vs. Daukaus on Saturday March 26, 2022.
David Dvorak's recent form coming into this matchup
David Dvorak has gone 5-0 in the last 5 professional MMA fights.
Win vs Juancamilo Ronderos • Submission R1 2:18 • 2021-05-22
Win vs Jordan Espinosa • Decision R3 5:00 • 2020-09-19
Win vs Bruno Silva • Decision R3 5:00 • 2020-03-14
Win vs Arsen Taigibov • Submission R2 4:02 • 2019-07-27
Win vs Igor Goncharov • KO/TKO R1 3:10 • 2019-04-06
David Dvorak's next opponent: Matheus Nicolau
Matheus Nicolau's recent form coming into this matchup
Matheus Nicolau is a 29 year old male fighter from Brazil with 17 pro wins and 2 losses. Nicolau is scheduled to fight David Dvořák at UFC Fight Night: Blaydes vs. Daukaus on Saturday March 26, 2022.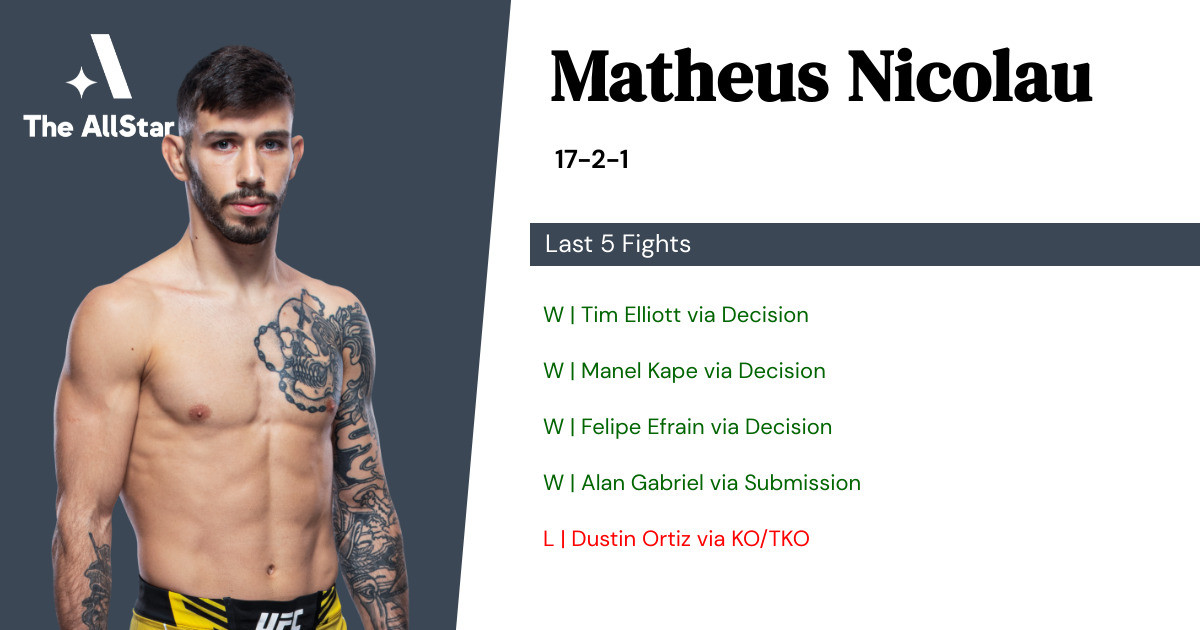 Matheus Nicolau has gone 4-1 in the last 5 professional MMA fights.
Win vs Tim Elliott • Decision R3 5:00 • 2021-10-09
Win vs Manel Kape • Decision R3 5:00 • 2021-03-13
Win vs Felipe Efrain • Decision R3 5:00 • 2019-08-30
Win vs Alan Gabriel • Submission R1 1:18 • 2019-05-24
Loss vs Dustin Ortiz • KO/TKO R1 3:49 • 2018-07-28
How to watch and bet on David Dvorak vs Matheus Nicolau