At UFC Vegas 47, top-ranked middleweights Jack Hermansson and Sean Strickland will throw down to determine who steps closer to number one contender status. While the main event is expected to be a fun clash of styles, there are many other exciting combatants further down the card.
After an 0-3 skid during his second UFC stint, Julian Erosa was swiftly let go from the promotion. Although still young, the chances of him being recalled seemed rather bleak; in a division as deep as featherweight, promotional staff wasn't exactly in a rush to re-sign talent. Yet only a year following his release, Erosa would reappear inside the Octagon.
In a short notice outing, "Juicy J" would fight at catchweight opposite the highly-touted Sean Woodson, an undefeated prospect with a 3.5-inch reach advantage. And as a +400 underdog, it was obvious who was expected to leave victorious.
In a shocking turn of events, Erosa would whether the storm of adversity and submit Woodson in the third round, sending shockwaves across the sport. Now, three fights later, he has amassed a streak of 2-1, with each trip ending with a finish.
Scheduled to face Steven Peterson on February 5, Erosa feels he has the perfect opportunity to display who he really is.
"What I really expect from Peterson is to step forward, every step he takes will be forward. He's going to try and take me down [but] I've been watching a lot of his fights," he explained to The AllStar.
"I think his striking is mediocre at best, but he's tough and durable. He's willing to get hit to hit you, and I'm willing to do the same thing. I expect him to step forward and try to take me to the mat. I'm just going to keep my range and defend him. I'm a big featherweight and hard to get to the ground and control, so I can only say good luck to him. I think he'll bite down on his mouthpiece and come swinging at me."
Despite having a clear reach advantage over the majority of his fellow featherweights, Erosa can often be found duking it out at close range. This is something he's working on changing; a longer reach is an advantage that should be utilized.
"Only recently have I tried to adapt my length into my striking. I used to be pretty long with my kicks, but I used to [punch] like a shorter guy and just brawl with people, which was my mistake. I'm built for a way that's good for me to keep the range. If I keep the range, he can't hit me and I can hit him."
"I really just need to focus on keeping that range and I've been doing that recently. Even a guy like [Charles] Jourdain – when I fought him the only times I was making mistakes was when I was crowding myself with him. When keeping the range, I felt good against a guy who's a pretty seasoned striker in Jourdain."
"If I can keep the range like I did against Jourdain, it's going to be a long day for him. I'm hoping to get away with the finish but like I said, he's a tough and durable guy who's only been finished one time or something. We'll see how it goes. If I don't get the finish, I want to pick him apart and get the better of him."
In June of last year, Erosa was paired against Seung Woo Choi, a fast-handed striker with an equal share of momentum behind him. Expected to sail past the Korean, he would find himself finished in the opening round.
Even in the midst of defeat, he was able to take positives from the fight and his performance.
"When someone can beat you for 15 minutes, for every second of the fight, it can really demoralize you. We train day in and day out so you don't expect anybody to be able to do that to you. But when you get caught – people catch you in submissions, people catch you with a punch, these things happen in the gym and the Octagon. You've got to take them as they come."
"With the Choi fight, it was one of those things where I got caught. And then I watched [Alex Caceres] have the same first round I had but end up surviving and choking him out. That was the game plan for me originally, but for that fight, there were some things that weren't in place. I got caught by the man they call 'Sting'. They call him that for a reason, he's fast and he hits hard. I shouldn't have been playing around with him [as] I'm a way better grappler and wrestler. I should've put that to use in that fight. It's one of those things you just take as it comes and move on."
Learning from his mistakes, Erosa plans on doing anything but play around with Peterson. While there is room for error, he's aware of how to stick to his strengths and pick apart the 28 fight veteran.
"Technically speaking he's never done one of those things that's crazy that I was super impressed with. Yeah, he [got that] spinning backfist, but that's one of those moves that just kind of happens. But besides that, he's never been super excellent in any aspect of MMA except for being tough, durable, and willing to fight. I think that's also what I bring to the table as well."
"That's why I've had some ups and downs in the UFC – I'm willing to get knocked out to try and knock somebody out. Luckily for me, I think Steven Peterson is a good matchup. A lot of fights I've watched of his, besides the spinning backfist, he really doesn't have that straight knockout power like some of the other guys I've fought have. He was originally a [bantamweight] as well. So I think size-wise [and] power-wise I match up really well with him."
"I think that's where I beat him: being a classier fighter and being cleaner with my techniques. He likes to make the fight dirty and against the cage where he tries to wear you out, so I'll be ready for that. If I keep it clean it'll keep him at bay. And if we do get into a little bit of shootout, I don't have to worry about that one-punch knockout power."
Booming with confidence, it's clear that Erosa envisions a dominant performance on February 5. Even though the ball is in his court in terms of performance, partnering with world-class coaches has allowed him to grow both physically and mentally.
Currently in Las Vegas, he spoke about training in the fight capital of the world and the wealth of training partners at his disposal.
"Vegas is the Mecca. It's the spot where everybody comes. You see world champions visiting and training here, standing next to you in the gym, and [you'll think] 'this is crazy'. Or they'll do their camps here. Brandon Moreno's out here [and so is] Francis Ngannou. We've got the smallest champion and the biggest champion."
"You see people who have reached the top of MMA fighting. It really inspires you and lets you know you're in the right spot. If you're trying to chase your dreams, you've got to be at these big gyms. Not trying to say Vegas is the only place you can be, but it has some of the best training, some of the best coaches, and probably the most saturation of training partners. On any given day I can get a handful of some of the best featherweights in the world to come and train, so it makes it really easy in that sense."
Fighter profile
Julian "Juicy J" Erosa is a 32 year old male fighter from United States with 26 pro wins and 9 losses. Erosa is scheduled to fight Steven Peterson at UFC Fight Night: Hermansson vs. Strickland on Saturday February 5, 2022.
Erosa's recent form coming into this matchup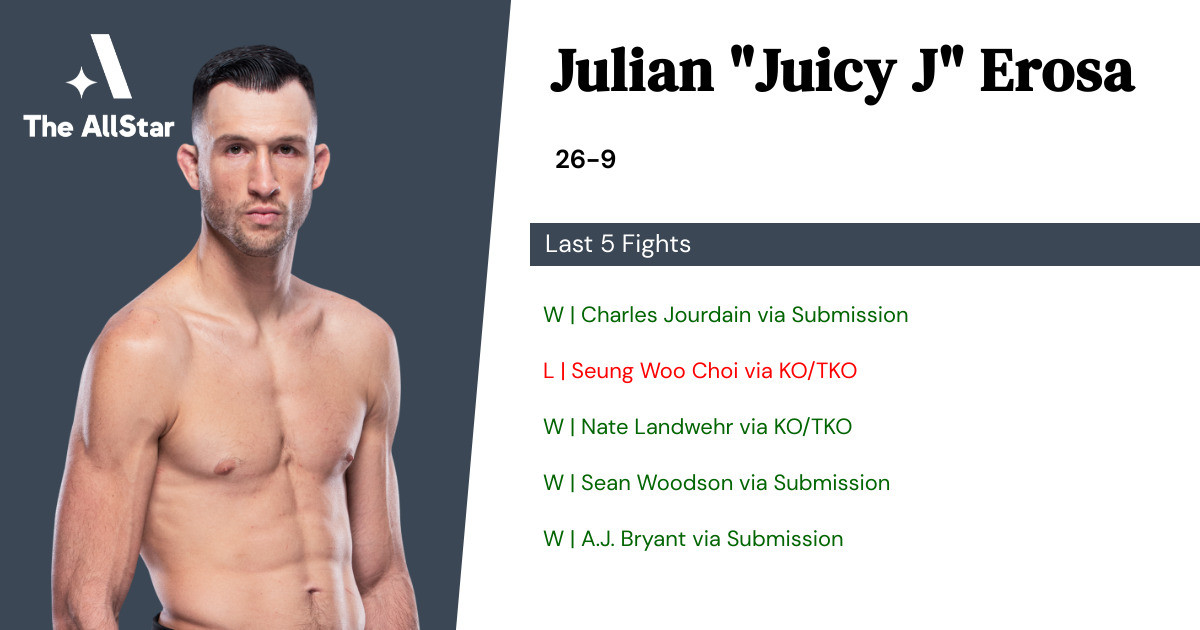 Julian Erosa has gone 4-1 in the last 5 professional MMA fights.
Win vs Charles Jourdain • Submission R3 2:56 • 2021-09-04
Loss vs Seung Woo Choi • KO/TKO R1 1:37 • 2021-06-19
Win vs Nate Landwehr • KO/TKO R1 0:56 • 2021-02-20
Win vs Sean Woodson • Submission R3 2:44 • 2020-06-27
Win vs A.J. Bryant • Submission R1 4:31 • 2020-02-22
Julian Erosa's next opponent: Steven "Ocho" Peterson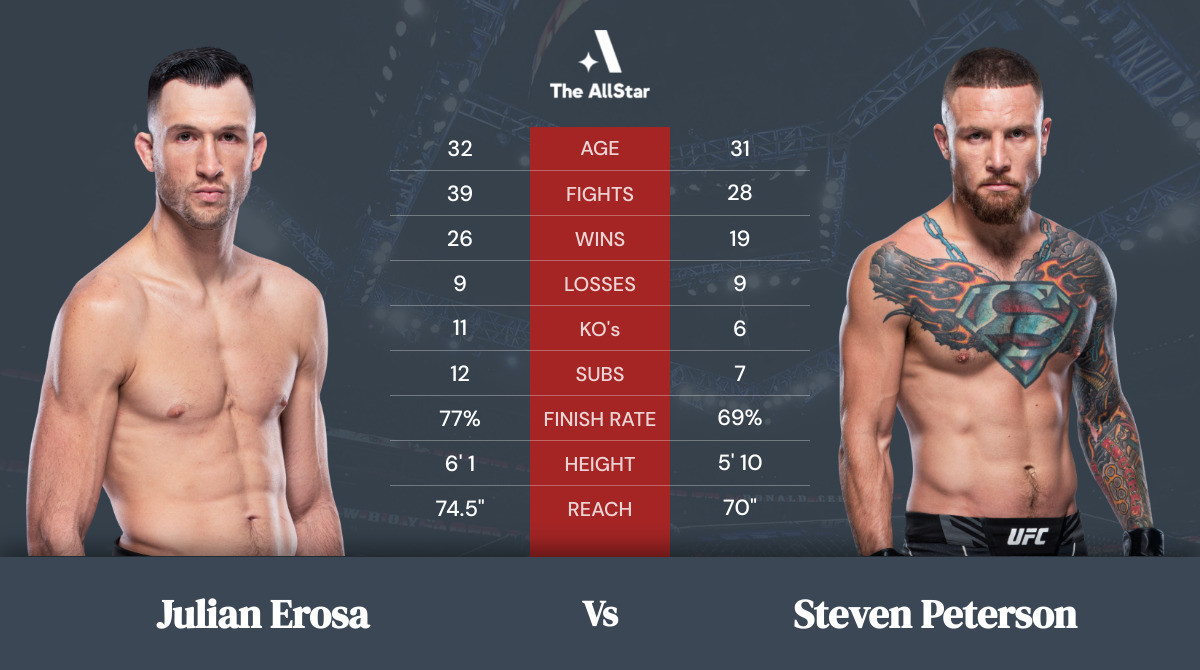 Steven "Ocho" Peterson's recent form coming into this matchup
Steven "Ocho" Peterson is a 31 year old male fighter from United States with 19 pro wins and 9 losses. Peterson is scheduled to fight Julian Erosa at UFC Fight Night: Hermansson vs. Strickland on Saturday February 5, 2022.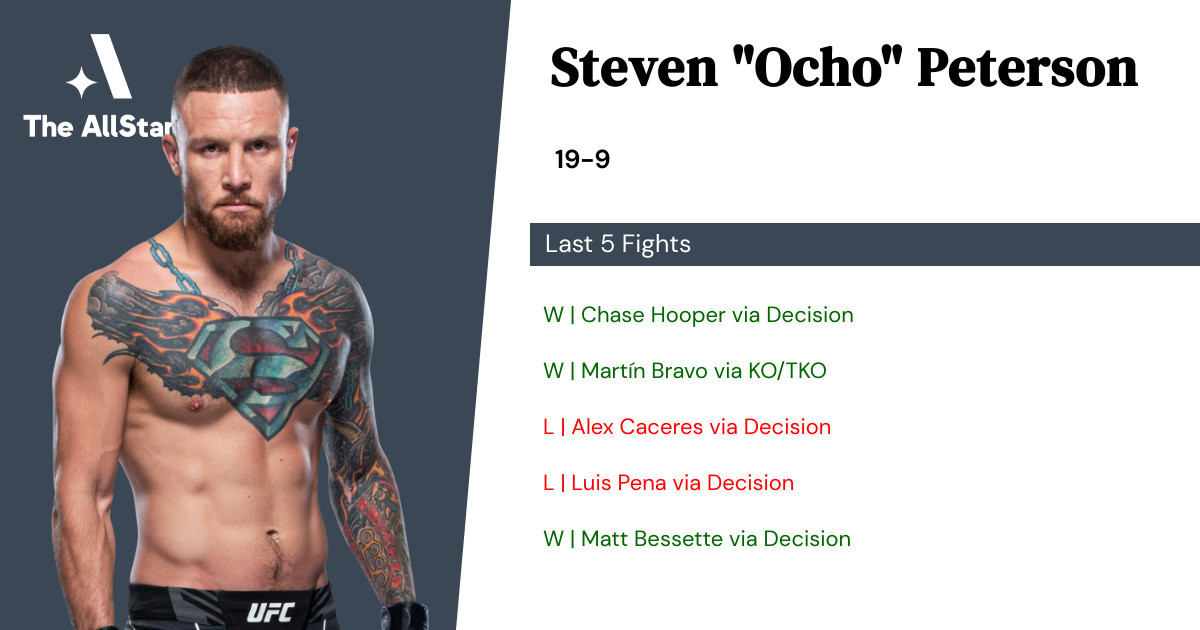 Steven Peterson has gone 3-2 in the last 5 professional MMA fights.
Win vs Chase Hooper • Decision R3 5:00 • 2021-06-12
Win vs Martín Bravo • KO/TKO R2 1:31 • 2019-09-21
Loss vs Alex Caceres • Decision R3 5:00 • 2019-07-20
Loss vs Luis Pena • Decision R3 5:00 • 2019-03-23
Win vs Matt Bessette • Decision R3 5:00 • 2018-07-06
How to watch and bet on Julian Erosa vs Steven Peterson
Keep track of all the latest odds and line-movements at our bout page for this matchup.