The decision by a fighter to move up a weight class and compete amongst stronger competition can be intimidating, but the internal rewards most commonly outweigh those fears.
Dwight Grant is the latest fighter to make the jump to a higher division for the sake of his health and performance, a choice that has him keen to compete to see the effects. He'll get to test out his new strengths at UFC Long Island this weekend when he battles Dustin Stolzfus in an effort to restart his promotional journey.
Grant spoke about the logic behind his decision and what fans can expect to see out of him this weekend in a recent interview with The AllStar. "In the last fight, I felt like I was good, training-wise, I always make weight- so it wasn't a problem making weight. I did notice that when I knocked the guy down, I went in for the finish, like I felt a little weird and off balance, and I was like 'that's kinda weird'. He was trying to escape some of the stuff against the cage, it felt very like laborious, it was just the first round," Grant said of his last fight with Sergey Khandozhko.
Grant re-evaluated after the eventual loss to Khandozhko, and noted how he feels pressure to finish fights in the first round before his strength starts to fade. A former middleweight, he knows that when the weight cut is less drastic, he can push hard until the final bell. Now that he's made the switch, he wishes he would have done it sooner.
Enjoying his lack of need to cut weight, Grant said, "My life is full right now. I'm present and in the moment with people. I'm not cutting weight to cut weight…These things make a huge difference".
Grant is confident that not only has his ability to drive hard in a fight increased, but his energy to invest in training has also multiplied: "You have more water in you, you know, and you don't have to lose it…I have to change my life to get down to that weight class. I can only do like two sessions a day at one point because I didn't have energy to do like three or four sessions. Now I'm doing so much".
Concerning his training, Grant recalled his training at American Kickboxing Academy in San Jose, California with legends like Daniel Cormier and Khabib Nurmagomedov. Dwight said that "when I'm training, I'm not just training to beat this guy. I'm training because I know that the best guys in the world would think about this mistake or think about that mistake."
The grappling training from AKA will have prepared Grant for his next opponent, Stolzfus, who commonly is seen as a grappler. However, in this time of MMA, he doesn't see hardly anybody as a pure grappler: "He has a very Pennsylvania style. You know he's well-rounded..it's not one area that really like gets in my mind that I watch out for, it's more of a well-rounded guy. I have my specialty, striking, am I think that I'm gonna put some digs on him that he's gonna have a hard time dealing with".
---
Fighter profile
Dwight "The Body Snatcher" Grant is a 37-year-old male fighter from the United States with 11 pro wins and 5 losses. Grant is scheduled to fight Dustin Stoltzfus at UFC Fight Night: Ortega vs. Rodriguez on Saturday, July 16, 2022.
Dwight Grant's recent form coming into this matchup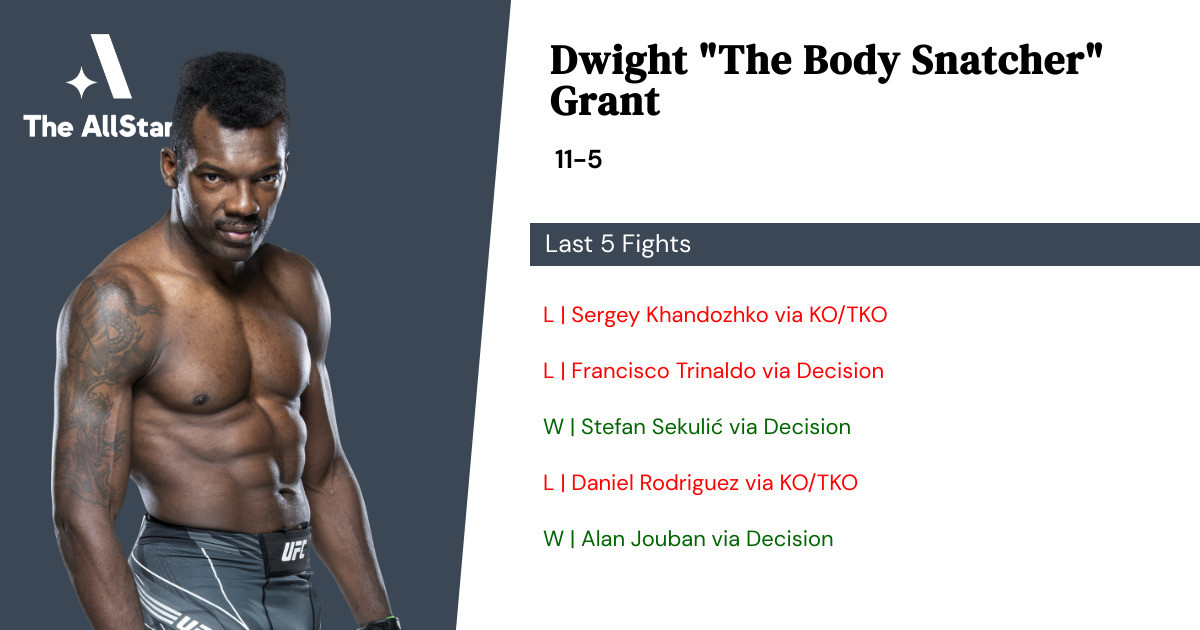 Dwight Grant has gone 2-3 in the last 5 professional MMA fights.
Loss vs Sergey Khandozhko • KO/TKO R2 4:15 • 2022-04-23
Loss vs Francisco Trinaldo • Decision R3 5:00 • 2021-10-23
Win vs Stefan Sekulić • Decision R3 5:00 • 2021-04-24
Loss vs Daniel Rodriguez • KO/TKO R1 2:24 • 2020-08-22
Win vs Alan Jouban • Decision R3 5:00 • 2019-04-13
Dwight Grant's next opponent: Dustin Stoltzfus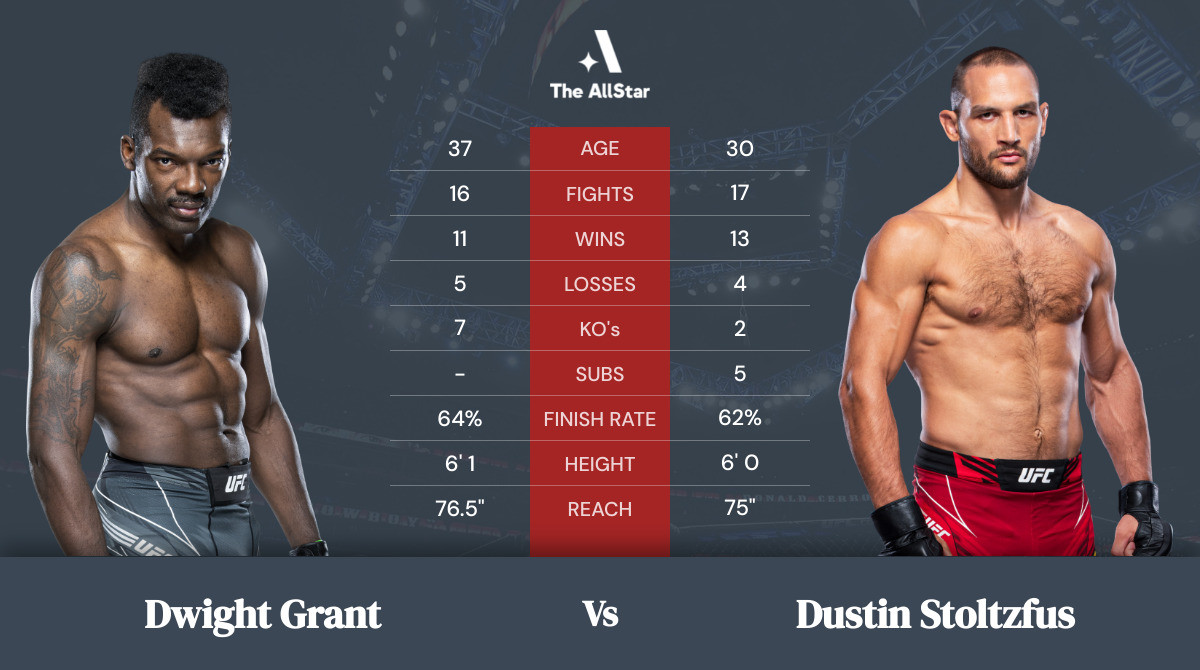 Dustin Stoltzfus's recent form coming into this matchup
Dustin Stoltzfus is a 30-year-old male fighter from the United States with 13 pro wins and 4 losses. Stoltzfus is scheduled to fight Dwight Grant at UFC Fight Night: Ortega vs. Rodriguez on Saturday, July 16, 2022.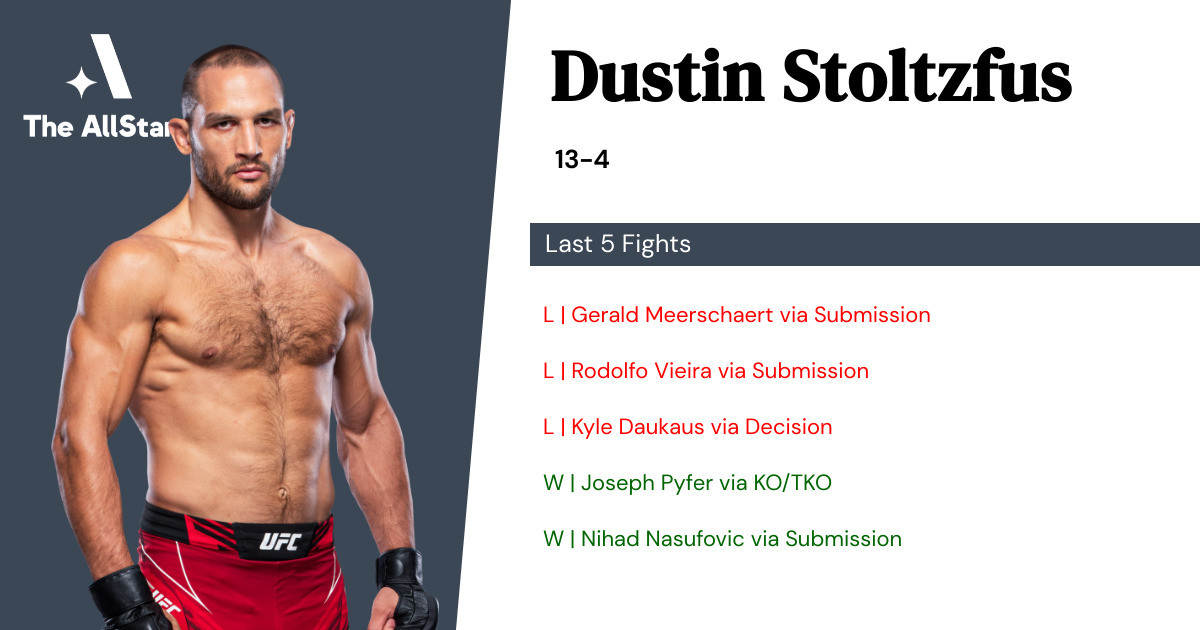 Dustin Stoltzfus has gone 2-3 in the last 5 professional MMA fights.
Loss vs Gerald Meerschaert • Submission R3 2:59 • 2021-12-18
Loss vs Rodolfo Vieira • Submission R3 1:54 • 2021-07-17
Loss vs Kyle Daukaus • Decision R3 5:00 • 2020-11-21
Win vs Joseph Pyfer • KO/TKO R1 4:21 • 2020-08-11
Win vs Nihad Nasufovic • Submission R3 3:33 • 2019-11-09
How to watch and bet on Dwight Grant vs Dustin Stoltzfus
Keep track of all the latest odds and line-movements at our bout page for this matchup.