Last time out, Vicente Luque had a four-fight winning streak snapped in what was a frustrating performance.
Luque felt like he could have been much more aggressive and was overcautious. He noticed positive moments like rocking his opponent in the third round but was surprised by the general gameplan of Belal Muhammad during their April rematch in a UFC Fight Night main event.
His sophomore UFC fight of the calendar year presents some very different stylistic considerations as compared to his first fight of 2022. Vicente Luque will test his skills against Geoff Neal at UFC Vegas 59 on August 6th. Currently, the number six ranked welterweight Luque takes on Neal who is the number thirteen ranked contender.
"The Silent Assassin" saw this fight as one that would always happen. In fact, he called Neal out after besting Niko Price at UFC 249, and now this fight that has long been on his radar is finally going down. The styles match up well and it excites him that a high-octane fight awaits him.
"We're going to go out there, we're going to try to test who can hit harder," Luque said to The AllStar. "Who's going to get hit harder and still fight and get that knockout…I think now is the perfect time."
In giving his assessment of Neal's striking though, Luque was complimentary and saw similarities in his own approach.
"He's really, I would say kind of like me," Luque stated. "In the sense that he's not super flashy but he's really good at what he does. He sticks to the basics and does that really well. He's a southpaw so that's always tricky. That's something I'm really focusing on. I would rate him as really good. Really, really good striker. I don't have a grade for him but I would say like I consider him a really good striker in the division. Definitely really dangerous."
Luque looks to create chaos and make things into a war. The Brazilian always aims to test his mettle against an opponent to see who crumbles first. In wars of attrition where the durability of both mind and body is paramount, he thinks his ground game could be a difference maker. Luque sees his submission grappling as the base of his overall mixed martial arts game.
Sanford MMA has turned into Kill Cliff Fight Club but the high-level work there remains consistent for 'The Silent Assassin'. Getting in work with that collective has truly done a lot to level up Luque's game and get him primed for fights at the tail end of his camps. His first half of camp is usually at Cerrado MMA in Brazil before going to Kill Cliff FC to tie some things together.
In discussing his fight prediction, The 30-year-old Luque seems ready for a fresh set of circumstances and a chance to remind people just how skilled and exciting he is.
"I hate losing and it doesn't make me kind of get mad at myself. But I just feel like my next fight has to be ten times better. I come with a vengeance against my next opponent whoever it is.
"So I definitely expect a great fight. I'm going to be there in the best shape ever, that's for sure. Because I've been working lot on everything that I've always been. Been watching my fights again. Back from the first fight in the UFC all the way to my last one."
---
Fighter profile
Vicente "The Silent Assassin" Luque is a 30-year-old male fighter from Brazil with 21 pro wins and 8 losses. Luque is scheduled to fight Geoff Neal at UFC Fight Night: Santos vs. Hill on Saturday, August 6, 2022.
Vicente Luque's recent form coming into this matchup
Vicente Luque has gone 4-1 in the last 5 professional MMA fights.
Loss vs Belal Muhammad • Decision R5 5:00 • 2022-04-16
Win vs Michael Chiesa • Submission R1 3:25 • 2021-08-07
Win vs Tyron Woodley • Submission R1 3:56 • 2021-03-27
Win vs Randy Brown • KO/TKO R2 4:56 • 2020-08-01
Win vs Niko Price • KO/TKO R3 3:37 • 2020-05-09
Vicente Luque's next opponent: Geoff "Handz of Steel" Neal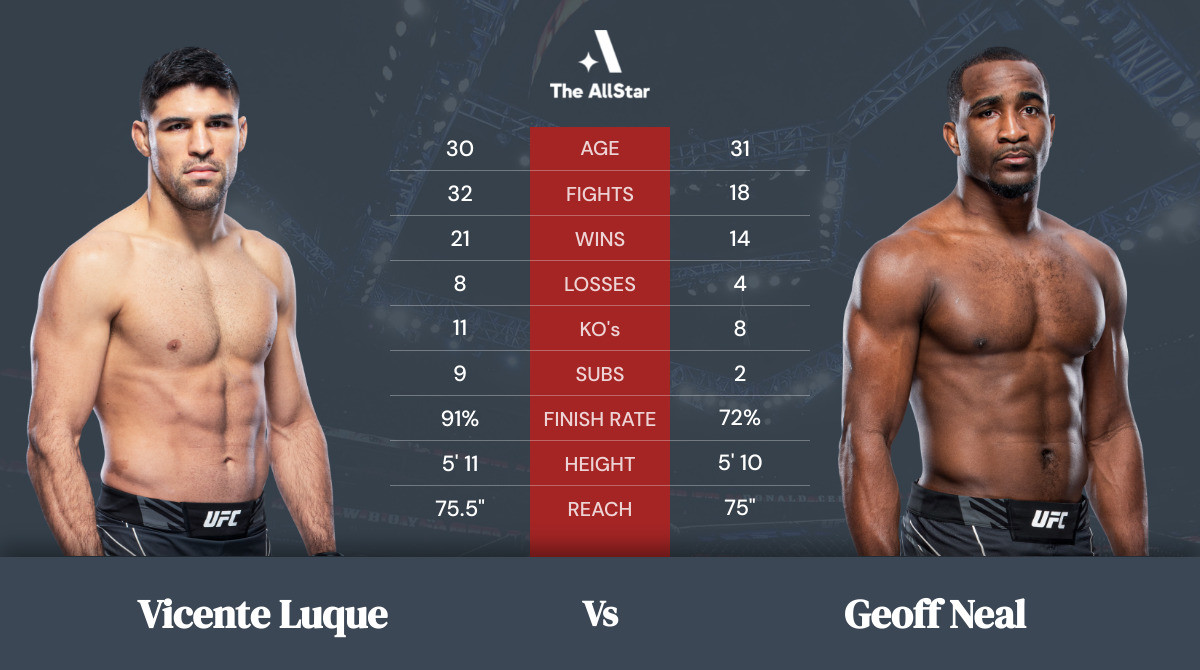 Geoff "Handz of Steel" Neal's recent form coming into this matchup
Geoff "Handz of Steel" Neal is a 31-year-old male fighter from the United States with 14 pro wins and 4 losses. Neal is scheduled to fight Vicente Luque at UFC Fight Night: Santos vs. Hill on Saturday, August 6, 2022.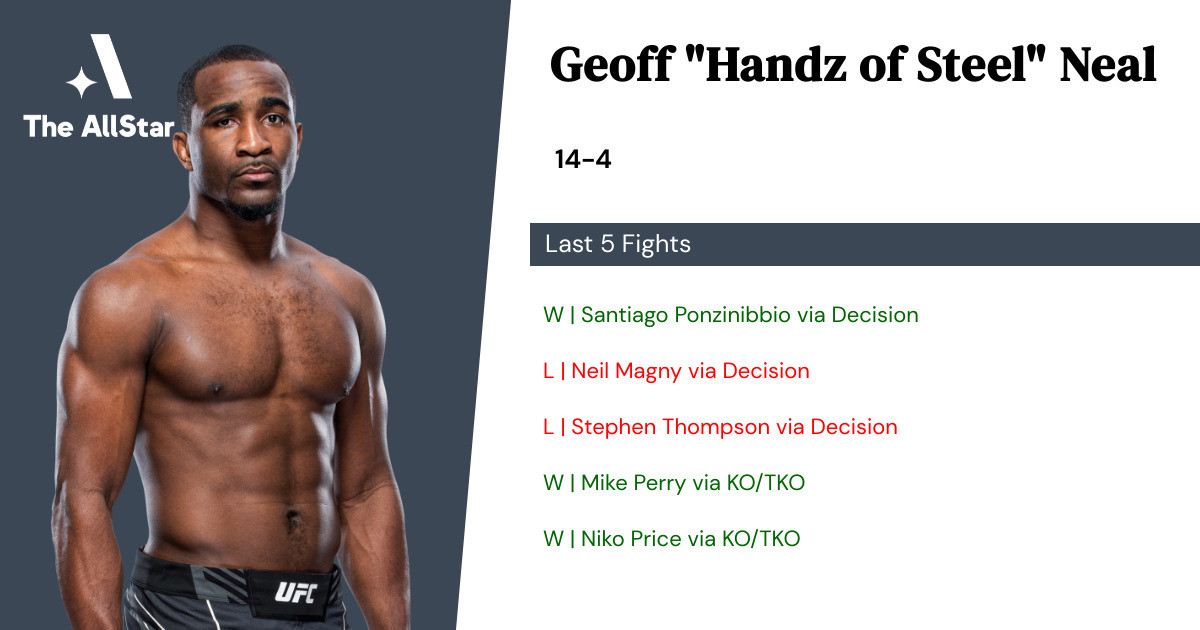 Geoff Neal has gone 3-2 in the last 5 professional MMA fights.
Win vs Santiago Ponzinibbio • Decision R3 5:00 • 2021-12-11
Loss vs Neil Magny • Decision R3 5:00 • 2021-05-08
Loss vs Stephen Thompson • Decision R5 5:00 • 2020-12-19
Win vs Mike Perry • KO/TKO R1 1:30 • 2019-12-14
Win vs Niko Price • KO/TKO R2 2:39 • 2019-07-27
How to watch and bet on Vicente Luque vs Geoff Neal
Keep track of all the latest odds and line-movements at our bout page for this matchup.