At an international gym like Bangtao Muay Thai & MMA, resident athletes never know who's going to walk through their doors and share the mat with them.
For pioneering Thai MMA fighter Loma Lookboonmee, she found herself looking up at former UFC champion Zhang Weili during practice. Zhang has recently relocated to Phuket, Thailand, to train at the gym, and Lookboonmee recounted the experience of training with her in an interview with The AllStar.
"I always thought I trained hard but getting to watch Zhang Weili train I'm like, 'holy fucking shit'. That girl trains hard. I know why she [was] the champion. I see that is what it takes to be a champion," Loma said. "It's definitely lit a fire inside of me."
This is her first training camp with Bangtao Muay Thai and MMA, and she highlighted how the additional attention and positivity propelled her training. "I've been training four times a day and it's tough, but it's so fun at Bangtao Muay Thai and MMA. It's great energy, all my coaches with me in one place", she said.
As the 26-year-old has progressed from a Muay Thai practitioner to an MMA fighter, she's learned to adapt both her skills and mentality, fight by fight. A major element of that change involves a shift from fighting many times a month to just a few times a year. Lookboonmee says that she felt some major mental shifts after her last fight, a loss to Loopy Godinez.
"I broke through a lot of mental barriers after that fight," she said. "It really brought me down, you know, it was a tough loss…When you're down, you have to get up."
Lookboonmee is even grateful for the loss, seeing how it's taught her more than winning often does: "Fighting two hundred times and fighting since I was a kid, I wouldn't often take responsibility for my losses. When you fight so much, it's like you win some, you lose some. Particularly that loss for me, it really changed my mindset and I'm a lot more focused on improving than going through the motions."
Fighting Denise Gomes this Saturday, Lookboonmee believes Gomes' aggression will allow her to respond with her best performance. Against Gomes, she believes, "this is perfect for me, she plays right into my game, I like to pick my shots and likes when people are aggressive and I like fighting off the back foot".
For Lookboonmee, the differences between her last fight and this one will be too numerous to count. Perhaps the biggest upgrade will be her perspective.
"This fight I'm a lot more confident in myself and love myself a lot more…I've been working on my mental health…It's a complete 180 from my last fight. I'm excited to fight. Last fight I put a lot of pressure on myself and this fight I'm not putting pressure on myself. Everything that I've been training I'm going to put on display and I'm focused on putting on a show.
---
Fighter profile
Loma Lookboonmee is a 26-year-old female fighter from Thailand with 6 pro wins and 3 losses. Lookboonmee is scheduled to fight Denise Gomes at UFC Fight Night: Sandhagen vs. Song on Saturday, September 17, 2022.
Loma Lookboonmee's recent form coming into this matchup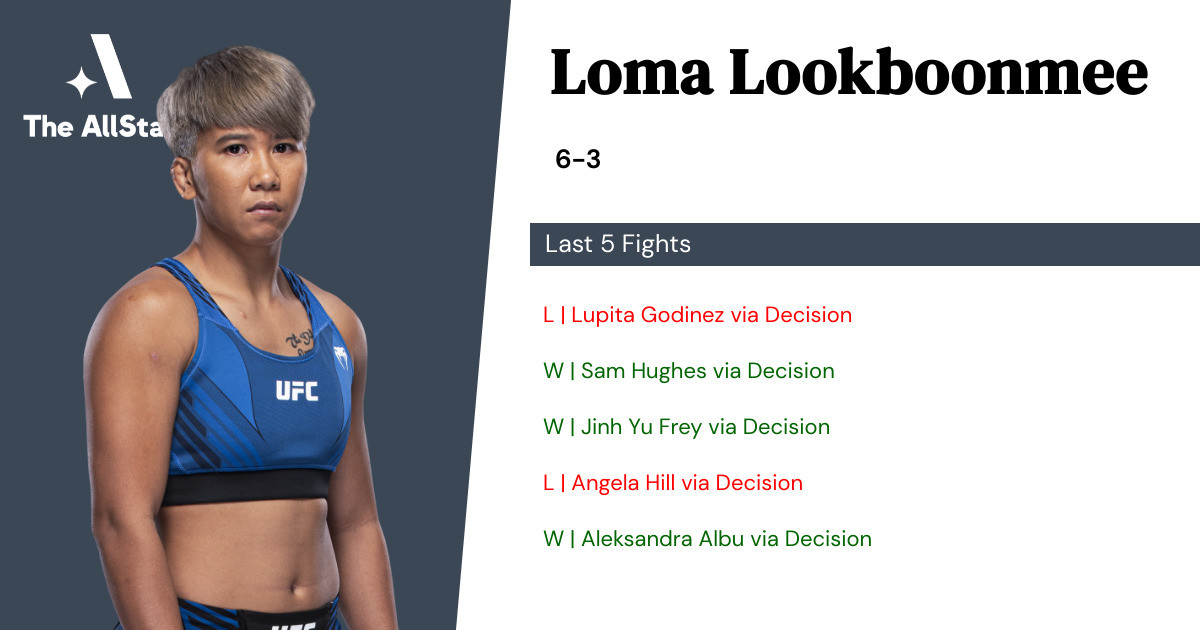 Loma Lookboonmee has gone 3-2 in the last 5 professional MMA fights.
Loss vs Lupita Godinez • Decision R3 5:00 • 2021-11-20
Win vs Sam Hughes • Decision R3 5:00 • 2021-05-01
Win vs Jinh Yu Frey • Decision R3 5:00 • 2020-10-03
Loss vs Angela Hill • Decision R3 5:00 • 2020-02-22
Win vs Aleksandra Albu • Decision R3 5:00 • 2019-10-26