Vicente Luque plans on making an even stronger argument for the next title shot.
But before he can step into the cage to compete for the title, Kamaru Usman will defend the welterweight strap against Colby Covington at UFC 268 on Nov. 6 at Madison Square Garden in New York City. "The Silent Assassin" does not anticipate the belt exchanging hands on the night.
"I'm going with Kamaru for the win," Luque told The AllStar. " He's looking great. He is definitely one of the greatest champions in the welterweight division. He's evolving every single fight. It's crazy how his boxing has improved in his last two fights especially in the [fight] with [Jorge] Masvidal.
"Knocking Masvidal out. Like that is not for anyone to do especially for someone that wasn't a striker originally. I see him winning this fight. I think he's gonna go out there and fight smart in the striking. I think he will get another knockout. I would say between the second or third round.
"If it's a different fight maybe it's going to be a little more difficult for Kamaru but he's still gonna get the win. And maybe a knockout in the fourth or fifth but I don't know, I don't see the fight going all the way."
Not much for Covington
Their first encounter was one of the greatest welterweight championship clashes ever. Despite having some key moments, Luque does not really see where Covington can find a path to victory in the rematch.
"Looking at the first fight I like the pressure that Colby Covington brought to the fight," the Brazilian revealed. "He really kept the high pace. But seeing all that Kamaru has evolved I don't know if boxing would be the way to go. And that's what Covington did in the first fight. But right now I think Kamaru is a different fighter.
"I would say that Covington has to keep a high pace and try to fight wherever he sees that he can take advantage. Maybe it would be in wrestling but also Kamaru is a beast in wrestling so I don't know."
The boxing of Kamaru Usman
Luque, Usman's former teammate, has been observing the champ more closely and identifies the upgrade of skill in the striking arts.
Usman's "striking has improved a lot," Luque added. "His boxing, his movement, his confidence with his hands that's something I see a lot in his last two fights.
"I think he's going to explore that even more. Try to connect big shots, work that jab. He's got a really long jab so work that and try to get a knockout sooner than in the first fight."
The 29-year-old Luque is not putting all his eggs in one basket and has pursued other blockbuster matchups. After calling out Nate Diaz on a number of occasions, the Stockton native finally responded back, leading to much speculation.
Title fight or Nate Diaz
"Nate is the kind of guy that he's looking for pay-per-view sales," Luque said. "He wants the guy that's gonna give him those big numbers and I feel that right now I'm that kind of guy because of my style.
"People know that I'm gonna step in there and I'm gonna give it [my] all and I'm gonna try to finish Nate every single minute of the fight. And he's gonna do the same. I don't see this fight going to the floor. I think we're both going to stand up and try to knock each other out. So I think that's what Nate sees interesting. Win or lose he's going to gain with this fight.
With Leon Edwards and Gilbert Burns sitting ahead of him in the rankings, instead of waiting around for his turn for gold, Luque wants to add more to the resume and solidify his spot.
"I see a small opportunity to go and have a title fight but a lot of things have to play in the right way for me to get that title fight," Luque revealed. "So if I get one fight before that, I feel like I would seal….it would be the seal saying okay now there's no way. He beat one more tough guy he's gonna have to get that title fight. I feel like Nate is that fight.
"There's nobody else available. Leon is a guy that I don't know what he's going to do right now. If he's going to fight or he's not going to fight. And I don't want to wait. Sign me up. Nate Diaz, December. I'm ready for that."
---
Fighter profile
Vicente "The Silent Assassin" Luque is a 29 year old male fighter from Brazil with 21 pro wins and 7 losses. Luque most recently fought Michael Chiesa at UFC 265: Lewis vs. Gane on Saturday August 7, 2021.
Luque's recent form coming into this matchup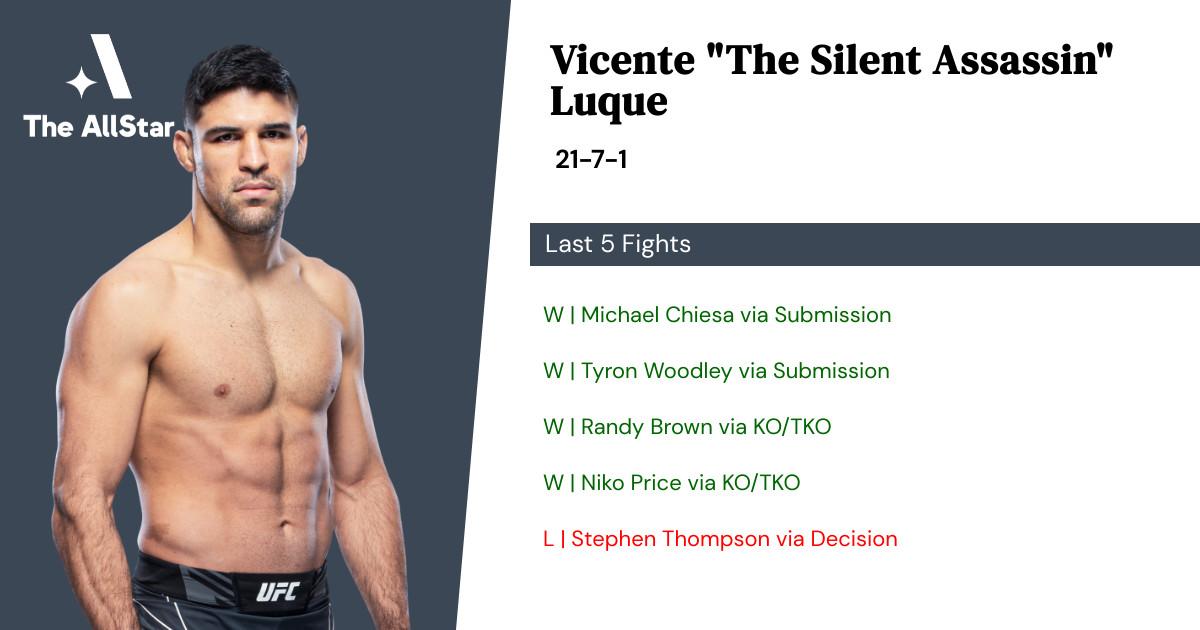 Vicente Luque has gone 4-1 in the last 5 professional MMA fights.
Win vs Michael Chiesa • Submission R1 3:25 • 2021-08-07
Win vs Tyron Woodley • Submission R1 3:56 • 2021-03-27
Win vs Randy Brown • KO/TKO R2 4:56 • 2020-08-01
Win vs Niko Price • KO/TKO R3 3:37 • 2020-05-09
Loss vs Stephen Thompson • Decision R3 5:00 • 2019-11-02