Roxanne Modafferi reacts to the Shevchenko-Santos split decision at UFC 275. "The Happy Warrior" fought Taila Santos at UFC 266.
Taila Santos put flyweight champion Valentina Shevchenko in more danger on Saturday than anyone else has in this division up until now.
It was indeed a close fight, which led to a split decision in Shevchenko's favor. Many think Santos should have eked out the victory.
I've been really trying to better understand judging and scoring lately. Even so, I can tell that every judge sees things differently, even under the same rule set.
Taila on top
Santos seemed to have a strength advantage and did very well when it came to clinching and grappling. When Shevchenko tried takedowns or throws, Santos defended them, or flipped over in mid-roll to eventually settle on top. If she landed on the bottom, she scrambled hard to end up in top position.
Shevchenko couldn't get up, but threw strikes from the bottom. What do the rules say? They say that positions aren't judged; it's the strikes thrown from those positions that are judged. Well, Santo was throwing strikes as well, and was dominating.
We saw Santos threatening the rear naked choke occasionally throughout the fight. I saw that choke attempt as very dangerous and nearly fight-ending. She kept sinking it in, wrapping her arms, and squeezing.
Shevchenko just managed to hand-fight or tuck her chin. One wrong slip, and she'd be sunk. It wasn't merely a fighter hanging on the back and hand-fighting the entire time. Santos almost got the choke multiple times.
I was holding my breath. I feel this should be judged as near-fight-ending danger and should either win her the round, or be scored very heavily in Santos' favor. These submission attempts, as well as ground control and dominations could have won her the first rounds.
Valentina strikes back
On the other hand, after a while, you could tell that Shevchenko had the rhythm of Santos' attacks down and was defending every new dig at her neck.
Shevchenko definitely rallied in the last two rounds and landed a lot of significant strikes on the feet. She looked sharp and powerful. Santos ended up on top again after a scramble, but Shevchenko threw strikes from the bottom again. After the fight, Shevchenko stated that constant pressure and damage helped her win the fight.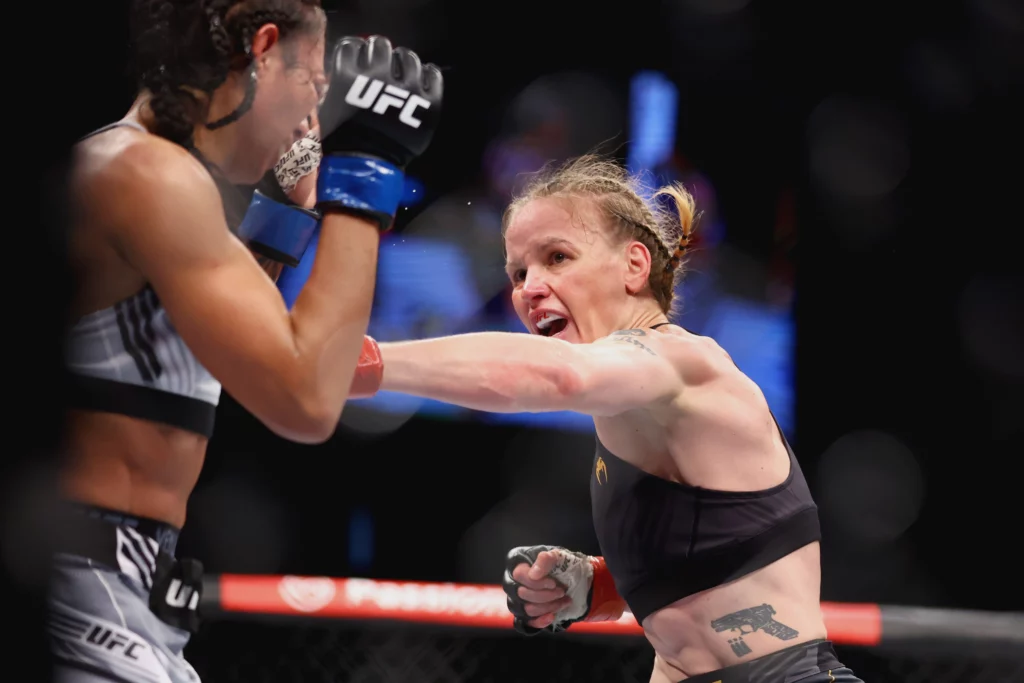 If the judges want to score it Pride-rules style, where the impression at the end of the fight is the most important, then Shevchenko won.
If the Unified Rules are followed, and if Santos had indeed won the first three rounds to Shevchenko's last two, Santos should have come away with the victory.
Bruised, not bloody
The other main point – damage – was difficult to judge over Santos' broken orbital and eye which was swollen shut. They say it happened during an accidental head-butt. Santos had more damage but is it counted as inflicted by Shevchenko since it seemed accidental? Shevchenko's face seemed bruised but not as bloody or swollen.
If the judges saw the choke attempts and didn't perceive them to be dangerous, merely a failed attempt, Shevchenko would have an edge. I personally wish the rules didn't tell judges to disregard hold-downs and positions completely unless no damage is done, but those are the rulesets in which everyone is operating in.
Split decisions are hard to accept for the loser. Triumphant ecstasy fills the winner as they walk off with their hand raised and all their hard work realized.
The loser knew they were so close – one judge thought they had won! What tiny little detail could they have fixed to sway that other judge into thinking them the winner?
Santos should hold her head high and feel it a personal victory that she had the ability to defeat the UFC champion. Maybe another day.