Cristiano Ronaldo's days at Manchester United appear to be numbered.
The 37-year-old no longer has the physicality and mobility needed to press from the front as his coach Erik Ten Hag desires, nor is he strong enough in possession to give United the attacking apex they need.
Ronaldo's frustration at being pushed to the side at Old Trafford has recently bubbled to the surface. The Portuguese forward gave an interview before heading to the World Cup in which he revealed he feels "betrayed" by what has unfolded at Manchester United this season.
Even with Ronaldo out of the equation, though, Ten Hag has still to find the right attacking formula for his team. Anthony Martial and Marcus Rashford have both operated in the position this season, but have their flaws. 
Anthony Martial
Martial offers Manchester United a lot in possession. The Frenchman is in the 80th percentile for through balls per 90 minutes and the 72nd percentile for assists per 90 minutes. Martial is an attacking hub in that United can play into him and bring others, like Alejandro Garnacho and Antony, into the game.
Rashford is a different sort of attacker. Indeed, the Englishman's game revolves around getting in behind opposition defences as frequently as possible. Rashford averages more touches in the attacking third per 90 minutes than Martial, but more of those touches result in shots on goal. He is more direct.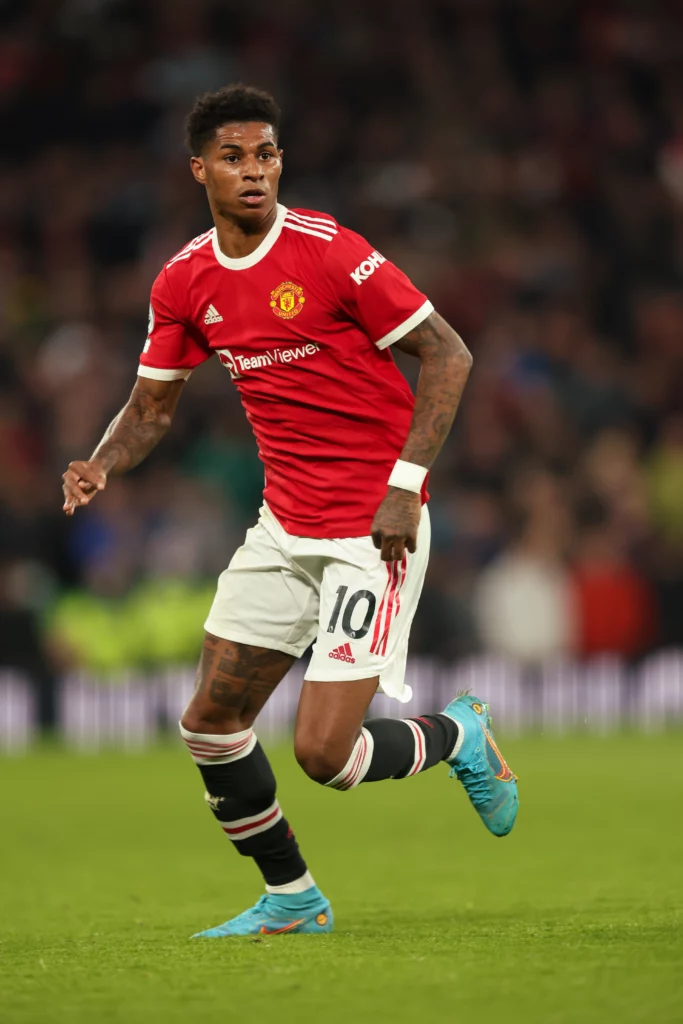 This isn't to say Rashford is necessarily a more threatening attacker – his non-penalty Expected Goals per shot is 0.14 while Martial's is 0.11. Martial is more refined in terms of his attacking actions in and around the penalty box – when he is presented with a goal-scoring chance, he is more likely to convert it.
The jury is out on whether either offers a long-term solution, which begs the question: What sort of striker does Ten Hag want?
Sebastien Haller
In this regard, it's useful to analyse the qualities of Ivory Coast international Sebastien Haller. Haller thrived under Ten Hag at Ajax, scoring 11 goals in just eight Champions League appearances last season. He led the attacking line for a team that played very much as Manchester United want to play under their new manager.
Haller is in the 99th percentile for touches in the attacking third per 90 minutes, but he is also in the 91st percentile for assists per 90 minutes and the 84th percentile for shots on target per 90 minutes. Ten Hag demands that his centre forwards are capable in all areas of the game and Haller satisfied those demands.
On the defensive side of the ball, Haller is also very effective. He is in the 62nd percentile for tackles in the attacking third of the pitch per 90 minutes with the Ivorian quick to close down opponents when they play out from the back. This is the sort of pressing presence Ten Hag wants at Manchester United.
It's possible, likely even, that Manchester United will need to enter the transfer market to find the right centre forward for Ten Hag's approach. Victor Osimhen has been linked with a move to Old Trafford recently on the back of a season which has seen the Nigerian score 10 times in 14 appearances for Napoli.
Victor Osimhen
Osimhen is much more than just a frontman and a finisher. The 23-year-old is in the 75th percentile for tackles in the attacking third per 90 minutes and the 89th percentile for touches of the ball in the attacking third per 90 minutes too. The Nigerian international has an eye for goal, as demonstrated by his impressive numbers this season. He is also an excellent presser and attacking apex.
Manchester United would surely face competition for Osimhen's signature, but he would tick many of Ten Hag's boxes. Eric Maxim Choupo-Moting has also been mentioned as a potential target, but while the Cameroonian is in good goal-scoring form for Bayern Munich, he isn't as effective at pressing from the front as Haller or Osimhen.
It was always likely that Ten Hag would require time to remould Manchester United in his own image. The Dutchman has achieved some early success with some players, including Luke Shaw, Diogo Dalot and Bruno Fernandes, adapting their natural game to suit their new coach's demands.
Summer signings like Lisandro Martinez, Antony and Casemiro have also helped, but Ten Hag's attack remains a work-in-progress. Martial and Rashford have qualities that offer Manchester United something different, yet Ten Hag needs a centre forward who can offer his team everything.
He has still to find his man.