As the circus around Cristiano Ronaldo threatens to get out of control, it's important Manchester United and Erik ten Hag keep focusing on what they can control – and that's working with players who actually want to play for the club.
Ronaldo made his grand return to Carrington on Tuesday, bringing his super agent Jorge Mendes with him, as he reportedly continues to push for a move away this summer.
Chief executive Richard Arnold and legendary former manager Sir Alex Ferguson – a father figure to Ronaldo who was instrumental in bringing him back to the club – also arrived at United's training base, promoting wild Twitter speculation of showdown talks.
Ten Hag could certainly do without the distraction, after a largely positive pre-season tour of Thailand and Australia that brought three wins and one draw.
And honestly, that last result – a 2-2 stalemate with Aston Villa in Perth, where United threw away a two-goal lead and conceded in the final seconds of the match – is likely to be of more concern to the Dutchman than the soap opera surrounding CR7.
Summer signings
So it should be, too. We haven't got time to get distracted. In fact, what was more important on Tuesday was seeing Christian Eriksen unveiled as United's second summer signing after Dutch left back Tyrell Malacia, who impressed on tour.
The transfer was obviously confirmed a while ago, but it's nice to see the Great Dane finally wearing the shirt after the squad returned from Down Under this week.
Lisandro Martinez's official unveiling followed this week, United having apparently secured a work permit for the Argentine. Ten Hag now has two quality players to boost his options.
There is also noise around United reigniting their interest in Ajax forward Antony, while the Frenkie de Jong saga rumbles on as ever.
But if United end the transfer window with those five additions, then the Devil's Keeper is confident – given what he's seen on tour – that a strong challenge can be mounted for 3rd place in the Premier League, and a domestic trophy or two as well as the Europa League.
Aston Villa
Defensive concerns remain, especially after that Villa match. Admittedly, it was played out in torrential rain on a quagmire of a pitch at Optus Stadium, but Ten Hag got it right when he said that the second-half capitulation was "unacceptable."
Thankfully, Martinez – known as "The Butcher" during his time in Amsterdam – should help shore things up at the back, while De Jong will help bring a calmness and control in midfield that Fred, as much as we love the Pastor, simply cannot do.
We are starting to see Ten Hag's first team XI shape up, with Donny van de Beek getting his redemption in one of the two pivot positions in front of the defence.
He looks much more effective and comfortable there, and seems ready to finally make an impact after two miserable years of being misused in the No. 10 position when he wasn't being left on the bench.
Forward line
Jadon Sancho, Marcus Rashford and Anthony Martial have instantly gelled as a unit up front, with Ronaldo out of the way, but we need another top-drawer option there to rotate and keep everyone fresh.
That is where Antony would come in. The Brazilian was one of the stars of Ten Hag's title-winning Ajax team last season, and would bring goals and assists off the bat, whereas 20-year-old Anthony Elanga stills looks raw on the evidence of his appearances over the last couple of weeks.
Let Elanga be the understudy, instead of throwing him in at the deep end as he was under Ralf Rangnick. But other than him, we appear remarkably light on quality forwards should Ronaldo go and anyone get injured.
Amad has regressed, and needs another season on loan to get his confidence back, while Tahith Chong is surely bound for the Championship again with Birmingham.
Frenkie de Jong
Bruno Fernandes has also looked very sharp, and Eriksen should be a much more effective option to rotate with him, while also being able to fill in deeper in midfielder and out wide.
Provided the protracted move for De Jong doesn't collapse (and there was certainly noise about that in the last 24 hours) then United should be primed for a great season.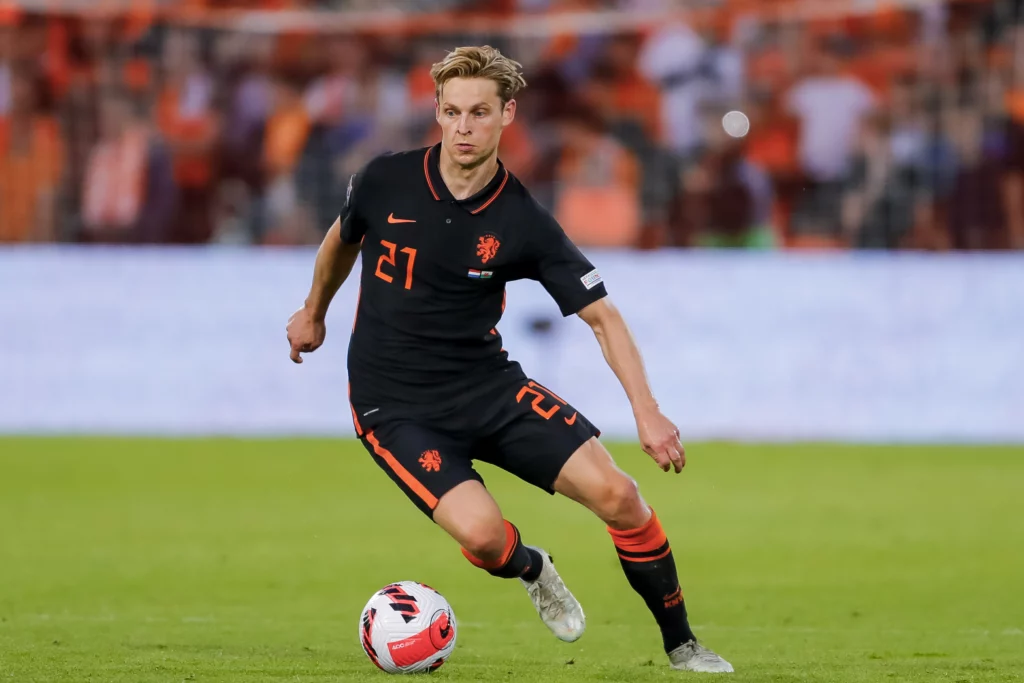 Right back remains a position of concern. Diogo Dalot has performed admirably in pre-season, but Ten Hag doesn't seem to fancy Aaron Wan-Bissaka, so another recruit might be needed down the line.
David de Gea also raised doubts among some fans again, with his failure to claim the ball allowing Villa to equalise from a last-gasp corner.
For now, United and Ten Hag will have to trust Dave can keep those howlers to a minimum, but it is a worrying sign that he seems to turn off and has lapses of concentration whenever we are controlling games, and when he is not being called upon to pull off a string of wonder saves.
Overall, the squad is in great shape though, something which didn't seem possible a few months ago.
The Ronaldo issue
Ten Hag has immediately helped improve several underperforming players, including the much-maligned Harry Maguire, who has shown he could yet turn his United career around after decent outings against Crystal Palace and Villa.
So now all that remains is to find a solution to the Ronaldo issue. The Keeper has made it clear that he feels it might be best for both parties if they part ways.
If he does hang around, then Ten Hag's most pressing issue is going to be how to reintegrate him into the set-up without destroying the harmony he has been able to quickly create.
Back-to-back matches this weekend against Atletico Madrid and Rayo Vallecano will give Ten Hag his last chance to fine tune his plans before the real business gets underway: Brighton is first up in the Premier League at Old Trafford on August 7.
There are still some uncertainties, but Ten Hag and players will be confident of making a statement of intent, something United fans could not have imagined when the same opponents handed us a 4-0 hiding at the back end of last season.