"Dana White: Lookin' for a Fight" has been responsible for picking up a number of talent throughout the years, ranging from Randy Brown to Mickey Gall. Although it's yet to produce a star capable of scaling the rankings and capturing gold, Joseph "Ugly Man" Holmes plans on changing that.
At Fury FC 53 in November, Holmes fought in front of the UFC president and thousands of other spectators on UFC Fight Pass, making it the most important outing of his professional career. Standing across from the bulky Jhonoven Pati, he was determined to make a splash.
It would take him just a few minutes to find a finish, connecting with a powerful counter to score the knockout. The punch did more than add another tally to the win column; Holmes' life had changed for the better. With a UFC contract on the table, it'd be just a month until he was prepping for another fistfight, as he was called upon on short notice to face Jamie Pickett at UFC Vegas 46.
---
---
"I fought five times [in 2021] and I don't think I had a month's notice for any of them," Holmes told The AllStar.
"I think the longest notice I had was after my Contender Series fight, where they told me that same night that I'd be fighting for Fury FC the next month."
With short notice bouts being anything but a concern for him, Holmes feels ready to take on multiple-time UFC vet Jamie Pickett. Being a hard-hitting middleweight, Pickett offers a number of challenges for the promotional newcomer – particularly early on – yet "Ugly Man" feels primed to deal with the task at hand.
"I expect the best performance I've ever had. I've been slowly unraveling my outer shell in my last few fights and becoming who I am and who I'm meant to be. My grappling's on [level] a thousand. I recently [partnered] with one of the best striking coaches in the game, and he's been picking away at me. So I absolutely assure you guys it's going to be an awesome fight.
"I watched some of his fights [when preparing] for my last opponent because he [Pickett] fought him too at some point. So I got to see a little bit of him then, but even then when I was watching their fight I [was] thinking I should be fighting that guy.
"Jamie Pickett's a tough guy who's on his last leg in the UFC, so I'm sure [he's] going to be like an animal that's cornered. He's not going to go out easily, so expect a good fight."
Accompanying his seven-fight win streak is a 100% finishing rate, a figure few in the MMA community can boast about. And having the reputation of a 'finisher' is something he's passionate about protecting.
"Ever since I lost my debut in a decision to the judges, I promised myself two things: I won't lose unless I'm beat, and I won't let the judges get involved in any of my fights."
January 15 marks the start of a new chapter in the vocation of Joseph Holmes, one that he believes can only end in success. No matter how treacherous the path or slow the journey he's ready to face all comers, even those in the upper echelons of the division.
"I want to trust my management and trust Dana White. I want to get rich, famous, and enjoy my life and fight some badass fighters [to] prove that I'm better. That's really what I want. So if I need to fight the better people early, I'm only 27 [and] I'm ready, give me whoever. But if you want to push me slow that's all good too. I'm just trying to pull in the crowd, sell some tickets, have some people wearing my shirt, and kick some ass."
Fighter profile
Joseph "Ugly Man" Holmes is a 26 year old male fighter from the United States with 7 pro wins and 1 loss. Holmes most recently fought Jhonoven Pati at Fury FC 53: Lookin' For a Fight on Sunday November 14, 2021.
Holmes's recent form coming into this matchup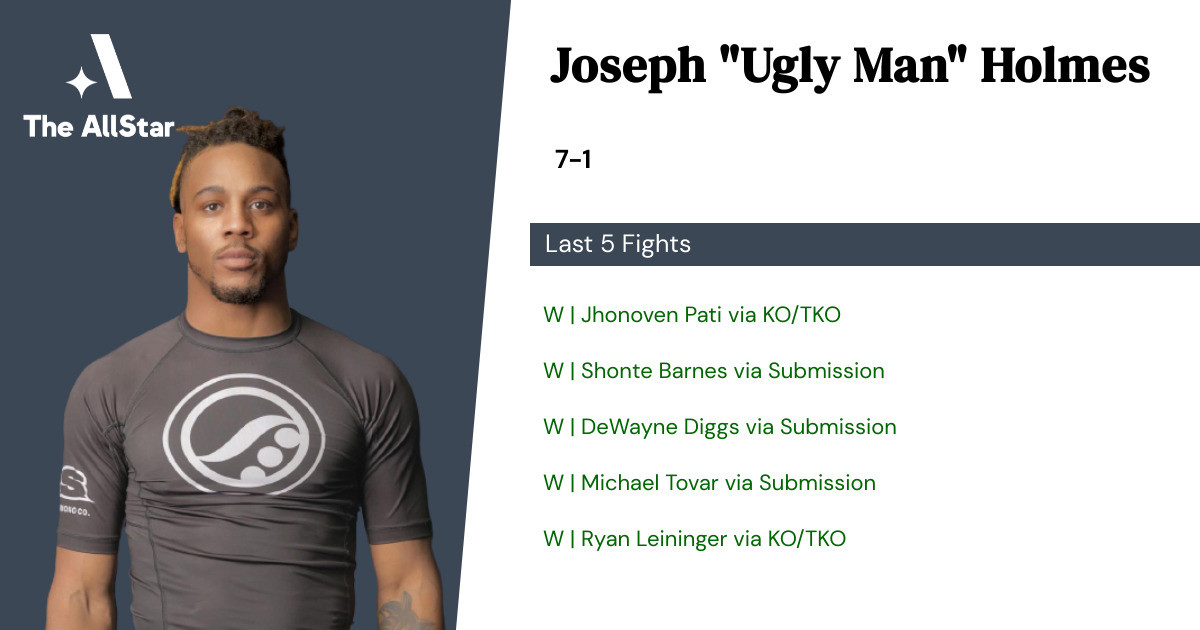 Holmes has gone 5-0 in the last 5 professional MMA fights.
Win vs Jhonoven Pati • KO/TKO R1 2:27 • 2021-11-14
Win vs Shonte Barnes • Submission R2 2:46 • 2021-10-05
Win vs DeWayne Diggs • Submission R2 2:48 • 2021-08-27
Win vs Michael Tovar • Submission R1 3:34 • 2021-05-14
Win vs Ryan Leininger • KO/TKO R1 1:38 • 2020-12-04