Milwaukee has had an interesting offseason, to say the least. Between locking up practically their entire championship roster from 2021 and landing some smart complementary wings like Joe Ingles and Marjon Beauchamp, it's a safe bet that they'll at the very least be in the thick of things to represent the East once again. Per the NBA GM Survey, some 45 percent of front-office executives around the league think the Bucks are primed to take the championship trophy back to Milwaukee this postseason.
But as with every team in the league, the Bucks still have a few unanswered questions to figure out over the 82-game season. Here are a few notes and storylines to look out for as the Bucks commence their 2022-23 campaign.
The roster battles
The starting shooting guard position is perhaps the most consequential minutes decision head coach Mike Budenholzer had to make heading into the season, and it showed in their first game against Philadelphia where Milwaukee fielded an ultra-defensive backcourt of Jrue Holiday and defensive stalwart Jevon Carter. For a time last season, it was looking like their principal sharpshooter in Grayson Allen had that spot all but locked up for the foreseeable future, but that was before he flamed out in the playoffs on both ends of the floor.
The secondary point guard slot is also another uncertainty that might yet be a point of contention for the Bucks. Carter, who's really more of a natural point guard, has shown of late that he is more than just an above-average ball stopper — he hit 52.2 percent from beyond the arc in the team's preseason games — but the ageing George Hill has long had Budenholzer's trust as evidenced by his extensive minutes over Carter in the Eastern Conference Semifinals a year ago.
In the Bucks' winless preseason games, it was more often than not Jevon who came off the bench as the sixth man. And in their fifth and final game against Brooklyn, Carter started at the point guard position while Jrue Holiday slid down to shooting guard. It's clear that Mike Budenholzer is still tinkering with the rotation, but the additional minutes for Carter have been a good sign that he'll see much more time on the floor this time around.
At the same time, George Hill has admitted to considering hanging up his NBA jersey for good after a less-than-stellar postseason run that he said was aggravated by injury.
"Last season was tough for me, fighting injuries and things like that. I wasn't able to be myself, but I took time over this summer, got my shots that I needed to, and let it rest," he was quoted as saying at the team's media day. "It was good to have that long period of time where I can actually recover and do the things I needed to get back to one hundred percent."
"I felt like I let the city of Milwaukee down last year not being to perform the way I normally perform," he also said.
Hill definitely sounded ready and willing to redeem himself after he largely underperformed in the playoffs, and it will be interesting to see if he can make good on his promise and bounce back for another good season. So far, he's won this contest in their first two games.
The minutes decision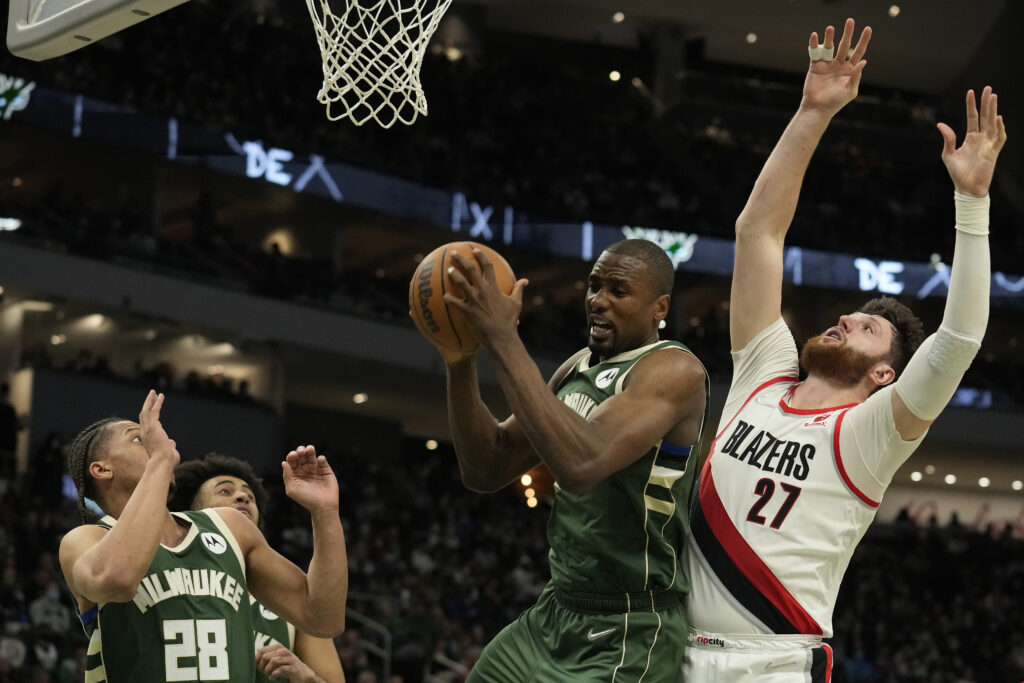 Budenholzer has always been conservative with his minutes decisions, but after losing Khris Middleton to injury in last year's playoffs, it's possible he can still take this up a notch. The Bucks have also confirmed that Pat Connaughton will be sitting out for quite some time after straining his right calf midway through the preseason contests, which should only open up more playing time at the shooting guard and small forward slots.
Allen showed versus the Bulls that he can take up secondary scoring duties in short spurts, and he's started for the team at small forward in Middleton's absence.
Serge Ibaka has also looked sprier than ever before in the team's preseason games. There's no doubt he has the skills to be more than just a fill-in to keep Brook Lopez healthy for the playoffs, but he played less than 10 minutes against Sixers. It was a surprise to some that he even signed back with the team, considering Budenholzer hardly played him during the team's playoff run a season ago.
The Bucks might also consider managing big man Brook Lopez's load to start the season — they had their defensive anchor for just 13 games last regular season after a lingering back injury sidelined him for practically the entire year and possibly (albeit indirectly) led to some less-than-stellar performances in the postseason. Ibaka might be the answer to keep their 34-year-old defensive linchpin fresh through the rigors of an 82-game season.
If their first game against the Sixers is any indication, though, Budenholzer remains as conservative as ever as he stuck to his go-to guys in George Hill and Wes Matthews once more. Mamukelashvili and Beauchamp got DNPs, and though it's entirely possible it was largely due to the top-tier matchup facing them, it's definitely consistent with his faith in rookies for most of his Bucks tenure. A dearth of minutes could possibly see the Bucks losing out on the talents of their recent draft picks as well as limit their individual growth, but only time will tell if they're able to see the floor.
The trade deadline
Another important question, though one that will no doubt take longer to iron out: will the Bucks trade for a stout defender like Jae Crowder or will they prioritize more scoring punch off the bench and go for a certified bucket-getter like Jordan Clarkson? Could they possibly go for someone else entirely?
Crowder locked up both guards and forwards to less than 45 percent field goal efficiency when he was the closest defender in last year's playoffs, per NBA.com/stats. It's not difficult to see how he is the perfect switchable defender with size and a little bit of shooting to play next to Giannis. He'd likely be playing the same role PJ Tucker did in their championship run while dishing out much more production on the offensive end.
At the same time, it was the Bucks' offense that sputtered to a halt sans Khris Middleton. Clarkson would give the Bucks insurance in the event any of their offensive engines have to sit out some time. While he's not the best long-range sniper to throw into Budenholzer's system (he sank just 31.8 percent of his nearly eight attempts per game from three-point land), he's a high-usage slashing wing who would still beef up the secondary unit with some much-needed scoring punch and athleticism. He'd also be the perfect answer to their bench-scoring woes after they ranked bottom five in bench points per game a season ago.
There are also very valid concerns with his defensive chops (or lack thereof), but it's very much worth mentioning that the Utah Jazz outscored the opposition by a net-plus 8.84 points per 100 possessions whenever Clarkson was on the floor versus on the bench, per PBP Stats.
General manager Jon Horst has already shown he's not shy about pulling the trigger on big-ticker trades to bolster the team's championship odds mid-season, and it will be interesting what he can cook up for the Bucks this time around. The Bucks have been reported to be more than interested in those two names, but as the team's priorities change throughout the season, Horst may consider other players altogether.
Young Bucks and their development
While none of the end-of-bench guys on the Bucks will likely play a consequential role in their postseason run, it's clear that general manager Jon Horst is looking to build on a few young pieces to keep the team competitive in the near future. Young Bucks like Jordan Nwora, Sandro Mamukelashvili, and 24th selection Marjon Beauchamp have all shown clear potential of late, whether in the Summer League, G-League, or preseason games. Their development will certainly be interesting to look out for as the season wears on.
Jordan Nwora is perhaps the player who has gotten the most chances. Though it's debatable if he's made the most of those, the opportunities he's been handed are obvious, and Budenholzer will likely still give him minutes until a trade involving him materializes.
Nwora's struggles have always been on the defensive end, and while he's clearly putting in much more effort on that end, they simply haven't resulted in many stops throughout the team's preseason skid. Still, he's capable of putting the ball in the basket in waves as evidenced by his nearly 8 points per game in 19 minutes per contest last year.
Sandro Mamukelashvili on the other hand is probably the most primed for a breakout season after all the production he's shown in the past few months. After taking up the cudgels of the team's Summer League squad, Mamu even found himself in contention for Summer League MVP honors, which should speak volumes about his development as of late.
Rookie Marjon Beauchamp should have significant playing time in the early goings of the season as well with both Khris Middleton and Joe Ingles still recovering from injury. He's one of the more interesting prospects solely due to the fact that he's the team's only wing not named Khris Middleton standing above 6-foot-5. Around the league, it's become clear that defensive wings with size and shooting are a precious resource and floor-raiser, and the Bucks would do well to develop Beauchamp as much as his ceiling allows this year.
As mentioned, though, Budenholzer's pronounced reliance on decidedly more established veterans might hinder this potential, and routine trips to the Wisconsin Herd in the G-League might afford the Yakima Valley product more consistent opportunities instead of languishing on the Bucks' bench.
The writing might be on the wall here: Marjon only played three minutes versus the Houston Rockets in the second game of the season, and was a net minus-9.6 in 22 minutes per game in the preseason. The coaching staff can still see everything the fans can't, and the signs are pointing to the 22-year-old still needing a lot of work before he's game-ready for a team with title aspirations.
---