The Milwaukee Bucks are set to face the Boston Celtics in a second-round matchup nobody saw coming.
Quite simply, Boston is peaking at the right time. After a slow start to the season, they've finally found an identity that works for them anchored on the defense of Marcus Smart and Robert Williams along with the shot-making of their two stars in Jayson Tatum and Jaylen Brown. They were already touted as a formidable foe heading into the post-season — they've been the league's best team since January — but it was difficult to predict they'd sweep the championship favorite Brooklyn Nets in the fashion that they did. We all know how that ended: Kevin Durant and Kyrie Irving, great as they are, suffered the only sweep of the first round in these playoffs.
The defending champions bested the fledgling Chicago Bulls with ease after dropping Game 2, but Milwaukee is now missing their two-way swingman in Khris Middleton for this Eastern Conference semi-finals series. Here are three reasons why the Bucks can make it out of the second round.
Milwaukee can roll out championship-winning defenses
Boston's perimeter switching anchored by Williams' paint roving have been nothing short of revelatory. But Milwaukee's strength is in their surplus of options strategically.
As they did last year, the Milwaukee Bucks are rolling with the best statistical defense of the playoffs. In their five games against Chicago, they held their division rivals to just 94.4 points per 100 possessions — the quarterfinals' only defensive rating that didn't hit triple digits. Boston on the other hand registered a lukewarm 115.0 defensive rating against a talented but mostly one-dimensional Nets offense.
DeRozan and LaVine are obviously nowhere near the same offensive caliber as Durant and Irving, but the difference as a team is also not that glaring. Per NBA.com/stats, the Bulls were just half a point scored per 100 possessions behind the Nets — good for just three spots back in the league in offensive rating — during the regular season.
Even though they lose a competent wing defender with size, the signs are encouraging for a Bucks defense that has been middle of the pack all season long. After the first round, the Bucks are the only team in the playoffs who are top 5 in opponent points in the paint (32.8), opponent fast-break points (8.2), opponent second-chance points (7.4), and opponent points off turnovers (13.6).
In these playoffs, the Celtics have had four players shooting at least 42 percent from behind the three-point line. A good portion of their shot diet consists of threes and jumpers, which the Bucks have always been happy to concede. With both teams trotting out nimble bigs to roam the paint, the battle of the defenses might just come down to which team can make their shots.
The Bucks have always lived and died by their defensive philosophy. They completely shut off the paint at the cost of giving up midrange jumpers. As we saw in the case of DeMar DeRozan, this was a calculated risk. Sometimes the shooters got going; other times, closing out strong was more than sufficient to get them to miss enough jumpers. Over five games, though, it was clear the Bucks locked down their counterparts with aplomb; they had an answer every time, and scorers like LaVine and DeRozan ran out of ways to get their shots off.
Celtics starters versus Milwaukee
| Player | Mid-range | 3PT |
| --- | --- | --- |
| Jayson Tatum | 4/14 (28.6%) | 16/36 (44.4%) |
| Jaylen Brown | 7/11 (63.6%) | 7/22 (31.8%) |
| Marcus Smart | 0/2 (0.0%) | 12/30 (40.0%) |
Per NBA.com/stats
And even when opposing shot-creators got going, Mike Budenholzer has long silenced his naysayers by showing he can indeed adjust. Whether by running zone or switching, the Bucks still do have the personnel to throw differing coverages to keep opposing scorers honest.
Boston recorded the playoff's third-best offensive rating (119.2) against a Nets team that was hardly equipped on the defensive end and the regular season's ninth-best offense (113.6). They have the shotmaking to bail them out of tough possessions, but their offense was never just the sum of Brown and Tatum.
The Celtics no doubt have distinct and robust defensive and offensive identities that they can call their own. But don't discount the effect that solid defenders like Wesley Matthews, Pat Connaughton, and even Jevon Carter can have on Boston's jumpshot-heavy scorers at the point of attack.
The Bucks have the best player in the matchup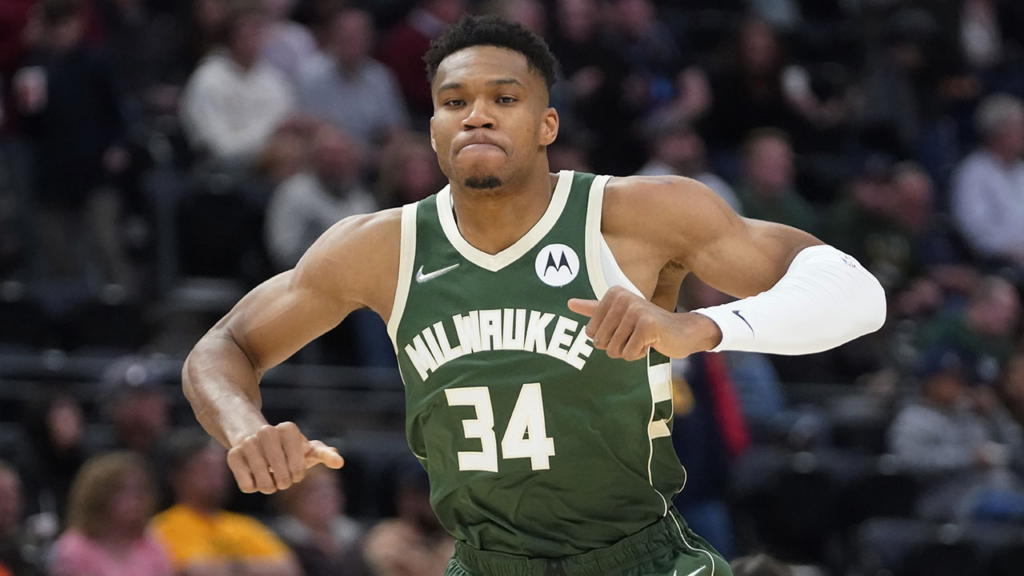 There's no doubt this series will test the Bucks' mettle sans their smooth-shooting forward. Fortunately for them, they still have arguably the best player in basketball today. For the past half-decade, the Bucks have luxuriated with the talents of the Greek Freak, whose centrifugal slashing has contorted opposing defenses in a dizzying number of ways.
When the Bucks made quick work of Chicago in five games, Giannis averaged 28.6 points, 13.4 rebounds, and 6.2 assists on 56.8 field goal efficiency. Whatever you want to call it, the Giannis Wall and the Giannis Rules simply don't hold much stock these days. It's clear the young man from Athens knows what to do and when regardless of how defenders react to his inward gravity.
Antetokounmpo has also elevated his game in recent months, and his passing in particular is looking more polished than ever. His decision-making looked as sharp as it's ever been against the surging Bulls. Whether they sent the double or walled up in the paint, the reigning Finals MVP always had the answer. When handling the ball, he also knew when and how to pass out of the pick and roll or barrel toward the rim on his own. By himself, his decisive post-ups or kick-out passes to hot shooters like Grayson Allen and Pat Connaughton picked apart a Bulls defense that was keyed in on him from the get-go.
On the flip side, the Celtics also just held Kevin Durant, one of the most balanced scorers the game will ever see, to four straight subpar performances. Giannis is not Durant, and by virtue of their differing playstyles, Antetokounmpo is inevitably going to have better shot quality across the board and will be under significantly less duress despite Boston's switching and physicality.
Boston is not Chicago and can throw a much more balanced lineup at the Bucks forward as far as size and length go. Al Horford and Robert Williams are no doubt going to give Antetokounmpo problems, particularly when he's handling the ball at the top of the key. But the Bucks superstar has shown he has the greatness to get his numbers almost regardless of the matchup. It's a question of how and when with this iteration of Giannis, not if.
In three games against Boston, though, Giannis only scored 1.6 points short of his regular-season average and just 1.9 percentage points back (53.4) from his field goal efficiency for the season. No matter what's thrown at him, Giannis is an inevitability who's good enough for a few points and ultimately, a few games.
The reality as it currently stands is the Bucks absolutely need peak Giannis Antetokounmpo if they want to squeak by the Celtics. But as he does for every team, Giannis and his talents present a confounding matchup nightmare for the opposing defense. Just one of Horford and Williams, for instance, may not be enough to stop Giannis, who takes a village to even slow down in transition. But having both of them on the floor leaves the Celtics vulnerable to Milwaukee's litany of shooters littering the perimeter.
The defending champions have been here before
Sometimes, championship pedigree can be the difference-maker in a close contest. And we saw that DNA when Milwaukee bested all their Eastern Conference demons to close out the season, in which they pulled out close games with smart, decisive plays down the stretch against the likes of Brooklyn and Philadelphia.
The Celtics have certainly gone through their growing pains and are by no means the fledgling ballers they were when their roster was headlined by Kyrie Irving. But they're also overachieving at this point in the season, especially considering where they started off earlier on.
Milwaukee is without their second-best player, but didn't seem to hinder them as they showed in their three-game demolition of the Chicago Bulls after dropping Game 2. That was only a snapshot of what we know this team can do: they also lost their best player in Antetokounmpo for three games against the Atlanta Hawks in last year's Eastern Conference Finals. They responded with grit and grace as the team's next-man-up mentality was clear. They went on to win the series off solid production from a host of contributors, including Brook Lopez, Pat Connaughton, and Bobby Portis.
That series win definitely spoke to their depth and mentality, but it also showed their resilience in the face of adversity. Despite touting the league's most destructive two-way force, the Bucks have never been a team that relies squarely on the talents of their superstars. Their offensive rating of 114.3 to end the regular season was good for third in the league, and though rather simplistic, their ball movement-oriented has always been very much present even among their role players without the shot-making talent of Middleton.
It's not as obvious in their case, but Milwaukee is also peaking at the right time. And without Middleton for the foreseeable future, the Bucks will need to keep leaning on Grayson Allen's hot-shooting, as well as the aforecited names to keep producing on offense.
With the more experienced (and arguably, still talented) Bucks facing a team that is, by all accounts, the most equipped in the league to slow them down, all signs are pointing to this round being a grind-it-out series more than anything else. But the Bucks have been here before and know a thing or two about sticking it out in the hardest moments. This one will be an ugly one. Bucks in 7.