Parker Porter will test his skills against Alan Baudot on February 19th at UFC Vegas 48. It all transpires at the UFC Apex in Las Vegas, Nevada.
The AllStar's John Hyon Ko spoke with Porter as this heavyweight collision looms closer.
Underdog No More
Porter has been the underdog before but despite being the favorite leading into this one, it does little to alter his mentality leading into battle.
Baudot carved his name out on a variety of circuits like TKO, EFC, and GRANDSLAM before embarking on his first fighting foray into the Octagon.
Porter does have localized thoughts on his opponent's UFC run and style. But this fight seems far more mindful of individual pursuit than the specific opponent standing across the cage.
"I think he brings a good style that matches up well for me. He's a solid kickboxer and looks like he's comfortable on the ground. I've seen some decent throws and takedowns in some of his earlier matches. But mostly just his kickboxing game. Yeah, he's had a tough run. He's had some stacked competition in front of him already. Making his debut against (Tom) Aspinall."
"The fight he most recently had with Rodrigo Nascimento that he got put away in the second round with. I'm excited for the fight, man. I'm just excited to be back in there and be doing what I love doing. Staying active. I'm not the youngest guy in the division. So I'm trying to cash in on as many fights as I can. Stay active and relevant to really make the most out of my time here."
Inner Circle
Porter's inner circle is quite tight. But he gets in work at a myriad of quality gyms locally and throughout the New England area.
He fought last summer and a ton of additional skills grew since the UFC viewers last saw Porter. While being a tad nebulous to not totally reveal the game plan, several facets of his fighting went through refinement.
"Tightening up my footwork. Some better striking. Obviously, conditioning is always key. Just trying to get stronger in general. Overall improve everywhere that we saw some holes in the last three performances."
First UFC Finish
The New England native is certainly a sizable heavyweight in terms of musculature, has the 3X gloves, and aims to utilize those meaty mitts to the cage.
3X is apropos as Porter now seeks out a third victory with the organization. His fight prediction touches on something that the UFC faithful have not yet gotten to see from him as of yet.
"Without going too much into detail and stuff, I can see this being that first finish. I don't expect this fight to go to the judges."
What are your thoughts on Parker Porter fighting Alan Baudot at UFC Vegas 48?
---
Fighter profile
Parker Porter is a 36 year old male fighter from United States with 12 pro wins and 6 losses. Porter is scheduled to fight Alan Baudot at UFC Fight Night: Dos Anjos vs. Fiziev on Saturday February 19, 2022.
Porter's recent form coming into this matchup
Porter has gone 4-1 in the last 5 professional MMA fights.
Win vs Chase Sherman • Decision R3 5:00 • 2021-08-21
Win vs Josh Parisian • Decision R3 5:00 • 2020-11-28
Loss vs Chris Daukaus • KO/TKO R1 4:28 • 2020-08-15
Win vs Dirlei Broenstrup • KO/TKO R3 3:17 • 2019-09-07
Win vs Kevin Sears • Submission R2 2:29 • 2019-05-31
Parker Porter's next opponent: Alan "The Black Samourai" Baudot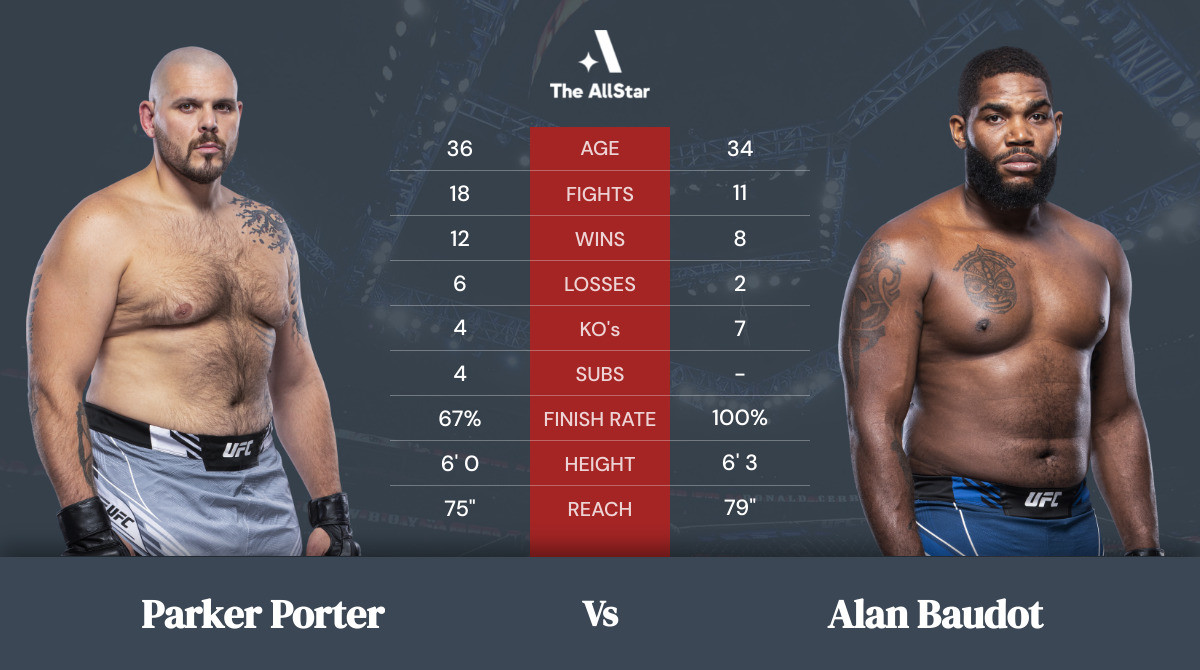 Alan "The Black Samourai" Baudot's recent form coming into this matchup
Alan "The Black Samourai" Baudot is a 34 year old male fighter from France with 8 pro wins and 2 losses. Baudot is scheduled to fight Parker Porter at UFC Fight Night: Dos Anjos vs. Fiziev on Saturday February 19, 2022.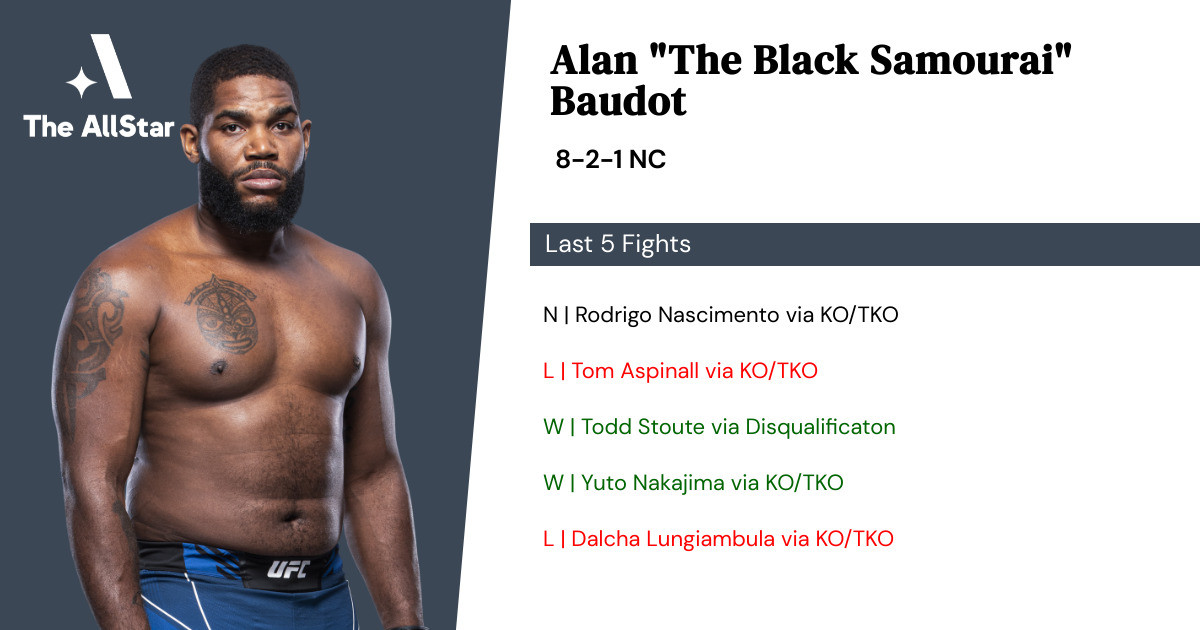 Baudot has gone 2-2 in the last 5 professional MMA fights.
No Contest vs Rodrigo Nascimento • KO/TKO R2 1:29 • 2021-07-17
Loss vs Tom Aspinall • KO/TKO R1 1:35 • 2020-10-10
Win vs Todd Stoute • Disqualificaton R3 3:54 • 2019-04-11
Win vs Yuto Nakajima • KO/TKO R1 4:16 • 2018-05-06
Loss vs Dalcha Lungiambula • KO/TKO R1 0:26 • 2017-07-08
How to watch and bet on Parker Porter vs Alan Baudot