Having recently watched the "Road to UFC" fights held in Singapore, women's MMA pioneer Roxanne Modafferi reflects on her own journey into the UFC.
"Road to UFC" is an event series in which the top prospects from Asia compete in a tournament to be granted a UFC contract.  
In 2015, the same title was given to the Japanese version of The Ultimate Fighter, only the fighters didn't stay together in a house. The UFC filmed their lives at home, training camps, and then covered the fights. The result of that series was Mizuto Hirota and Teruto Ishihara fighting to a draw in the finale. Both were awarded a contract.
Much like the Japanese edition, this year's series contestants were not put together and filmed in a house. The first round of fights took place June 9-10 in Singapore, held in the days leading up to the big fight card UFC 275. Fighters were invited from China, India, Indonesia, Japan, Korea, the Philippines and Thailand.
Looking through the list of names, I didn't recognise a single fighter except for Japanese fighter Keisuke "Sasuke" Sasu.
Sasuke
That's the excitement in watching Road to UFC and other "feeder" competitions: They introduce fans to up-and-coming fighters who have made names for themselves in their own countries but not internationally.
Actually, the Japanese fighter that I did know – Sasuke – came to train in March and April this year at my gym Syndicate MMA in Las Vegas. His manager messaged me in advance and asked if I could help him get situated since I can speak Japanese.
It figures! I'm sad that never once did a Japanese fighter visit Syndicate until I retired from fighting and stopped going to MMA classes!
I picked him up from the airport, helped him buy a bicycle, and showed him around.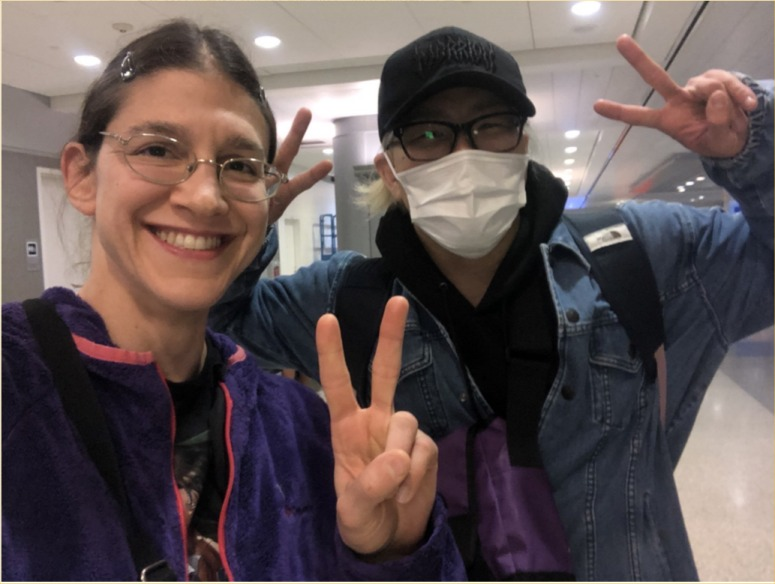 Sasuke is the current Shooto Featherweight Champion. He was looking to gain great training and possibly a new fight opportunity for his career outside of Japan. His hope was that being in Vegas increased his chances of being noticed by UFC matchmakers. 
I was so happy for him that he got a chance to fight in Road to UFC. I felt sad he lost to Chinese prospect Yi Zha, but who knows what the future might bring. Zha is so slick with his grappling that I want to follow his career now.
Different countries
It must be hard for a matchmaker or talent seeker to find prospects from different countries. I can't pronounce half of the fighter's names, but I want to now, and to follow their careers after seeing what they're capable of. On Episode 4, there were five fights and they all ended in some kind of finish, either submission, KO, or TKO.
It's important for up-and-coming fighters to fight as much as they possibly can. Naturally, they'll start on local shows. If they do well and are exciting, they'll be invited to bigger and bigger promotions.
When I was coming up through the ranks, there weren't many options. I started out fighting for Smack Girl, a primarily Japanese organization. Following that was HookNShoot, which was local but featured big talent. I had my first title fight for the IFC for my seventh fight. 
A decade or so later, I had so many fights under my belt and had achieved so much that I still got accepted to The Ultimate Fighter 18 despite having lost recent fights. I was sliding downwards in my career and was able to rebuild myself after TUF.  It was kind of different than what up-and-comers are going through with climbing the ranks now.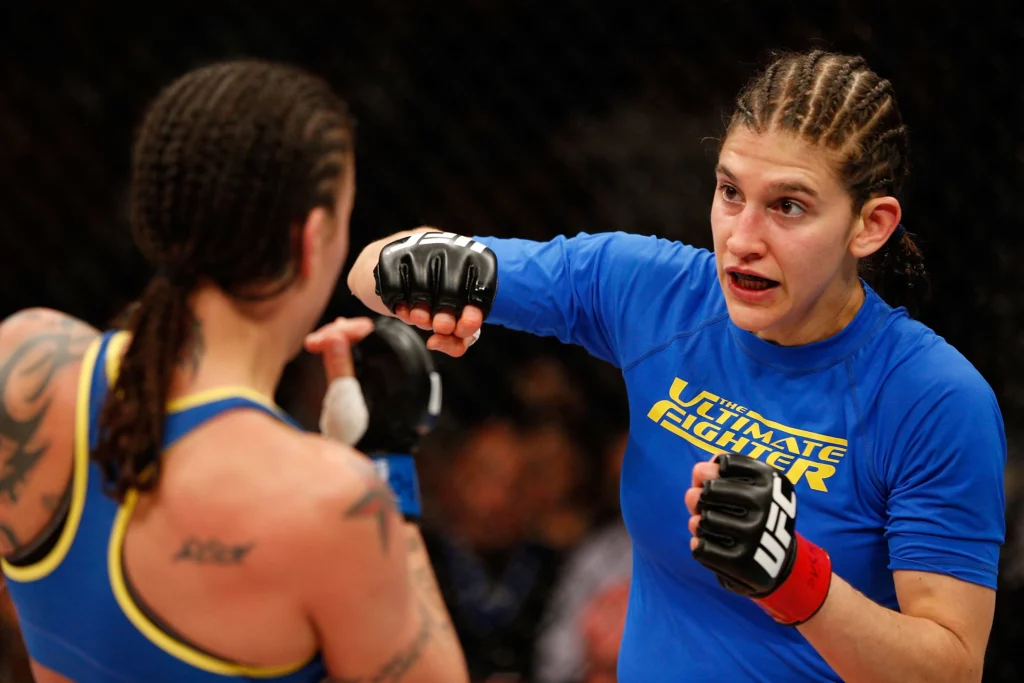 I was not offered a  UFC contract after TUF 18, but I did get signed to Invicta in 2014. That allowed me to fight on a smaller stage and hone my skills under my new coach John Wood. 
More fights
I could implement what he was teaching me and grow until I was good enough to actually make a run in the UFC. He improved my striking, wrestling, and wall-fighting.  John would continue to be my head coach for the rest of my career until my retirement in February this year.
I think fighters should have at least four or five amateur fights to develop themselves before going pro. Fight everybody as an amateur: Weak people, strong people. The more fights they get before reaching the UFC, the better developed they will be all around. The more scrambles and tough situations they run into, the more experience they'll have.
If a fighter never gets stuck on the bottom in a bad position because they are so busy smashing people, they might not deftly be able to escape when they finally meet someone their equal.
The TUF series showcases a lot of new talent, like with people with records of 5-0, for example. Sometimes we see those fighters struggle once signed to the UFC, facing fighters with over 20 fights. Everybody will now be at the highest level and there's hardly any room for error for the young fighter.
Now, with more demand for fights and a greater number of athletes wanting to compete, there's a clearer career path for fighters. The competition is greater and it's harder for a young fighter to get noticed, which is why competitions like Road to UFC are so important.
I encourage you to check out Road to UFC: Singapore. The four episodes on UFC Fightpass contain four or five exciting, no-nonsense battles each. The semifinal and final rounds are scheduled for later in 2022.
There's a lot of talent out there that we've been missing just for lack of recognition. It's exciting to follow a talented young fighter's journeys to glory.