Tai Tuivasa seems ready to go 'Bam Bam Bigelow' if presented with the opportunity.
When asked during an episode of Fine Dining with Fighters at Ohara's Irish Pub in Phuket, Thailand if he would ever go to WWE, Tuivasa's expletive-driven response indicated a strong pro wrestling fandom.
The AllStar's John Hyon Ko posited that he could see the current #3 ranked heavyweight contender in the company being under the bright lights of World Wrestling Entertainment.
"Fuck yeah," Tuivasa stated. "I'll be the new Rikishi. I'll get my ass out (laughs). I love Rikishi, man. I grew up watching wrestling hard. My nana loved wrestling. She still does watch, she's crazy."
A pivot from shoeys to stinkfaces would seem like a natural fit. The bombastic brawler has a hugely endearing personality and it also doesn't hurt that he acknowledges The Tribal Chief.
The heavyweight powerhouse's appreciation for Samoan wrestlers like Roman Reigns and "Rikishi's sons" (aka The Usos) came across over some pints.
The Australian knockout artist was dealt a heavy blow as a boy upon finding out the pre-determined nature of the spectacle he was taking in.
"I remember when my uncle told me it was fake, I cried for ages. Because I used to think they were the hardest cunts. I used to watch it and just be like fuck. Then when he told me it was fake, I just started watching it and it would be hard. I was like, it's not fake (fake sobs). Then after that, I couldn't watch it again for a long time. Because I was like, damn. I was heartbroken."
Perhaps things can come full circle and Tuivasa can get welcomed to the ring by Paul Heyman alongside The Bloodline if all falls into place.
---
Fighter profile
Tai "Bam Bam" Tuivasa is a 29-year-old male fighter from Australia with 15 pro wins and 3 losses. Tuivasa most recently fought Derrick Lewis at UFC 271: Adesanya vs. Whittaker 2 on Saturday, February 12, 2022.
Tai Tuivasa's recent form coming into this matchup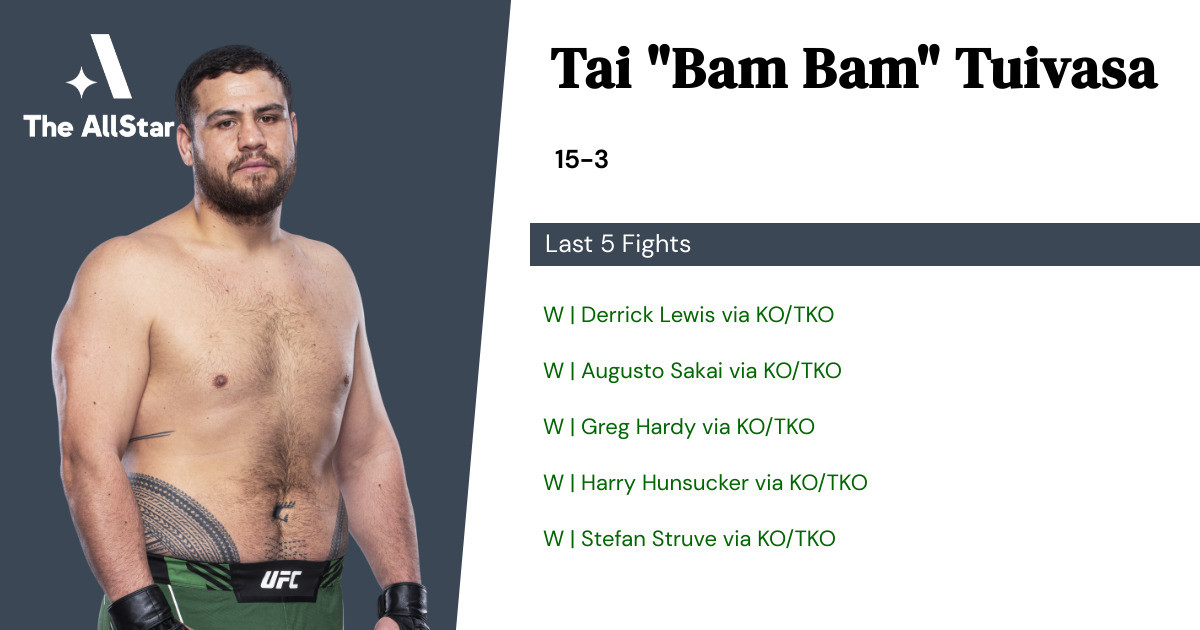 Tai Tuivasa has gone 5-0 in the last 5 professional MMA fights.
Win vs Derrick Lewis • KO/TKO R2 1:40 • 2022-02-12
Win vs Augusto Sakai • KO/TKO R2 0:26 • 2021-12-11
Win vs Greg Hardy • KO/TKO R1 1:07 • 2021-07-10
Win vs Harry Hunsucker • KO/TKO R1 0:49 • 2021-03-20
Win vs Stefan Struve • KO/TKO R1 4:59 • 2020-10-24