This is the seventh in a series of interviews with the major players in the fight scene on the island of Phuket, Thailand. These are the stories of survival during the Covid pandemic and its rippling effects.
In 2019, before the Covid-19 pandemic sunk its grips on the planet, George Hickman, his brother Frank, and the two other members of their close-knit coaching faction, Alex Schild and Andrew Wood, were reaching the peaks of their coaching careers.
The quartet was preparing elite martial artists to compete at the highest level out of a world-renowned gym, Tiger Muay Thai.
"Things were going well," Hickman told The AllStar of his time working at the training facility. "We had a big 2019. A lot of fighters got into the UFC."
By that point, he'd been helping mold the athletes at Tiger Muay Thai for five years. With the likes of Alexander Volkanovski, Valentina Shevchenko, and Petr Yan claiming UFC gold, it seemed as if the hard yards the then 33-year-old had put in were beginning to show a return.
Then came January of 2020. The emerging coronavirus outbreak had brought a litany of new rules and restrictions along with it. In its early stages, the pace at which the pandemic evolved was break-neck – so much so, that Hickman wasn't even entirely aware of the situation.
"I remember in January of 2020 I was in the Philippines for Pongsiri Mitsatit's fight, and before we left [Thailand] my wife was like 'I bought you some masks, make sure you wear them', and I was like 'for what'?"
It wasn't until March that Hickman would fully understand the severity of the situation. He was preparing to corner UFC light-heavyweight Khalil Rountree in an upcoming bout when the realization dawned on him.
"[Two weeks] before we were supposed to leave they canceled the NBA, and I was like 'oh shit, it's getting serious now'."
Shackled
The following six months would see international travel halted, and gyms, along with countless other businesses in the nation forced to close in adherence to government regulations. Phuket, one of the biggest tourist hot spots in the country, was hit hard.
"When it stopped, I mean, it was like a ghost town. Not just at Tiger, but every other gym on that street – or in the country for that matter."
"There was a period from the end of April through, like, October-November of 2020, where things in Thailand, it was really sad, it was a ghost town everywhere… You'd never see anything like that."
The American expatriate described a grueling months-long lockdown, during which he was bound to the street he lived on.
With the gym closed, and there being few students to cater to, Hickman was placed on leave with half salary for the duration of his remaining employment at Tiger. Having seen the devastation caused by the pandemic, he counts himself as one of the lucky ones and was hesitant to dwell on his own struggles.
"Look, it was rough and hard but people had it much worse than I did, so I don't want to complain about that…"
"We could talk about Muay Thai fighters," he insisted, redirecting the initial question.
"There've been Muay Thai fighters that were maybe at the top of their game, doing very well, and some of those guys have retired. Some of them went home and were selling stuff on the side of the street…"
It's a glaring reality that some struggle with even to this day.
"It was hard. I mean hell, it's still hard – people are still affected by what's going on."
Adapt and evolve
As the months passed and the UFC reopened for business, the four-man coaching team was forced to improvise and adapt their training methods to better suit the 'new normal.' Using what little equipment they had at their disposal, the group mounted an effort to help the few athletes under their guidance that remained in the country. Hickman noted it was no easy feat.
"Petr Yan won a world title training at his villa that he rented, with puzzle piece mats down," he claimed, almost astounded by the words as he spoke them.
"[He] won a world title training, not at a gym, but in about a 12×12 space. It was literally – the puzzle piece mats together – it reminded me of the wrestling mat my father had bought Frank and I when we were kids."
Going from house to house, from garage to villa, George, Frank, Alex, and 'Woody' coached names like Rafael Fiziev and the aforementioned Yan to some of the biggest victories in their respective careers under restrictive conditions.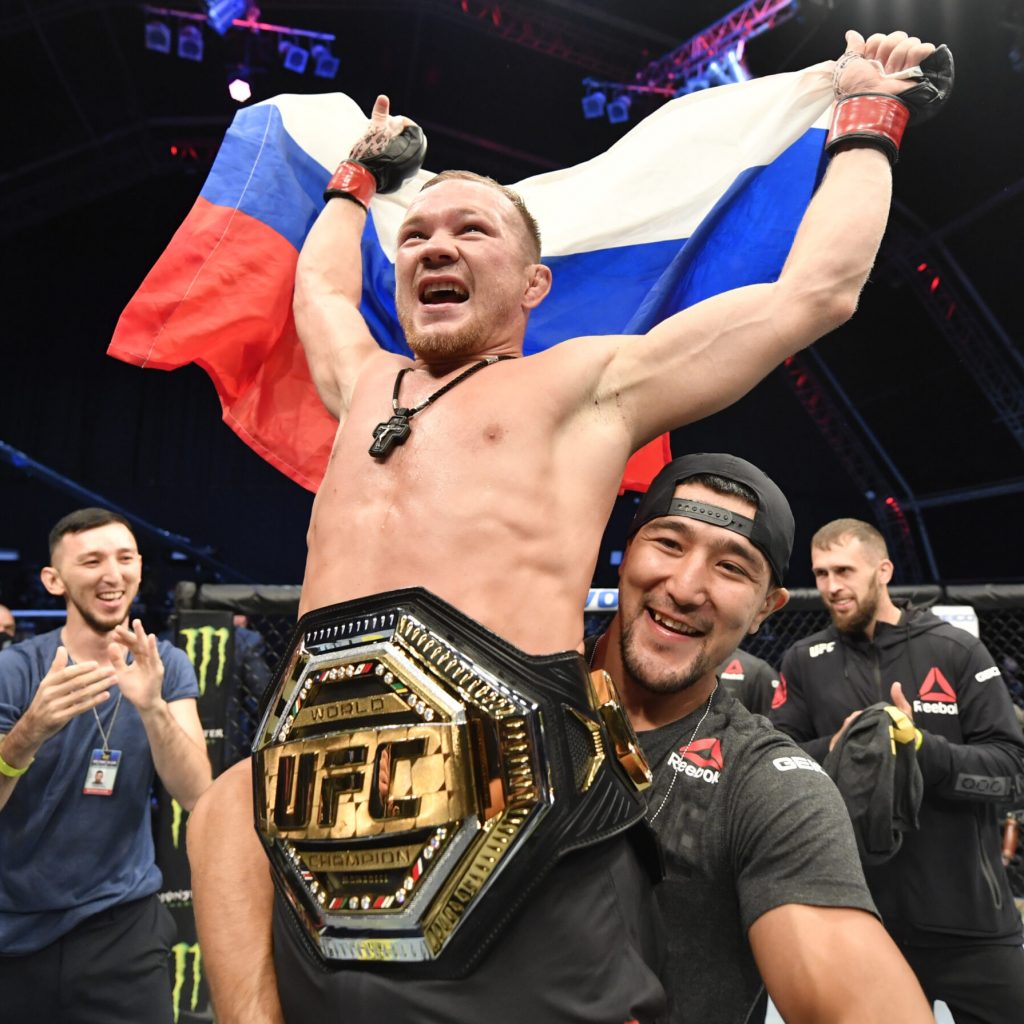 "The show must go on," Hickman said, parroting Dana White's sentiments at that time.
"And it did go on… We didn't let it affect the fighters that we were helping at the time"
It was in September of 2020, the team still working out of makeshift facilities, when Schild would plant a seed.
"[Alex] was like 'yo we need to have a meeting' and I said 'about what?', and he was like 'bro, just show up.'"
Schild's proposal was for the team of coaches to take a gamble on themselves: To leave the world-renowned gym where the four men had fostered champions, and build something they could call their own.
"We've talked about for years – Woody, Alex, and my brother – we talked about opening a gym and having our own place…"
Birth of Bangtao
The decision was made shortly thereafter, and resignations were handed in at their former workplace. Hickman had admittedly intended on coaching at Tiger for longer and noted it "was a huge part of our life and a great experience," but refused to let his dream slip away.
With that, the team formed like Voltron and dove head first into the logistics of birthing an elite-level training facility in a foreign country during a pandemic.
"It was scary, man," the older Hickman brother said of the process.
"I remember asking a friend, one time that's here in Phuket, about 'oh [what's] this gym, did this just open up?' and they were like 'yeah, it'd be the worst time to open a gym right now' – and in the back of my head I already knew that I was doing that."
It took time for Schild, who Hickman described as the "go-getter" of the operation, to convince the other men to move away from the Chalong area – where a hoard of established gyms are situated – and take a chance on the shores of Bang Thao; the eventual namesake of their new undertaking.
For over a year, the clique toiled away scouting locations, finding financial backers, and vetting further team members – all while trying to stay afloat working out of their homes.
"At that point, we were jobless. Yeah, we had this great idea to open this gym, but we had so many hoops to jump through."
Without going into detail, Hickman shared that they hit their fair share of speed bumps throughout the process, but their unwavering belief in their goal drove them forward.
"Nothing ever goes to plan, and I'll tell you what – there wasn't a damn thing other than the four of us doing it together that has gone as planned. From the costs to the people involved to everything. But we just adapted and put our blinders on."
The initial objective was to be operational by mid-2021 – a lofty goal that ultimately wasn't achieved. Hickman began coaching out of the unfinished facility, regardless.
"We had makeshift mats here at the gym – and I was just constantly thinking, like 'I just can't wait until construction starts' then 'I can't wait until the mats are done, until the gym's open'.
"There were a lot of stressful moments in 2021," he noted.
"But I'm living my dream."
On April 4th, 2022, Bangtao Muay Thai & MMA officially opened its doors for business. Within just over two months, the team has helped lead Zhang Weili to a number one contender spot, and Jiri Prochazka to UFC gold.
Accompanying the stable of established talent they boast, Hickman and co. are working with a cohort of up-and-comers that are looking to make a splash in the international MMA scene – notably Thailand's own Topnoi Kiwram, who emerged victorious in his recent Road to UFC bout in Singapore.
"It's been a very scary journey, and a long one, and a very stressful one," Hickman reflected.
"But we're here baby, we're here."
Even though the facility is a massive complex, the gym is looking to expand even bigger in the coming year.