Milford, Massachusetts' native Kris Moutinho claims he's out to "put on a show" at UFC Fight Night: Santos vs Ankalaev.
On March 12th at the UFC Apex in Las Vegas, the former paint factory worker will once again get the chance to test his mettle inside the Octagon, this time opposite UFC veteran Guido Cannetti to close out the preliminary card. 
Cannetti, at 42 years old, is at the opposite end of his career in comparison to Moutinho's last opponent, the rising star Sean O'Malley, though the Milford native isn't taking the assignment any less serious than his promotional debut in July of last year.
"He's an older man competing against these young dudes and still doing fairly well," Moutinho told The AllStar. "He's not somebody to overlook, and he's not somebody to take lightly – that's why I'm training as hard as I am, to go out there and try to dominate him in exciting fashion."
Moutinho praised the matchup style-wise, reveling in the thought of another stand-up war.
"He's a banger, he likes to keep it on the feet… those are the kinds of fights I like. Those are the fights I get up for. Those are the kind of fights I truly enjoy. I like to stand in front of people and throw punches."
Though Cannetti is nearly 13 years his senior, Moutinho managed to accumulate the same amount of professional MMA bouts. The Argentinian's competition has been UFC level for the past eight years so Moutinho took advantage of the extensive amount of tape.
"I watched a couple of his fights," Moutinho claimed. "He's doing some things that he used to do back in the old fights, still to this day… he doesn't do anything too wild or [unorthodox], it's very simple stuff. He throws big shots, he throws some loopy exchanges in the tight areas, and that's what I'm going to try to utilize."
Fighting in close quarters is where Moutinho believes he'll have the most success when the cage doors close on fight night, explaining "I like to be in the pocket, I like to box – my style is more of a boxing style than anything else." though the 29-year-old claims to be prepared to take the fight to the ground if necessary.
"I know when it comes to it, if we have to [get] some takedowns, I'll throw some takedowns in there. I've gotta show all my tools in this fight… I can't wait."
Those tools Moutinho is speaking of have been honed for years at Regiment Training Centre under his head coaches Brian Raposo and Tommy Teixeira; however, after his UFC debut earned him a $75,000 fight of the night bonus, Moutinho expanded his team and used the funds to support himself as he trains full time.
"Realistically, [the bonus] allowed me more time to train. I don't have to go work a day-to-day job and bust my ass every day… I'm able to go train two, three times a day, every day…"
"I started with a boxing gym near where I live, it's called Uppercuts Boxing Club, with my coach AJ, and it's just been a tremendous add-on to my team… I didn't know how much I didn't know about boxing and the real footwork and movements behind it. I'm truly grateful for all these guys." Moutinho shared. "I also get a lot of cross-training over at Lauzon's MMA."
Though this new training regimen is a massive part of why Moutinho believes he'll have his hand raised in the upcoming bout, he also puts stock into the lessons he learned facing O'Malley on short notice for his UFC debut.
"I took a beating… I went back to the drawing board and over the last eight months I've been working, all I've been doing is working… I'm ready to start showing the world the real me…"
Moutinho expects a winning performance come March 12th, but promises nothing short of fireworks, regardless of the outcome.
"I want to just go out there and put on a show… Obviously, I want to win, if that comes, it comes, but first and foremost I'm putting on a show. I'm looking to give the fans what they deserve…"
---
Fighter profile
Kris Moutinho is a 29 year old male fighter from United States with 9 pro wins and 5 losses. Moutinho is scheduled to fight Guido Cannetti at UFC Fight Night: Santos vs. Ankalaev on Saturday March 12, 2022.
Kris Moutinho's recent form coming into this matchup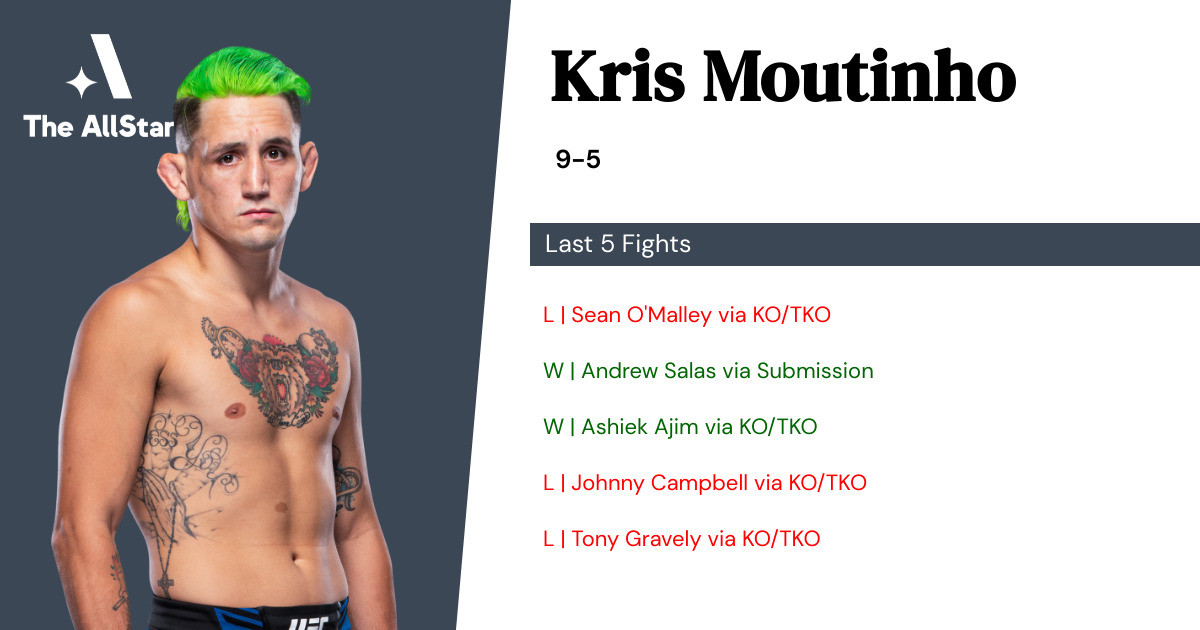 Kris Moutinho has gone 2-3 in the last 5 professional MMA fights.
Loss vs Sean O'Malley • KO/TKO R3 4:33 • 2021-07-10
Win vs Andrew Salas • Submission R3 3:26 • 2021-05-28
Win vs Ashiek Ajim • KO/TKO R2 2:45 • 2020-10-14
Loss vs Johnny Campbell • KO/TKO R2 1:45 • 2019-07-26
Loss vs Tony Gravely • KO/TKO R4 4:02 • 2019-01-19
Kris Moutinho's next opponent: Guido "Ninja" Cannetti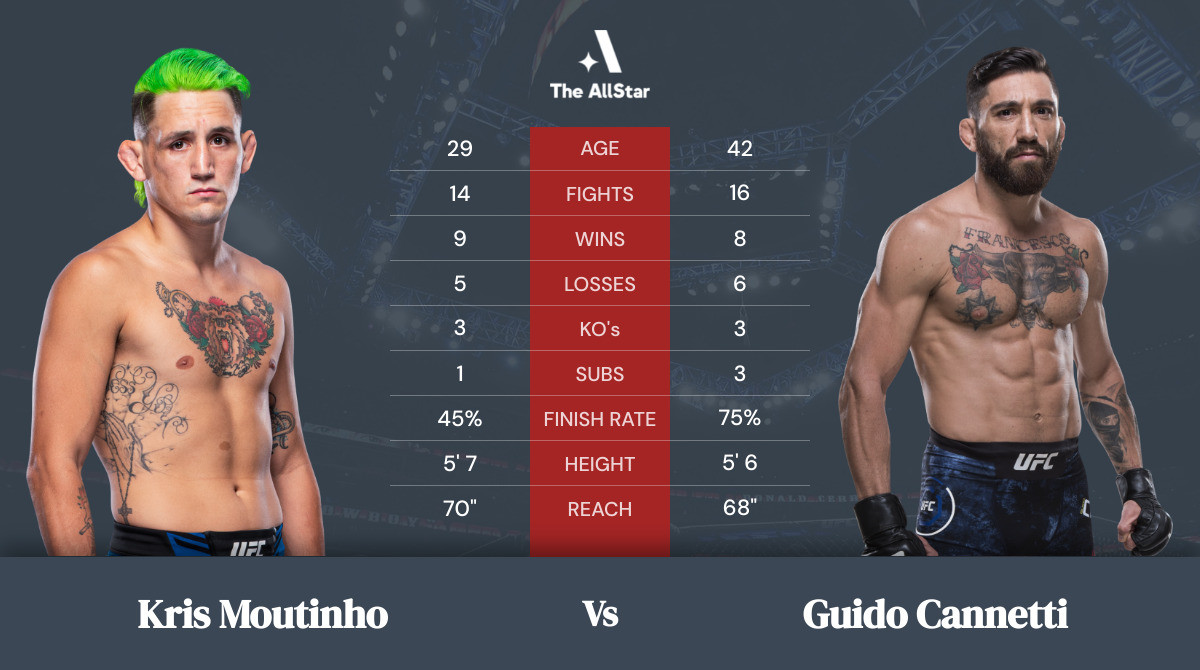 Guido "Ninja" Cannetti's recent form coming into this matchup
Guido "Ninja" Cannetti is a 42 year old male fighter from Argentina with 8 pro wins and 6 losses. Cannetti is scheduled to fight Kris Moutinho at UFC Fight Night: Santos vs. Ankalaev on Saturday March 12, 2022.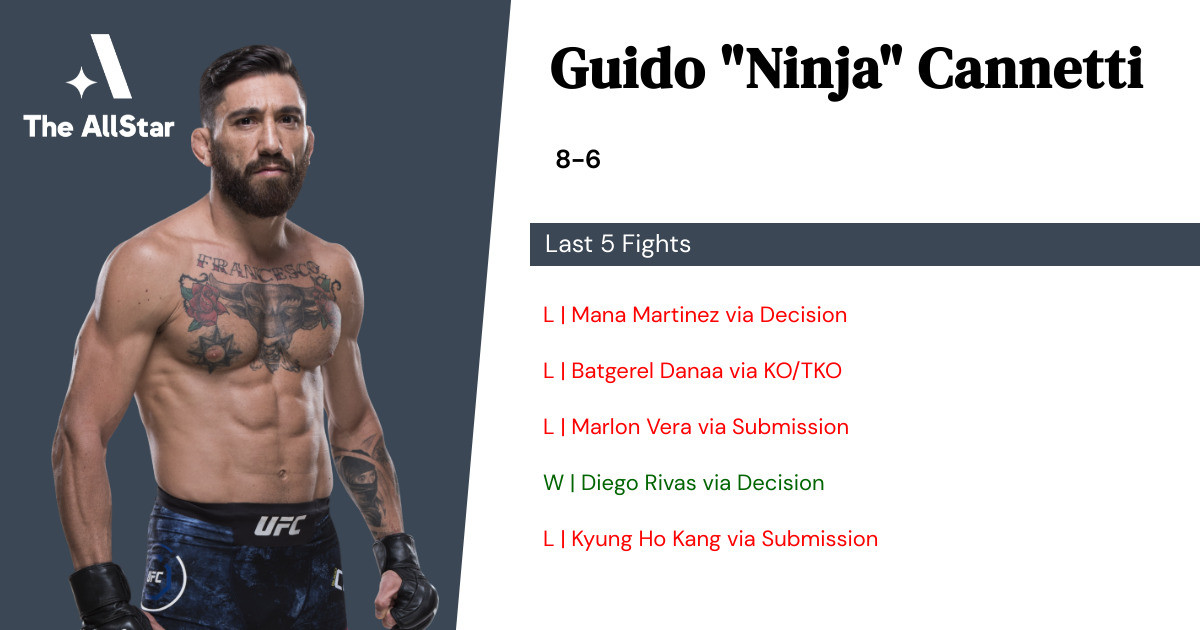 Guido Cannetti has gone 1-4 in the last 5 professional MMA fights.
How to watch and bet on Kris Moutinho vs Guido Cannetti