Undefeated bantamweight prospect Jack Shore is scheduled to return against the very game Timur Valiev at UFC London on March 19th.
This matchup will be Shore's 16th professional MMA fight. In his previous 15 fights, he has only gone to the scorecards three times. In his last outing, he suffered a shoulder injury that effectively made him a one-armed fighter, and then he also broke his thumb in the same bout. Even with the injuries, he managed to secure a victory over Liudvik Sholinian.
The competitor that Shore is, he wasn't entirely happy with the result even with the challenges he faced during the fight.
"It looked like I cruised my way to a three-round decision," Shore told The AllStar. "I don't ever want to do that. I want to go in there and put guys away.
"Even with one arm, I was very close to putting him away in the first round. I fought for maybe 15 minutes with one arm. I couldn't grapple because of the shoulder, and striking had become difficult because I could feel my hand pulsating because the thumb was completely snapped at the base."
It was a learning experience for the bantamweight prospect, and while he doesn't recommend fighting with the injuries he sustained during that bout, he does recognize that he gained useful experience in the fight that will be helpful to him moving forward in his career.
"If I can win with one arm, it shows the level I'm at."
Taking that confidence into his next bout, Shore believes that he can return to his finishing ways against Valiev. The Dagestani fighter is well-rounded and aggressive, which Shore acknowledges, but he also sees openings in Valiev's game that he can exploit.
"He's a very explosive guy, but he's a bit of a mad man, and he throws caution to the wind," Shore said. "I think anyone who fights like that is going to leave themselves open for something."
Valiev may be aggressive, but he is certainly effective. He may be new to the UFC, but he is a 20 fight veteran with only two losses. It should also be noted that his last loss was in 2016, and prior to that he hadn't lost since his first professional bout in 2010. It should be noted that Shore's statement regarding Valiev leaving himself open isn't completely unfounded. In August of 2020 Trevin Jones took Valiev out with a right hook and relentless ground and pound. It was later overturned due to Jones testing positive for marijuana.
Shore has his hands full with Valiev, but he's hopeful that he will get the win and remain healthy so that he can have a more regular schedule in 2022. Asked about the Singapore card in June Shore responded, "I've got a holiday booked with my girlfriend in July, so I'd like to get a fight in before that. I want to make sure I get in 3 fights (in 2022) at least. June would be perfect"
---
Fighter profile
Jack "Tank" Shore is a 27 year old male fighter from Wales with 15 pro wins and 0 losses. Shore is scheduled to fight Timur Valiev at UFC Fight Night: Volkov vs. Aspinall on Saturday March 19, 2022.
Jack Shore's recent form coming into this matchup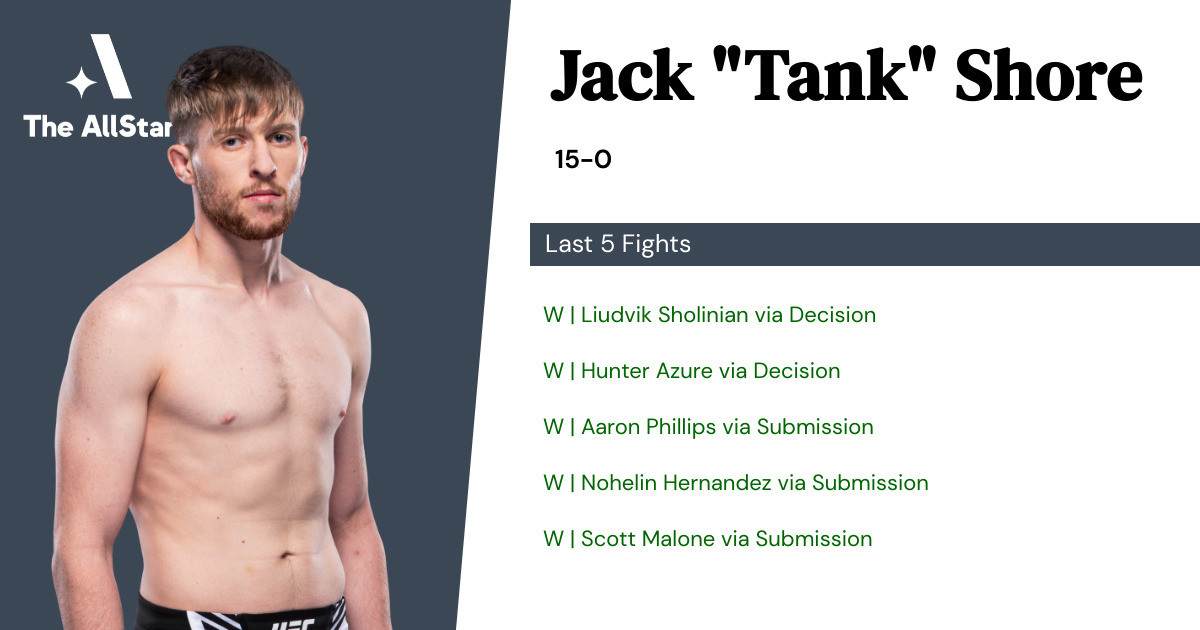 Jack Shore has gone 5-0 in the last 5 professional MMA fights.
Win vs Liudvik Sholinian • Decision R3 5:00 • 2021-09-04
Win vs Hunter Azure • Decision R3 5:00 • 2021-04-10
Win vs Aaron Phillips • Submission R2 2:29 • 2020-07-15
Win vs Nohelin Hernandez • Submission R3 2:51 • 2019-09-28
Win vs Scott Malone • Submission R3 2:28 • 2019-04-27
Jack Shore's next opponent: Timur "Lucky" Valiev
Timur "Lucky" Valiev's recent form coming into this matchup
Timur "Lucky" Valiev is a 32 year old male fighter from Russia with 18 pro wins and 2 losses. Valiev is scheduled to fight Jack Shore at UFC Fight Night: Volkov vs. Aspinall on Saturday March 19, 2022.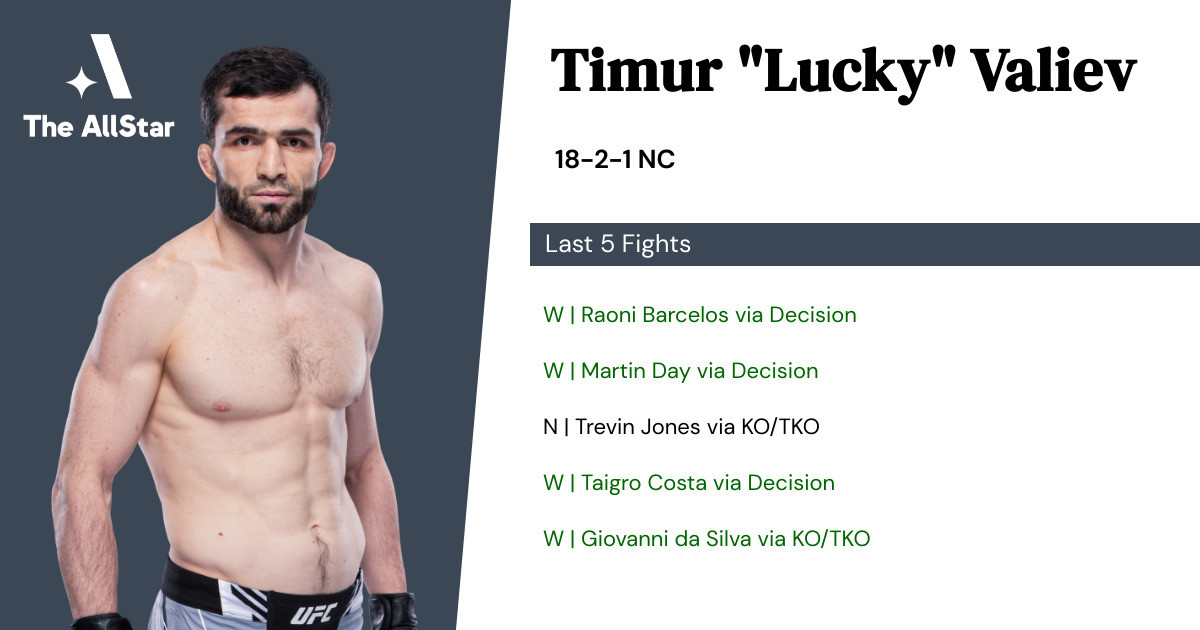 Timur Valiev has gone 4-0 in the last 5 professional MMA fights.
Win vs Raoni Barcelos • Decision R3 5:00 • 2021-06-26
Win vs Martin Day • Decision R3 5:00 • 2021-02-06
No Contest vs Trevin Jones • KO/TKO R2 1:59 • 2020-08-22
Win vs Taigro Costa • Decision R3 5:00 • 2019-12-13
Win vs Giovanni da Silva • KO/TKO R1 3:58 • 2019-07-13
How to watch and bet on Jack Shore vs Timur Valiev