Trevin Jones is planning on taking his opponent's undefeated record.
Guam's very own returns to action for the first time this year at UFC Vegas 50. After starting his UFC career on absolute fire in 2020, Jones ran into nothing but bad luck and fight cancelations in the summer of 2021.
All in all, he had three fight cancelations, and with that, he cut weight twice in a two-week period that really did damage to his body and ultimately his fighting.
"So, it was very tough, and I put it all on me; it's on no one else, it's all on me. I was so hungry to get out there. I was the one who felt I could get this done; I was the one willing to go out there and fight anybody; it didn't matter the name," Jones told The AllStar.
"The problem was that I fought Timur [Valiev], who is so talented, on 34 hours notice. I made the weight and ended up getting it done. You get a lot of experience and a lot of pride in yourself after that, so I was willing to take out other impossible things when I didn't have to…that's on me.
"I was willing to take on five opponents, and I was willing to take three different weight cuts with three different dates, all because of the power I gained from making that weight on 34 hours. I know how hard that was for me like I went through hell for that Timur fight. So, that's what made me think I was a different beast. Maybe I bit off a little more than I could chew."
Ultimately, Jones's badass ego eventually led to his downfall in his last outing when he was choked unconscious by promotional newcomer Saidyokub Kakhramonov. It was eerily similar to his own UFC debut.
With the loss to Kakhramonov out of the way, "5 Star" is ready to rebound. He welcomes undefeated Javid Basharat to the organization. Basharat received a contract last October at Dana White's Contender Series and holds a 100% finish rate.
"It's a very nice opponent, you know, he's got the 0 behind his name," Jones said. "That's great; that's all the motivation that I need. You know, I'm just really excited for this fight, man, because he's undefeated. He's in the UFC and undefeated; this is nice for me. People say, 'this is bad for Trev; Trev is going to lose.' This is nice for me.
"This is how you want to step up and go through guys. You don't want to keep beating up on guys you know that you can beat; where is the fight in that? Where is the glory in that? I know my opponent is tough, and that is what we sign up for."
Jones is embracing the underdog role. The one message he has for Basharat and even the fans is don't sleep on his power. Even though he has knocked out his last two opponents, he says do not sleep on it.
"I been the underdog in all my fights, this is nothing to me," Jones said. "This is a regular day in the office. I'm here to upset all the time."
---
Fighter profile
Trevin "5 Star" Jones is a 31 year old male fighter from Guam with 13 pro wins and 7 losses. Jones is scheduled to fight Javid Basharat at UFC Fight Night: Santos vs. Ankalaev on Saturday March 12, 2022.
Trevin Jones's recent form coming into this matchup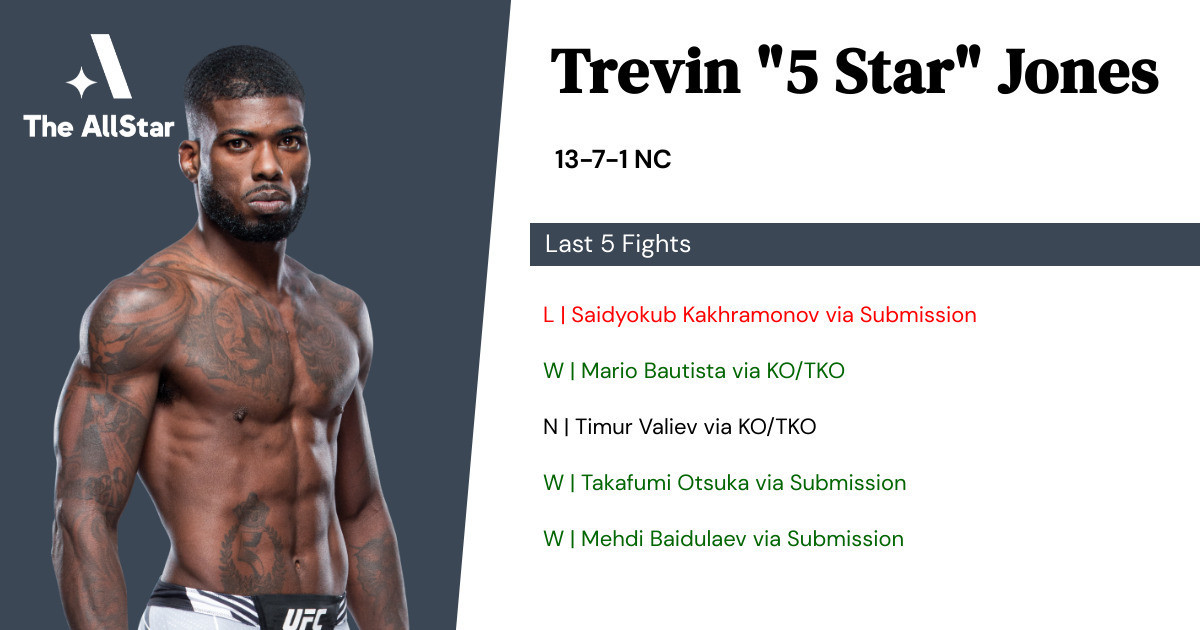 Trevin Jones has gone 3-1 in the last 5 professional MMA fights.
Loss vs Saidyokub Kakhramonov • Submission R3 4:39 • 2021-08-21
Win vs Mario Bautista • KO/TKO R2 0:40 • 2021-03-06
No Contest vs Timur Valiev • KO/TKO R2 1:59 • 2020-08-22
Win vs Takafumi Otsuka • Submission R2 1:40 • 2019-05-12
Win vs Mehdi Baidulaev • Submission R1 4:37 • 2019-01-26