In this week's "Understanding the Undercard", we preview the prelims for UFC Vegas 43. UFC Vegas 43: Vieira vs Tate takes place on Saturday, November 20th, 2021. The preliminary card begins at 2:00 PM EST on ESPN+.
The Skinny
Team Renzo Gracie Philly under the tutelage of Daniel Gracie is certainly making waves in the UFC. In the co-main event of UFC Vegas 43, Sean Brady looks to put himself on a shortlist of contenders, while his teammate Sabatini attempts to go 2-0. Many of the fighters on this team come with a similar style. Brady, Sabatini, as well as others like Jeremiah Wells or Andre Petroski, all bring relentless wrestling, and rather than bring the ground and pound like wrestlers before them, they top it off with submissions. Sabatini finished his first UFC fight with a heel hook.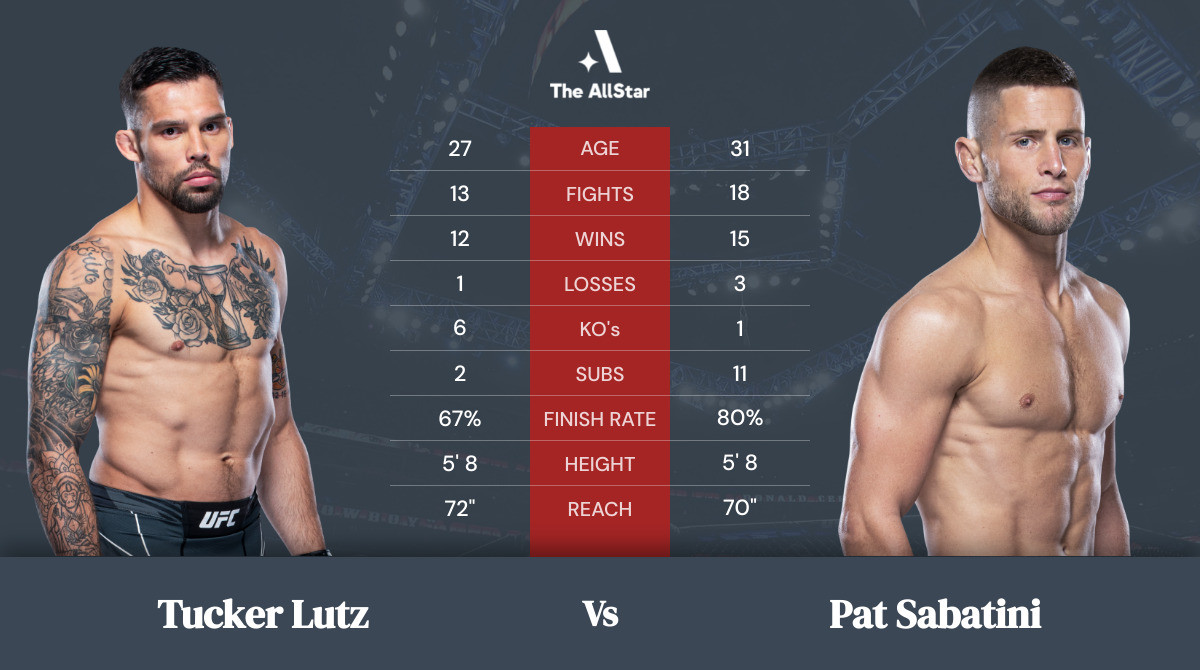 Lutz, who is the first of a number of late replacements, also favors a wrestling-heavy approach. In his contract-winning Dana White's Contender Series performance, he leaned on four takedowns to get the best of Sherrard Blackledge. He also got a pair in his UFC debut as well. Apart from liking the takedown, he has a solid boxing game, particularly with his lead left hook.
The Final Word
While I do think that Lutz has some quality grappling skills, I just don't think they're on par with Sabatini. Sabantini is not just a submission wizard, but he has a great ability to control the position. I think he does that here and I wouldn't be shocked if he found the opening to submit him. Sabantini by submission.
The Skinny
Rafa Garcia has been a bit of an interesting mix in the UFC. Since making his way to the organization from Combate Global, Garcia has been extremely hittable. He's absorbing nearly seven strikes per minute, which doesn't bode well for him. However, he's used that to turn up the pressure on all of his opponents. Through all of this, his cardio and his chin have held up – giving him an advantage late in fights.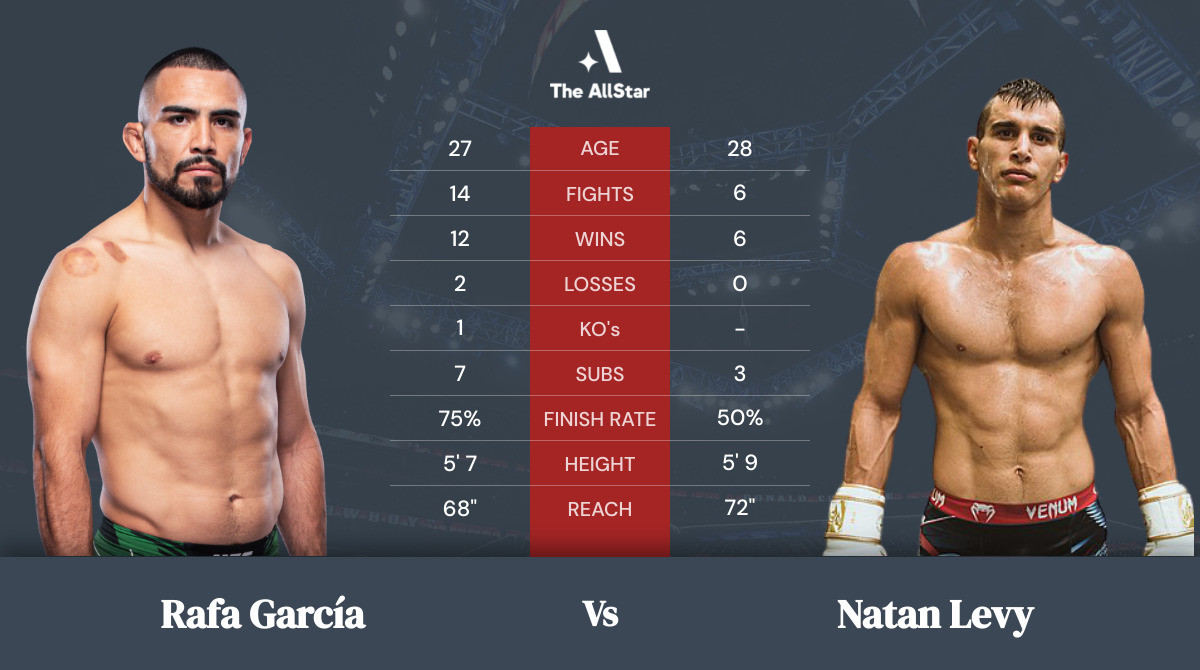 Natan Levy makes his UFC debut after winning a contract on the 2020 edition of the Contender Series. In that fight, as well as his previous ones in LFA, Levy has shown a relentless wrestling style. Not only are his takedowns impressive, but he appears to constantly be looking for submissions. He prefers high control submissions like rear-naked chokes and arm triangles over things like armbars, but he's fluent in both.
The Final Word
Despite Garcia's incessant pressure, he's never been taken down in the UFC. This means that the dynamic that is likely to decide this fight is whether or not he can keep that up. Levy ducks under strikes quite well to set up his takedowns. I also think he's a bit more skilled than most of Garcia's opponents in that realm. Plus, he'll definitely attempt more takedowns at UFC Vegas 43, if that's what it takes. Levy by decision.
The Skinny
Godinez enters this fight as another of the short notice replacements. Famously, this is not new for Godinez, who fought twice in seven days last month. She is now back at it for her third fight in just over a month. In those two fights, we saw two different Loopys. The first showed wildly improved grappling with strong subs. The other had trouble dealing with a strong clinch game from a bigger Thai-style boxer.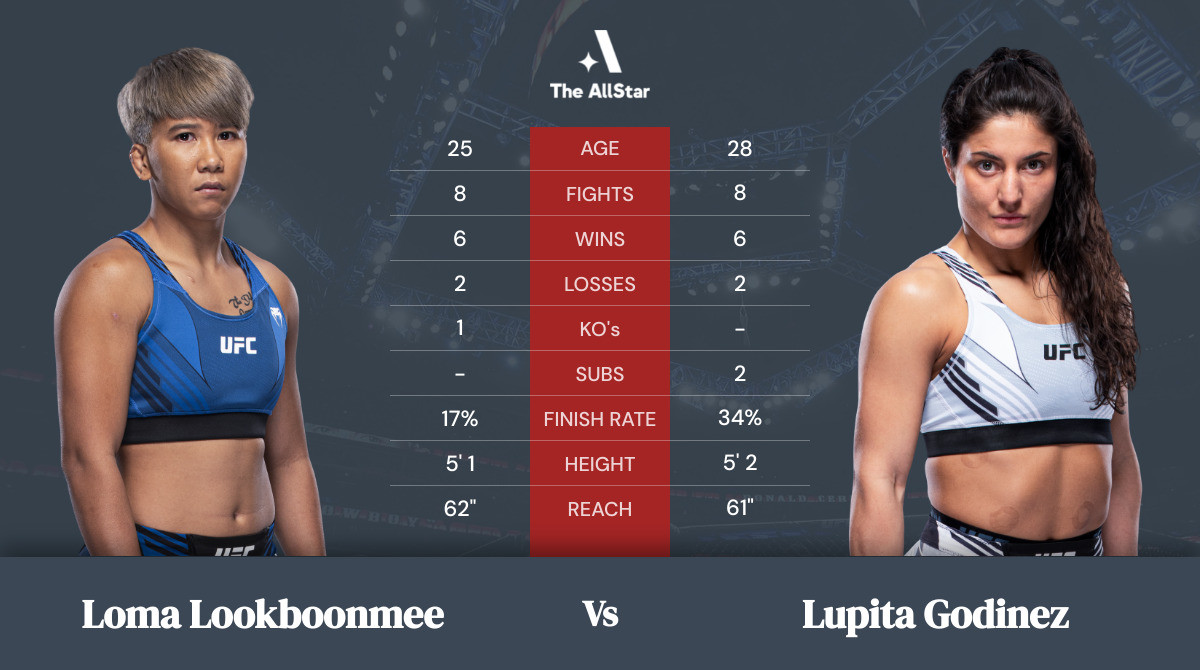 Lookboonmee is not a puzzle that needs figuring out. You only need to see one of her fights to know what she is capable of. She's a really talented striker from range and in the clinch. She also has underrated foot sweeps from those clinch positions, which is clearly from her Muay Thai days. She doesn't typically follow her opponents to the floor when she takes them down but uses it to reset the position to her liking.
The Final Word
It's hard to determine if Godinez's grappling will play well against Lookboonmee at UFC Vegas 43. On one hand, she has a lot of the same skills as Luana Carolina that gave Loopy troubles. She's a Muay Thai specialist and is good at staying on her feet. However, the size dynamic is completely switched. Carolina was a weight class ahead of Godinez, and Lookboonmee used to fight at atomweight. Ultimately, the style match-up worries me more than the size parity puts me at ease. Lookboonmeee by decision.
The Skinny
In the beginning parts of 2021, Terrance McKinney decided to move up to lightweight. The results have been pretty clear. The man has four wins by knockout in this calendar year. The total time he's spent in the cage for those wins is under two minutes. The choice to move up has clearly resulted in a power increase for him. He showed that was more than just beating up guys on the regional scene when he took out Matt Frevola in just seven seconds in his debut.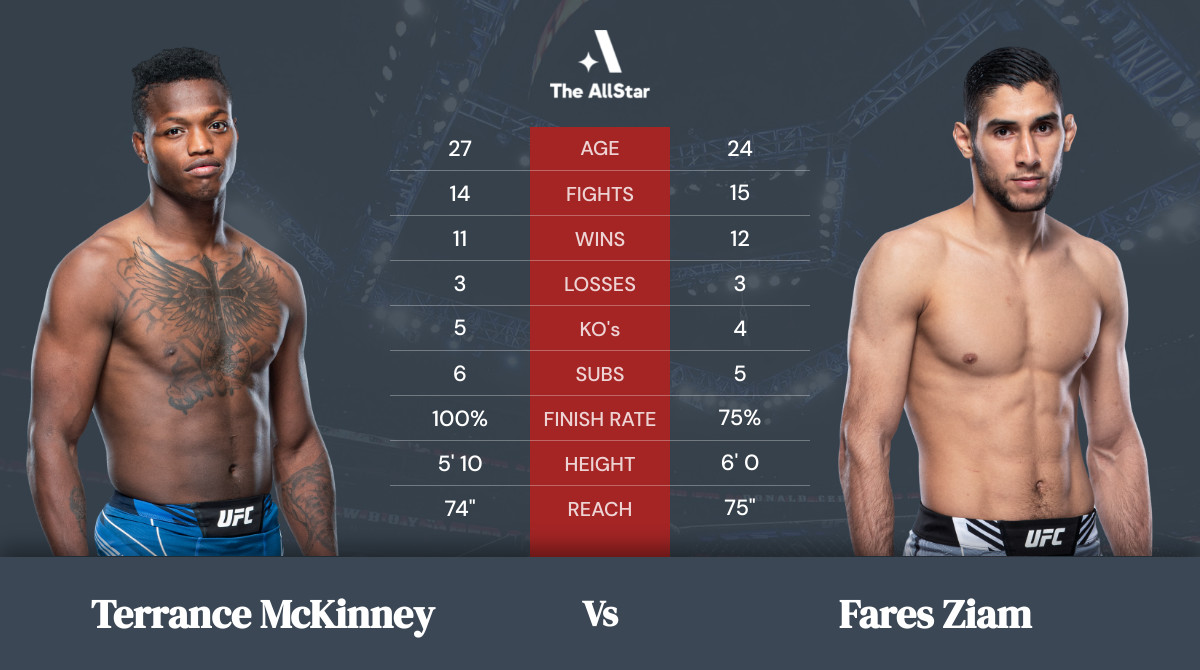 Fares Zaim doesn't nearly have the power numbers that McKinney does. However, he is a great striker in his own right. He is a particularly long lightweight and uses every inch of that reach. He also has shown that he does a good job stifling aggressive strikers by keeping Jamie Mullarkey at bay while he picked his was to an unanimous decision victory.
The Final Word
This fight will certainly come down to whether or not McKinney can get into Ziam's face at UFC Vegas 43. He has the power to put just about anybody away. He also has some underrated wrestling. However, if he can't get close to Ziam to land those things, it's all for naught. I think he does well enough to close that gap at least once or twice early on, and it may only need to be once. McKinney by (T)KO.
The Skinny
Qileng Aori put on an absolute show in his debut fights against Jeff Molina. The two went toe-to-toe and each landed over one hundred strikes. The major difference was that Molina was a little more technical sound when it came to defense. Both head movement and hand positioning led him to getting hit far less. Aori also showed off some decent wrestling over the course of three rounds. He picked up three takedowns against the Missouri-flyweight.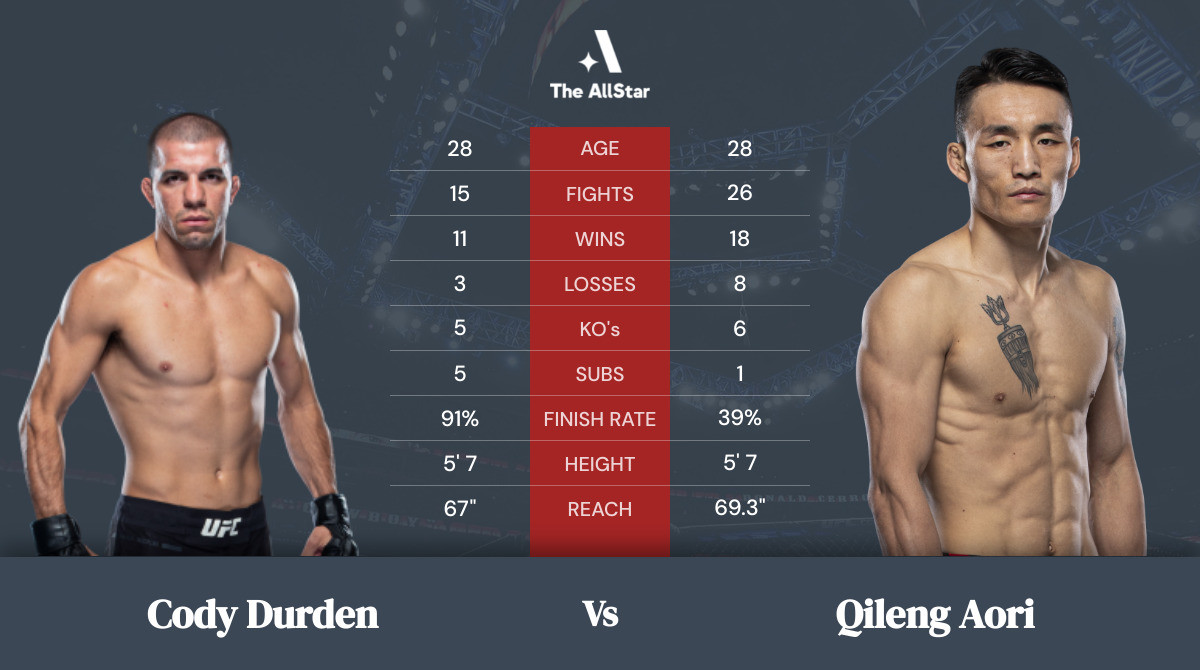 Durden is still seeking his first UFC victory in his third fight. He drew in his debut against Chris Gutierrez and lost by flying triangle choke to Jimmy Flick. In both of those fights, he looked like the much better grappler. He took Flick down, and beat him up pretty good. While he did get caught with a submission, the wrestling is there and the submission defense is not a huge concern.
The Final Word
While I love the aggression of Qileng, I worry a bit about how open it leaves him. Against Jeff Molina, he was able to trust his chin and get through the fight. I don't think his chin will fail him here, but I do worry that he'll be countered with the wrestling of Durden if he doesn't stay within himself. Durden by decision.
The Skinny
Sean Soriano enters this fight at UFC Vegas 43 in a rare position. Few have ever gone 0-4 in the UFC and been offered another fight. Some of that is due to the fact that this is now his second stint (he went 0-3 in the first one). In his time between UFC stays, he showed some really improved striking, knocking out former UFC fighter Noad Lahat. Still, the bane of his existence in the UFC has always been his defensive wrestling.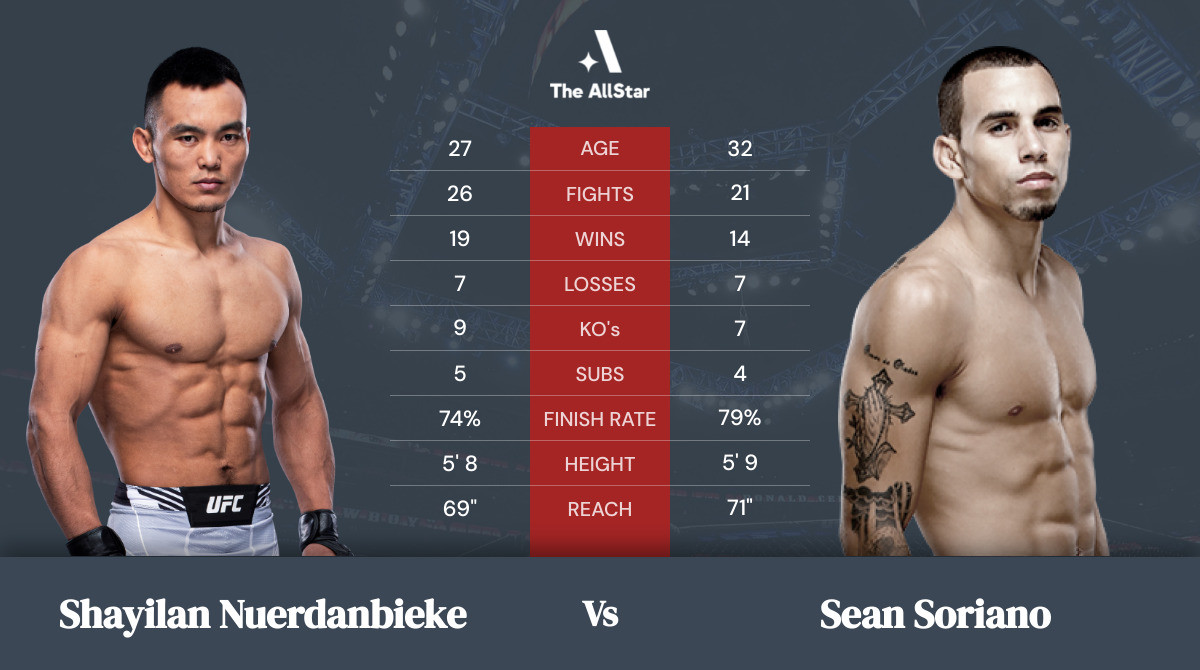 Despite what you might see in the statistics, Shayilan Nuerdanbieke has some pretty solid wrestling. He does a great job at getting in on a double leg, albeit a slightly worse job finishing those takedowns. Against Josh Culibao, in his debut, Nuerdanbieke scored some early top control and won the first round. However, the toll of wrestling wore on him. He faded, losing the second and third rounds – a decision loss.
The Final Word
The fact that Soriano has given up three or more takedowns in every UFC bout he's ever been in makes it difficult to feel good about him. It's wild to me that he is coming in as a -265 favorite. I think Nuerdanbieke is not only a great value bet here, but I think his wrestling gives Soriano enough trouble to take the fight at UFC Vegas 43. Nuerdanbieke by decision.
The Skinny
Luana Pinheiro had an odd start to her UFC career. She was tasked with taking on Randa Markos for her debut fight and largely had success. Her judo proved to be impressive, with five takedowns against the veteran. However, she then met an unfortunately up-kick that ended the fight. Because it was landed illegally, she took the DQ victory, but it wasn't really a good picture of what she can do in the cage.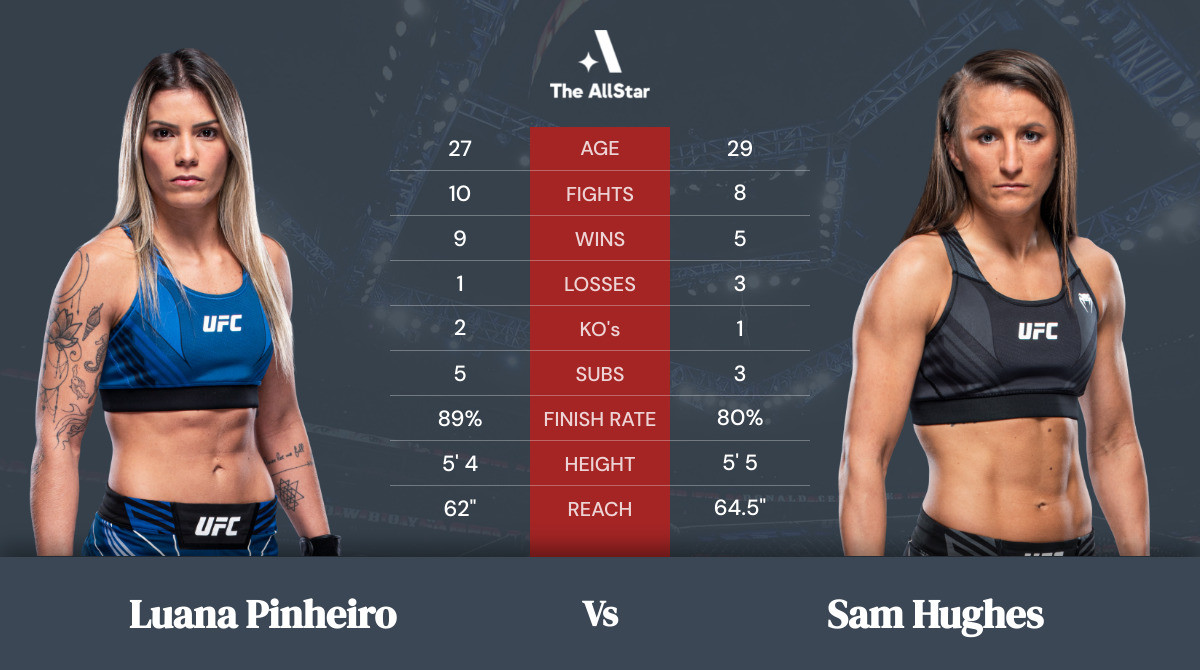 Sam Hughes is the last of the short notice replacements on this card. She gets another crack at the UFC after going 0-2 against Loma Lookboonme and Tecia Torres. In the Lookboonme fight, she was taken down at will. She has good aggression and physicality, but the defense to less conventional takedown attempts seems to thwart her somewhat easily.
The Final Word
The fact that Hughes doesn't do well against less conventional takedown attempts doesn't bode well for her at UFC Vegas 43. Pinheiro has the standard attempts that you see from most MMA fighters, but mixes in a fair amount of hip tosses from her judo background. I expect all of those to cause Hughes a lot of trouble and for her to spend the majority of this fight on her back. Pinheiro by (T)KO.
Most of the odds for these fights are razor close – so if you like any of these fighters, get it on them right away. You can also get the best odds for those fighters right here.