Another action-packed MMA card comes your way this Saturday afternoon when UFC Vegas 43: Vieira vs. Tate goes down at the UFC Apex in Las Vegas, Nevada. There are 12 fights set for the card, including five exciting bouts featured on the main card. Be sure to read our full main card preview for UFC Vegas 43 here at The Allstar below before your watch it.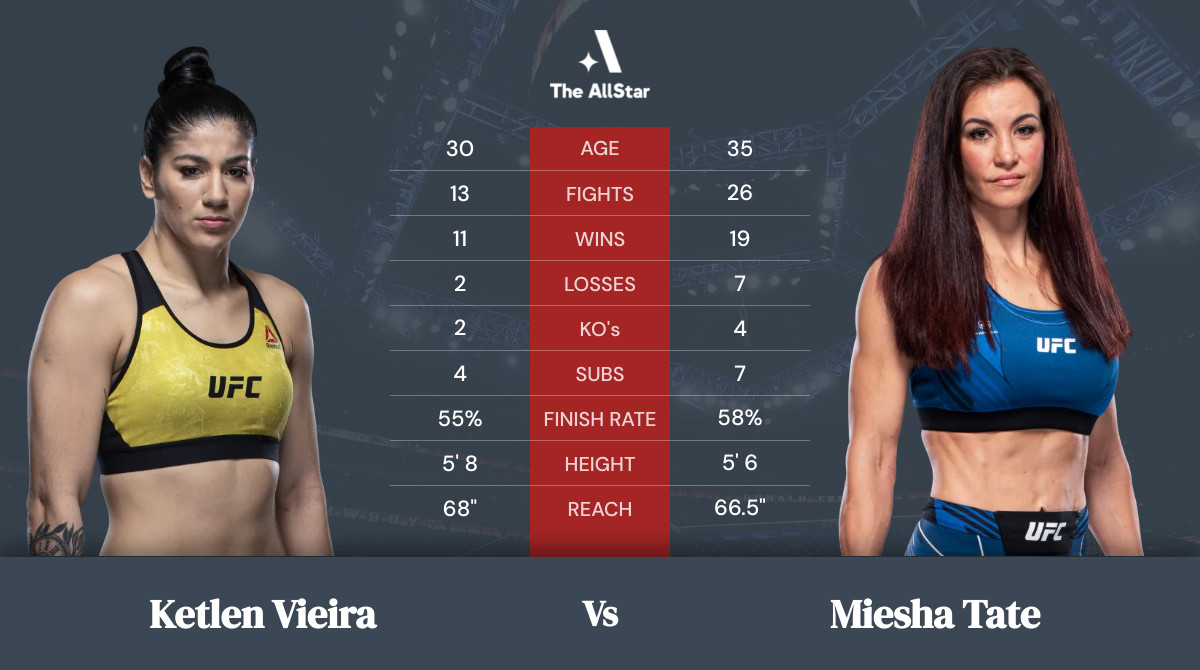 Vieira is the No. 8 ranked women's bantamweight in the UFC. The 30-year-old Brazilian has been in the UFC since 2016 and she has gone 5-2 overall during that time. At one point, it was looking like Vieira might be a future champion in the weight class after she beat Cat Zingano at UFC 222. But in the three years since then, she is just 1-2 in the Octagon. In her most recent outing, Vieira lost a decision to Yana Kunitskaya. She also missed weight for that fight and appeared to fade the deeper the fight went. While Vieira is a talented grappler, she isn't very well-rounded aside from that one aspect of her game, which is quite good.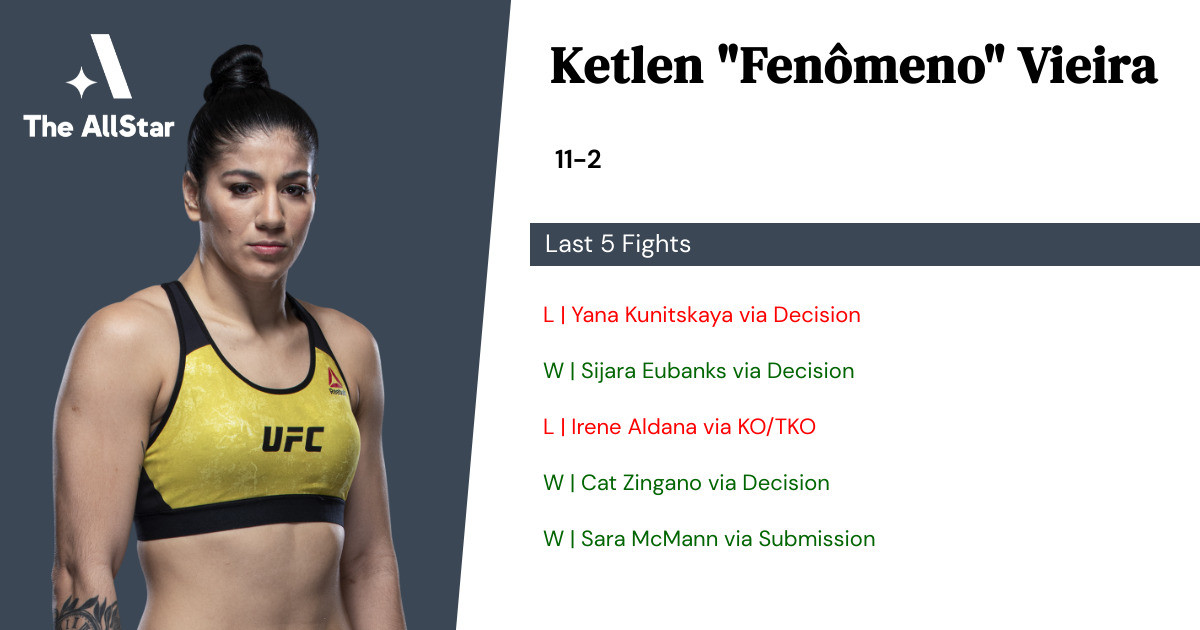 Tate is the No. 7 ranked women's bantamweight. The 35-year-old American is the former champion of the weight class. She returned from a five-year layoff in her last fight and picked up a TKO win over Marion Reneau. Tate has proven over the years that she is one of the best women's bantamweights in the game. It will be interesting to see how she looks now that she is fighting someone who is younger than her as Reneau was actually the older of the two.
Total rounds (4.5) Over -160 vs. Under +140
The total rounds have been set at 4.5 rounds, with a slight lean towards the OVER. I actually am leaning the opposite way as I don't think this fight is going the full 25 minutes. Statistically, most women's fights do go the distance, so I understand why the OVER is favored. But you have to look at each matchup in particular. In this fight, you have someone in Tate who has shown she can finish her opponents late in fights. As for Vieira, she has never even been five rounds in the UFC before, and I doubt she can actually fight for 25 minutes.
This is an interesting matchup and the odds are tight as both women are very good grapplers, which makes this an intriguing matchup. The biggest advantage for either fighter in this fight, in my opinion, is the cardio and the toughness of Tate. I believe Tate will be able to survive the early goings with Vieira, take over the fight late, and get a late stoppage. With a win over Vieira by stoppage, look for Tate to once again emerge as a top contender at women's 135lbs.
The co-main event of UFC Vegas 43 features a fantastic welterweight matchup between Sean Brady and Michael Chiesa. Brady is only 28 years old and is already undefeated in his MMA career at 14-0. He is 4-0 in the UFC so far and is coming off of a submission win over Jake Matthews. He is a very strong grappler from the top position and he has the submission skills to finish anyone in the weight class. Brady's striking is also improving and he is turning into one of the best welterweights in the world. A win over Chiesa would put him in the top-10.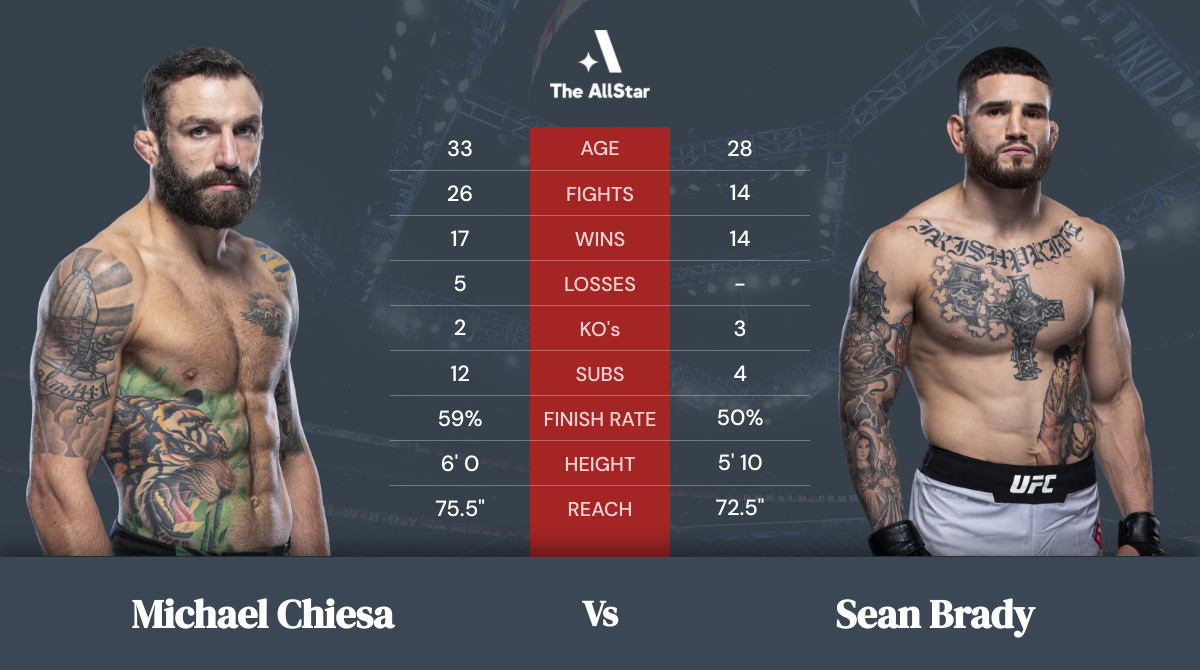 Chiesa won The Ultimate Fighter Live in 2012 and he has achieved a lot of success over the years with an 11-5 overall record in the UFC while fighting at 170lbs and 155lbs. Since 2018, Chiesa has fought exclusively as a welterweight and he has gone 4-1 during that time. In his last fight, Chiesa was submitted by Vicente Luque in what was a poor performance by him. As good as Chiesa is as an offensive grappler, defensively he is poor as he's been submitted four times in the UFC. Going up against a stud grappler like Brady could be a tough fight for Chiesa. I'm going with Brady and I think he has a good chance to submit Chiesa in this fight.
In a bantamweight bout, Rani Yahya takes on Kyung Ho Kang in a fight that was rescheduled from July after Yahya tested positive for COVID-19. Now that he's healthy, the UFC was able to rebook the fight. Yahya is 37 years old now and he has been in the UFC since 2011, so he's in his 10th year with the world's leading MMA promotion. In Yahya's last outing, we saw him submit Ray Rodriguez in a great performance. That win saw him bounce back after a loss to Ricky Simon and a draw against Enrique Barzola. There is no doubt Yahya is super dangerous with his submissions, but he really is a one-trick pony. Although he has had plenty of success in his career submitting lower-tiered fighters, Kang seems like it will be difficult to tap him.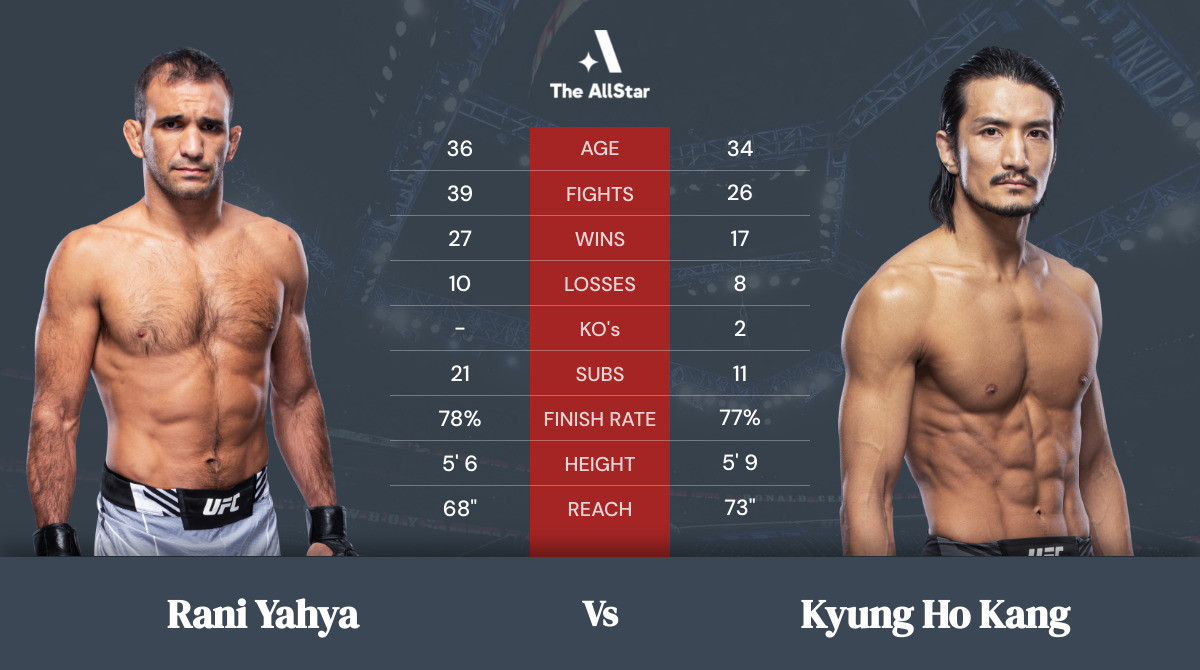 Kang enters this fight coming off of three straight wins, but he hasn't stepped into the cage since December 2019. Kang has a 6-2, 1 NC record overall in the Octagon so he has proven over the years that he can win fights at this level of the game. He is a very strong grappler, particularly when he is in the top position, so he makes for an interesting matchup for Yahya.
It would be smart if Kang used his wrestling in reverse and kept this fight standing, but it feels like this fight is going to be a grappling match. That means that Yahya is going to have his chance to get the submission. However, Kang has only been tapped out once in his MMA career and that was a decade ago. I think Kang is going to prove to be very difficult to finish. I see him neutralizing what Yahya wants to do and grinding this fight out for a decision victory.
In a women's flyweight bout, we have Taila Santos taking on Joanne Wood. Santos took the fight on one month's notice after Alexa Grasso dropped out of the fight due to injuries. Still, she just fought Roxanne Modafferi back in September in a dominant win, so she should be good to go in this fight. Since joining the UFC in 2019, Santos is 3-1 overall in the UFC and overall has been looking very good as of late. She has strong wrestling skills and she has also shown off improved striking. At only 28 years of age, Santos has a lot of untapped potential.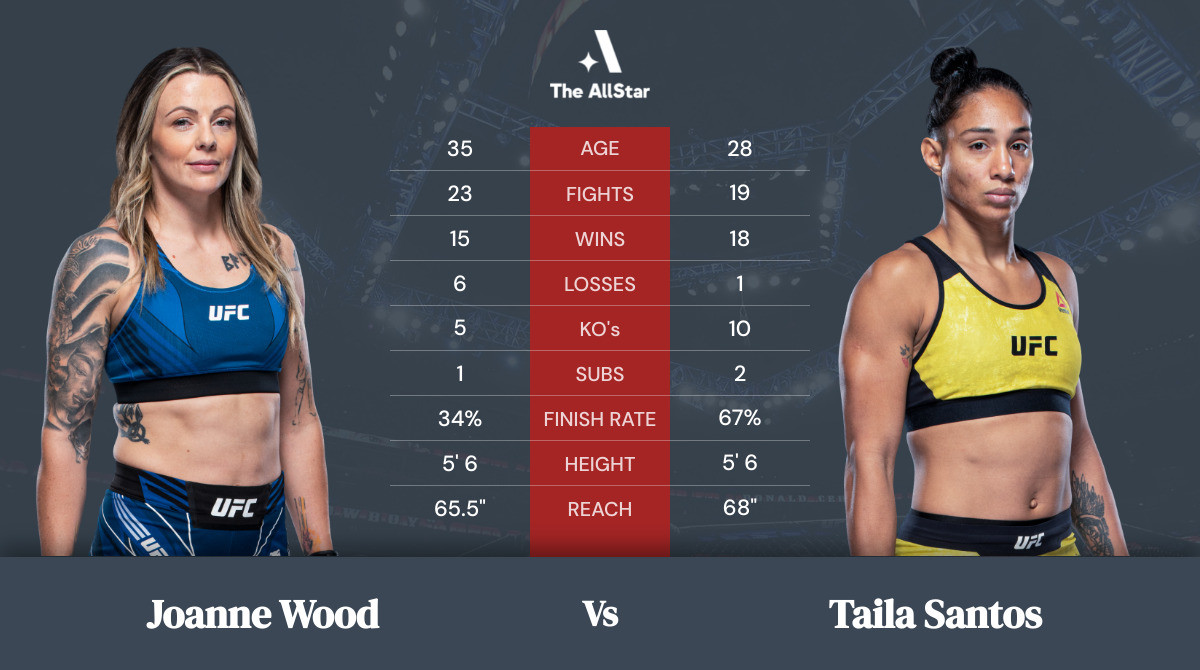 Wood recently changed her last name from Calderwood after getting married to Syndicate MMA head coach John Wood. It will be interesting to see how she performs under her new name. Wood has been in the UFC for a long time now and has generally been a very good fighter for the promotion. However, she is 34 years old now and seems to have peaked. The biggest issue for Wood is her takedown defense and submission defense, both of which could be tested in this fight. As good of a striker as Wood is, her ground game just isn't at the same level. I see Santos controlling Wood on the ground and taking home the decision victory.
Kicking off the main card is a bantamweight bout between rising star Adrian Yanez and durable veteran Davey Grant. Yanez is just 27 and he is already a perfect 3-0 in the UFC with three knockout wins since joining the promotion last year. Yanez has knocked out Randy Costa, Gustavo Lopez, and Victor Rodriguez so far in the Octagon and he's looked great doing so. He is one of the best strikers in the bantamweight division and is still getting better. If he can shore up his wrestling as well, he is going to be a very difficult fighter to beat at 135.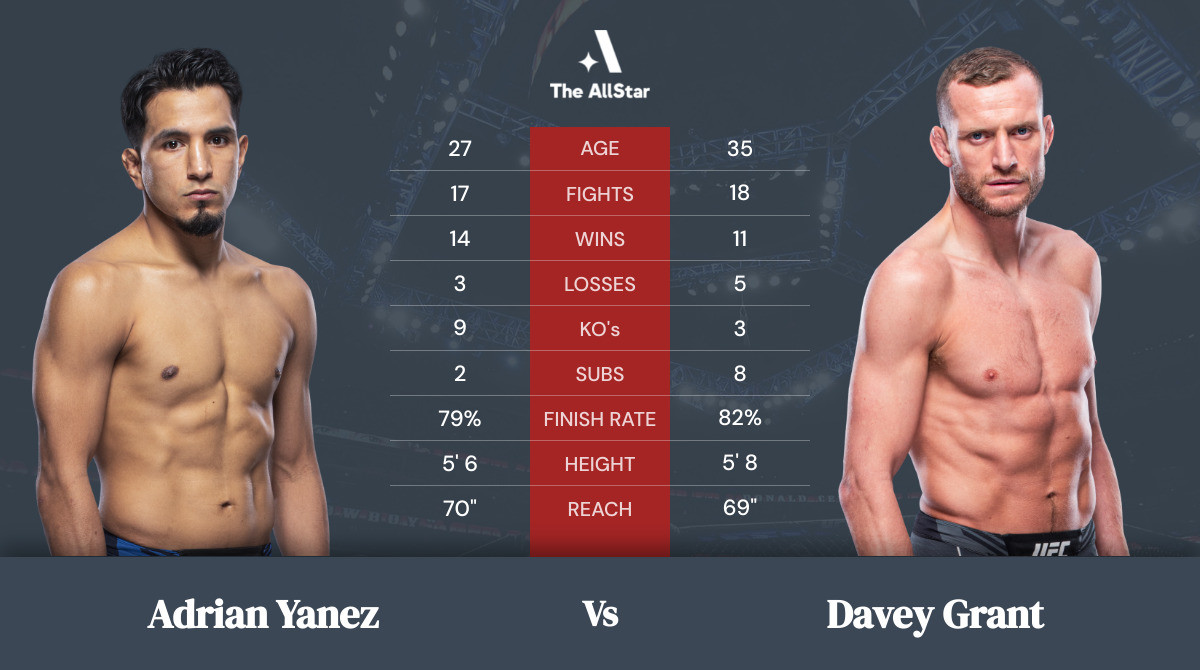 Taking on Yanez is Grant, who is 4-4 in the UFC dating back to 2013. While Grant hasn't fought that much in the UFC, he has been straying very active as of late. At age 35, Grant is coming into this fight coming off of a competitive decision loss to Marlon Vera. Prior to that fight, Grant had defeated Jonathan Martinez and Martin Day by knockout. However, the loss to Vera showed that he's still not a top guy. Although Grant is very game, I don't see him having much success in this fight. I see Yanez outstriking Grant and winning a decision.
Betting the five main card MMA fights at UFC Vegas 43? Place your bets for UFC Vegas 43 with DraftKings Sportsbook.