In this week's "Understanding the Undercard", we preview the prelims for UFC Vegas 42. UFC Vegas 42: Holloway vs Rodriguez takes place on Saturday, November 13th, 2021. The preliminary card begins at 1:00 PM EST on ESPN+.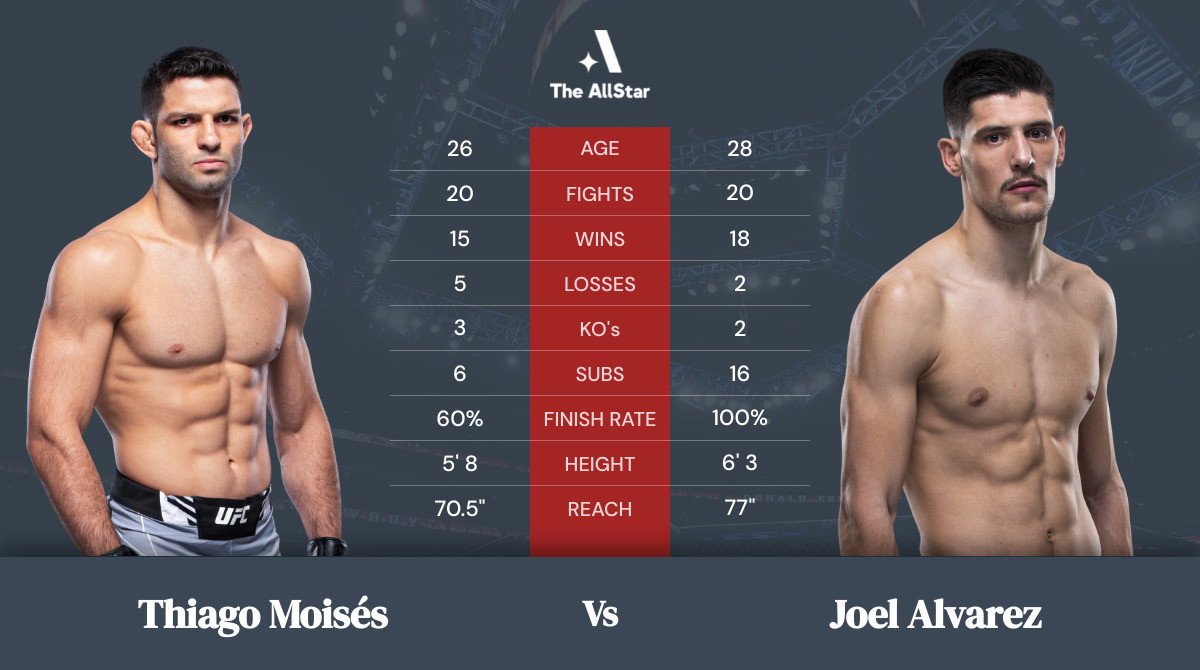 The Skinny
Thiago Moises enters this fight on an interesting trajectory. On one hand, he just lost his three-fight winning streak. Worse, he lost it in the manner of which he had been winning the majority of his fights – through grappling. However, the fact that the loss comes to Islam Makhachev in a headliner is a bit of a relief. In addition, the fact that he hung around as long as he did in that fight bodes well for him – especially after seeing what Makhachev did to Dan Hooker.
Alvarez has not seen anywhere near the same level of competition leading into the fight. He does, though, still have his three-fight win streak intact. Like Moises, his grappling has largely carried the day for him. Unlike Moises, his grappling largely has come through others initiating the exchanges and Alvarez countering with slick submissions. It's a strategy that has worked time and time again, but may not against top-flight competition.
The Final Word
This fight may have different outcomes based solely on what the intention of these fighters is at UFC Vegas 42. Does Moises even want to be on the ground with Alvarez? Will Alvarez shoot his first real takedown in the UFC? I'm not sure the answers, but I'm leaning with Alvarez either way. He has quick reactions to takedowns, even if he hasn't stuffed much. I also think he'll have the advantage on the feet. Alvarez by submission.
The Skinny
Both Calvillo and Lee have had issues with the physicality of their opponents in the flyweight division. These issues manifest themselves in slightly different ways. Calvillo's issues end with her not being able to get the fight to the ground and then being outmatched on the feet. Lee is the exact opposite. She winds up getting taken down easily and not being able to use the hands that have won her a lot of fights in the past.
The interplay of this UFC Vegas 42 showdown should be entirely up towhich of them can deal with the strength of the other better. Lee will need footwork to maintain distance as to no invite a clinch and the takedowns that come with it. Calvillo will need to work around jabs and find those opportunities to close the distance – getting the takedowns that she so badly needs.
The Final Word
It takes a special kind of striker to keep Calvillo from working in her grappling. Jessica Andrade did so, but her power is feared by many. Katlyn Chookagain did it, but she throws an insane amount of volume. I don't think Lee falls into either of those categories and will have difficulties replicating either of those. Calvillo by decision.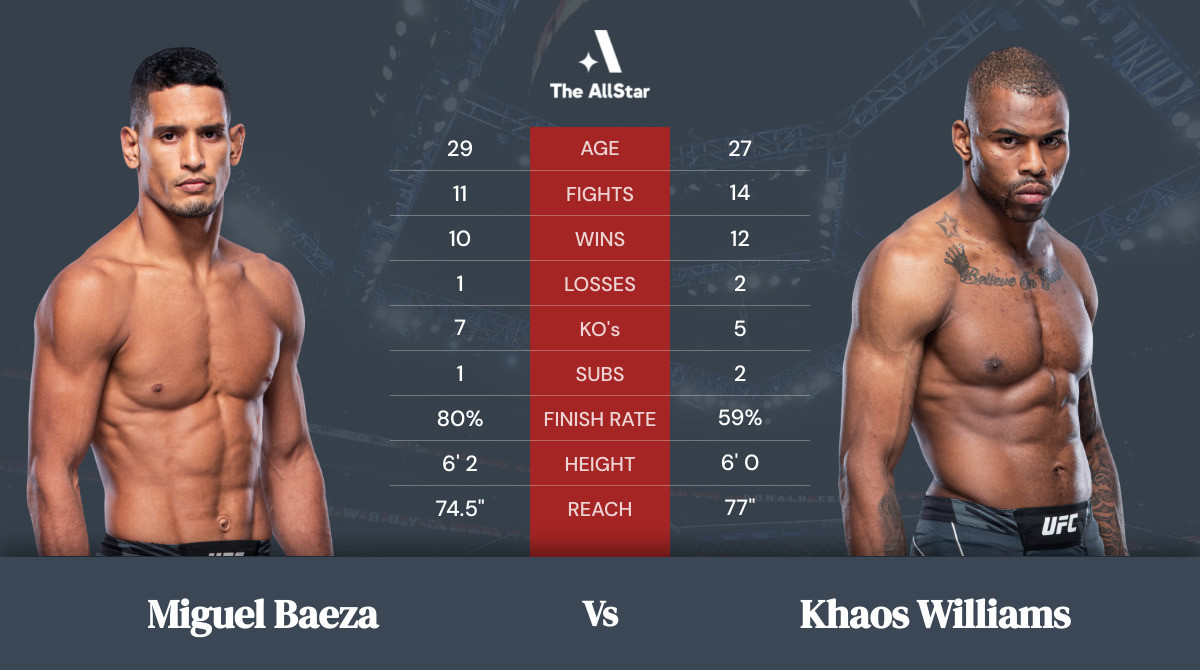 The Skinny
Going into his last fight, many people thought Miguel Baeza was the next big thing in the welterweight division. He has the speed and quickness in his strikes that would seemingly give anyone problems. However, he then ran into a tough customer in Santiago Ponzinibbio, who not only touched him up, but did so with some really hard shots. Baeza did show in that fight that he has a great chin, but also possibly showed weakness in his defense.
Khaos Williams, for quite some time, was seen as a power puncher who had little chance to take home a fight if he didn't land the big blow. He furthered this narrative by getting taken to the mat repeatedly by Michel Pereira. Since then, he has managed to shed that concept a bit. His fight with Matthew Smeelsberger went the distance and showed he can be selective with his shots to win a fight on the cards.
The Final Word
If you're looking for the more technical fighter in this one, the easy pick is Baeza. However, it does appear that Williams is closing that gap. In addition, the defensive issues of Baeza pose a real problem against big power punchers – and that's even true if he has a chin that's hard to crack. I think it would bode well for Williams to let loose early and see if he can't end the night quickly – and I think he follows that plan to a tee at UFC Vegas 42. Williams by (T)KO.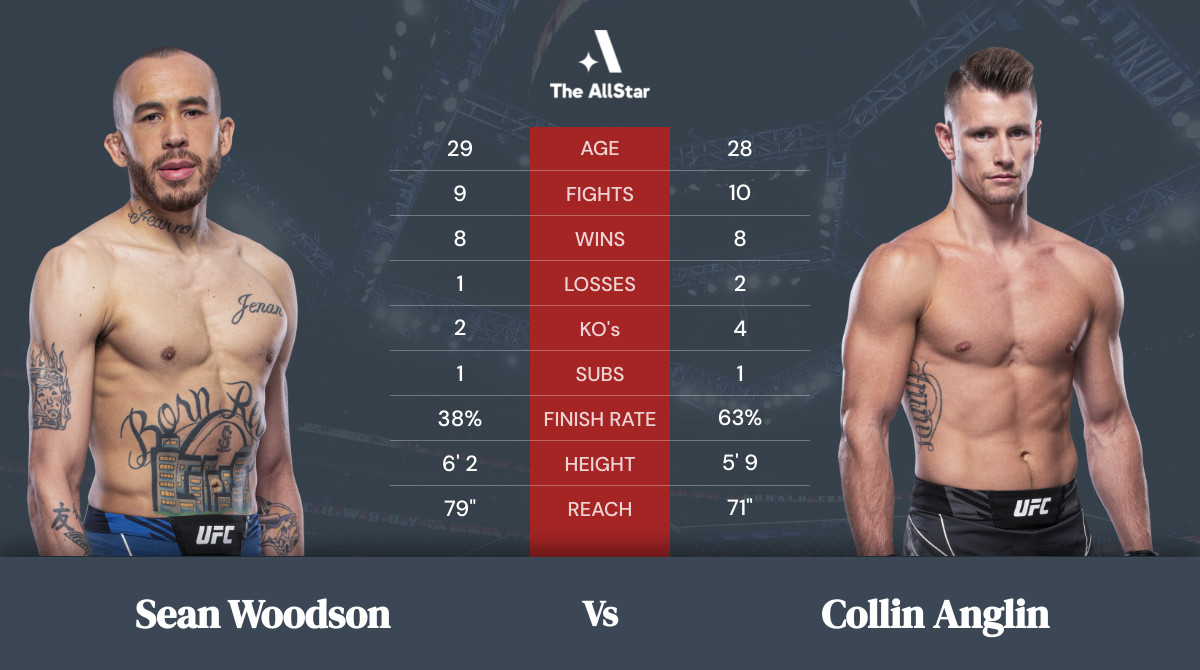 The Skinny
Sean Woodson came back from nearly a year off to beat Youssef Zalal back in July. After that fight, Woodson said he didn't feel himself, largely due to ring rust. For this reason, Woodson believes we'll see more of the well-timed striker that we saw in his earlier UFC contests. His fight with Kyle Bochniak showed that he not only can pick people apart, but he can defend takedowns and punish people for shooting them.
Anglin is going to try to implement precisely the game plan that Bockniak did. While he is comfortable on the feet and most likely will try his luck there, his bread and butter is his wrestling. He came up with a wrestling background and really does his best work there. A major deciding factor in this fight will be how early he tries to go to it and how successful it happens to be.
The Final Word
I do think the wrestling of Anglin is pretty solid, especially when he can get to the legs. The problem here is that he sometimes takes too long to do so and lets his opponent find the range. When that happens with Woodson, he begins to work in knees. Those knees both stop takedowns and will lead to damage and cardio issues for Anglin. Woodson by (T)KO.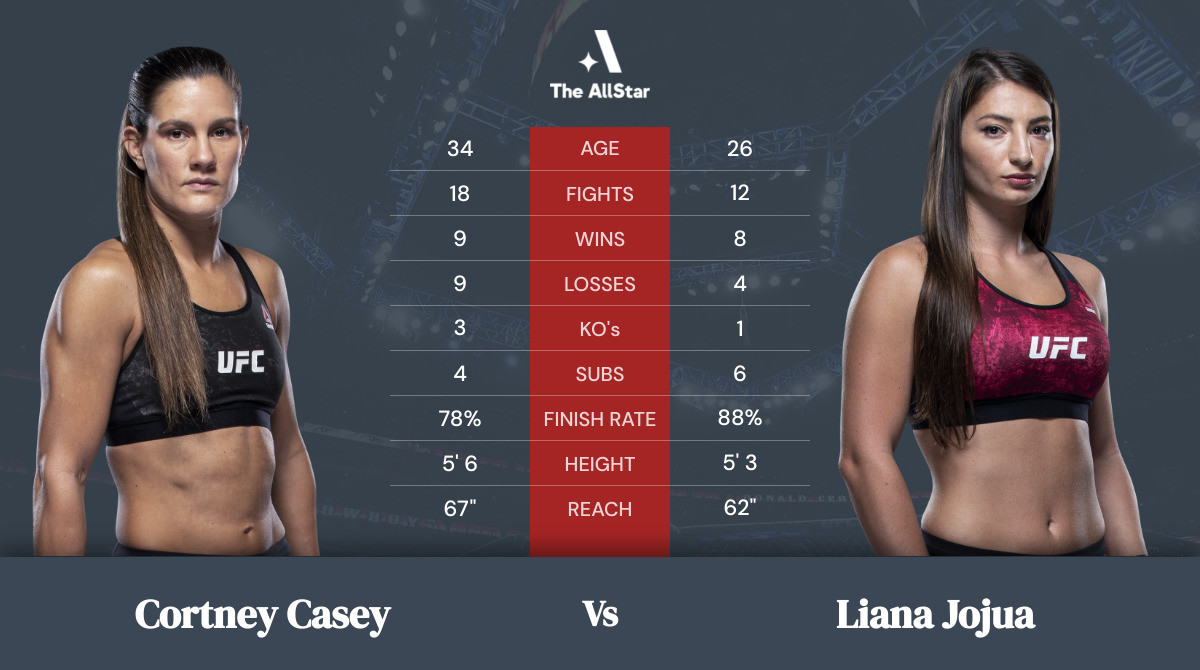 The Skinny
Cortney Casey has had an up and down career. That may not be a surprising statement given that she is just 9-9 in her professional career. Down at strawweight, she failed to step up to the task of the top of the division when they gave her the opportunities. Things have not been much better at flyweight and the problem has been worse. She seems to have issues with anyone who can take her down or even just match her grappling abilities.
Jojua, like some of her other Georgian counterparts, it a bit of a specialist. She's not quite the wrestling threat that Merab Dvalishvili is, but she does excel in the jiu jitsu realm. She has quick submissions and good positioning when she is on top. However, on the feet can be an issue as we saw when she got out-struck by Miranda Maverick.
The Final Word
The skills of Jojua play right into the recent issues that Casey has had. She's struggled with those who want to and can take her down. Jojua has also fought at bantamweight, whereas Casey was a strawweight, which gives us reason to believe she should be the stronger fighter. All of that spells disaster for Casey, which makes it all the more shocking that Jojua is a +195 underdog at UFC Vegas 42. Jojua by decision.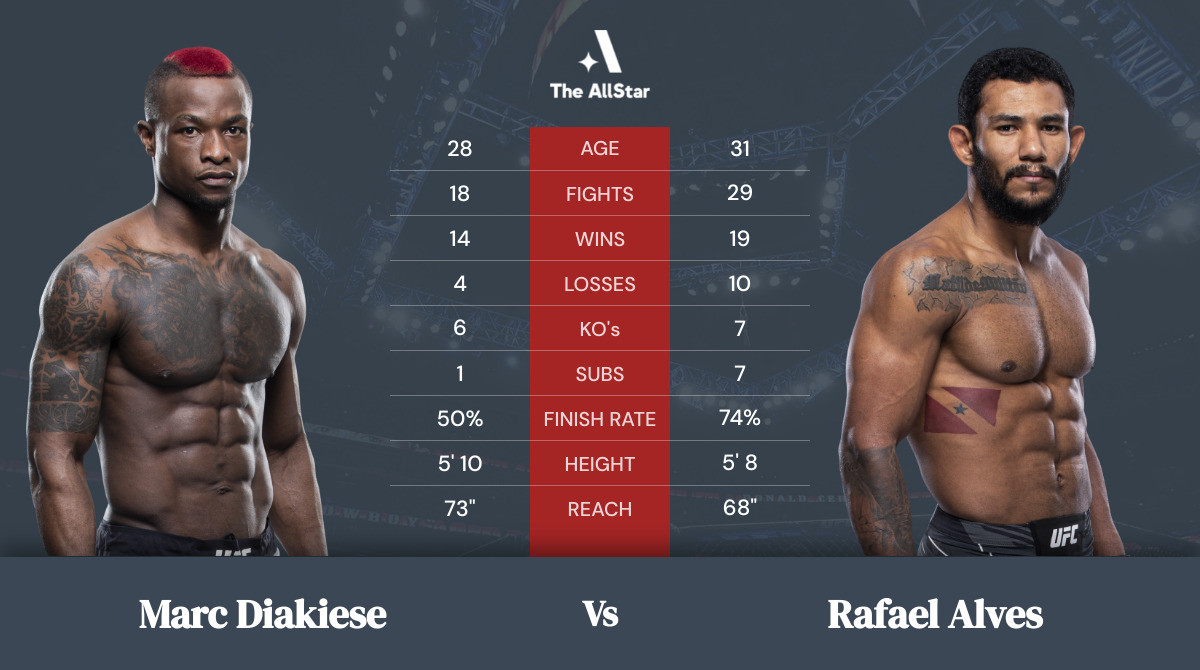 The Skinny
It's been nearly a year and a half since we've seen Diakiese in the cage. Last we saw him, he lost a decision to currently ranked #14 Rafael Fiziev. While outmatched a bit on the feet early in that fight, Diakiese came on strong late and showed why people were hyped on him coming to the UFC. The former BAMMA champion did struggle getting a takedown though, which had been the cornerstone of a lot of his other recent performances.
Rafael Alves made waves in his debut when he rolled out a break-dancing move to get out of a scramble with Damir Ismagulov. His athleticism is extremely high and has gotten him out of tough spots on the regional circuit. However, in his UFC debut, while it worked on the highlight, it wasn't enough to push his opponent in any real way. It'll be interesting to see if it plays up in future contests.
The Final Word
Although I really like Alves' strength and athleticism, I fear that he relies on it too much. As a result, when he faces high quality wrestlers, he tends to spend a lot of time on the bottom. Even when he does work out, the reliance on his power tends to zap him a bit. For these reasons, I'm riding with the underrated wrestling of the Brit at UFC Vegas 42. Diakiese by decision.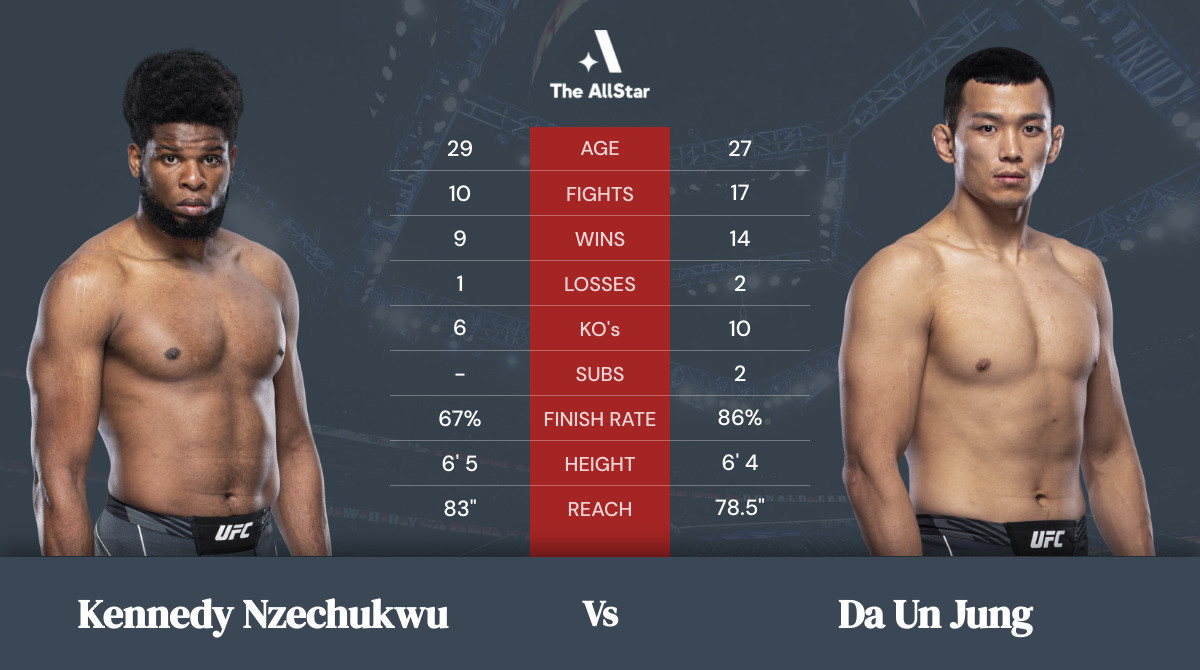 The Skinny
Kennedy Nzechuwu is all heart and has shown it in all of his recent bouts. In each of his last three fights, he's found himself in dangerous spots and against all types of opponents. Danillo Marques nearly submitted him. It looked like Carlos Ulberg had him on skates. Nzechukwu just persevered and then finished each of them. The hands are heavy and the chin is strong – that goes a long way at 205lbs.
Da Un Jung put on a masterclass last time out with his clinch trips. At will, he dropped William Knight to the mat with the same trip over and over again. His top game is pretty solid, but Jung is able to hang in a lot of positions. He had power and he has submissions off of his back too. However, when he's controlling the pace and tempo, it goes right to the ground.
The Final Word
I think that Nzechukwu has all the tools to keep this fight on the feet at UFC Vegas 42. While Jung had success in those clinch positions, I believe Sayif Saud will have Nzechukwu prepared for those. I also draw from Sam Alvey taking it to Jung for the first two rounds of their draw, and that concerns me with Jung's ability to stay out of range. This is especially true of the very long Nzechukwu, who has better power. Nzechukwu by (T)KO.
Both Joel Alvarez and Liana Jojua are posted as reasonably-sized underdogs at the moment. Get the best odds for those fighters right here.