In this week's "Understanding the Undercard", we preview the prelims for UFC Vegas 41: Costa vs Vettori. UFC Vegas 41 takes place on Saturday, October 23rd, 2021. The preliminary card begins at 1:00 PM EST on ESPN+.
The Skinny
Excluding his rough UFC debut, Jun Yong Park has looked like a takedown machine. In his last fight, he used a series of nasty trips (many of which were the same) to ground and beat Tafon Nchukwi – a dangerous striker. He's pretty fearless on the feet as well, but I believe most of that to be a strategy to get to the tie-up. In pretty much any clinch position, he's a risk to take you down. At UFC Vegas 41, I think he'll be aiming for that.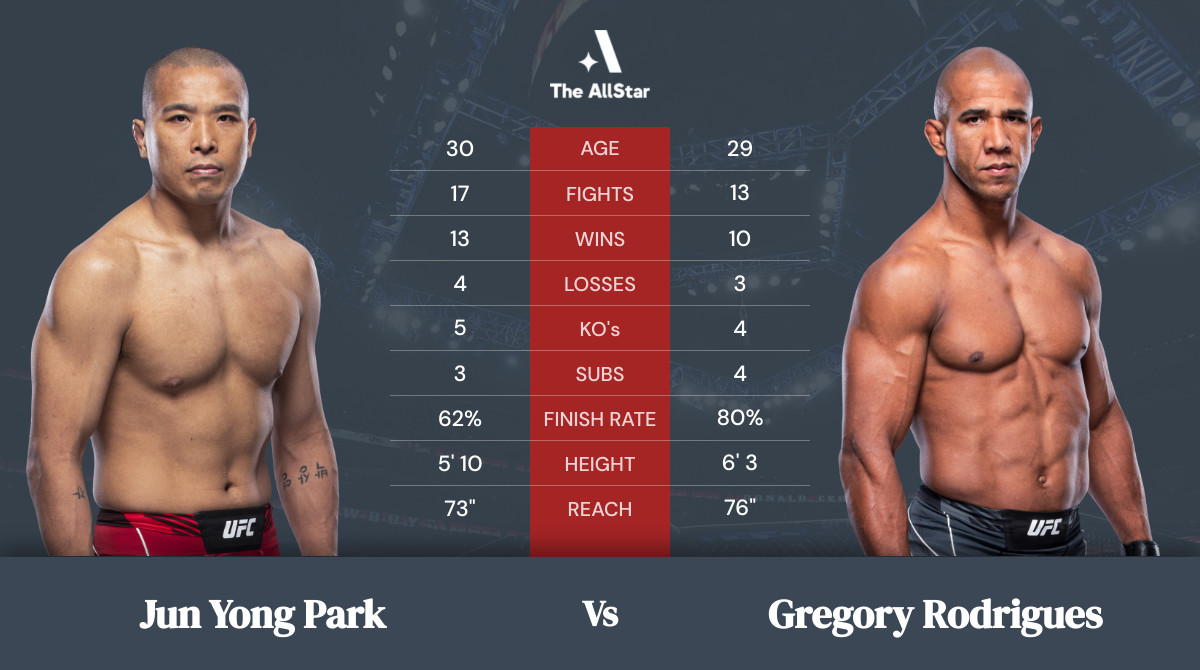 Rodrigues has absolute dynamite in his hands. He's knocked out plenty of prospects that the UFC has been close to signing. Al Montavao was knocked out by him right after appearing on the Contender Series. Josh Fremd was also starched early by the Brazilian. While he gets these KOs from distance, he also mixes it up well in the clinch – landing knees, elbows, and punches to all different levels.
The Final Word
While I do really like the power of Rodrigues, I think he's going to wind up in some clinch exchanges with Park. He's been able to scramble and win all of those battles in the past, but I think the trips from Park are just going to be too much for him. The exhaustion of getting back up, even if he is able to do so, will make it even harder to KO Park late. Park by decision.
The Skinny
This fight at UFC Vegas 41 presents both a very awkward style match-up as well as a very awkward size match-up. Starting with the latter, Oliveira is going to be the much larger woman. Despite Ricci's last fight being at 125lbs, she is only 5'1″. Oliveira is every bit of 5'6″ and fights even a bit longer thanks to her enormous 69″ reach advantage. Unlike other fighters, this really has nothing to do with the broadness of Oliveira's shoulders (reach is measured fingertip to fingertip) – she's all arms.
On the style side, this gets even tougher. On one hand, Oliveira is the longer fighter, but the way she rushes in and throws combinations puts her in close range. Ricci meanwhile is very good at keeping distance, but at 5'1″, how often does she even want to do that? Not to mention, it's Ricci with the judo and jiu-jitsu black belts, which means she'd prefer to have that fight in close.
The Final Word
I'm really high on the abilities of Tabatha Ricci. I think her grappling is superb and she has a bright future. However, I'm extremely worried that she won't be able to bring the fight there. In Oliveira's Contender Series fight with Marina Rodriguez, she held her own on the feet early on. A surprise takedown really threw her for a loop. I think she knows it's coming this time and will stuff enough to win on the feet here. Oliveira by decision.
The Skinny
Neither of these two fighters enters UFC Vegas 41 on a streak to write home about. Staropoli has lost three straight fights in the UFC – all of which he dropped by unanimous decision. Pickett enters having been beaten in his last two, with the most recent loss being a TKO at the hands of Jordan Wright.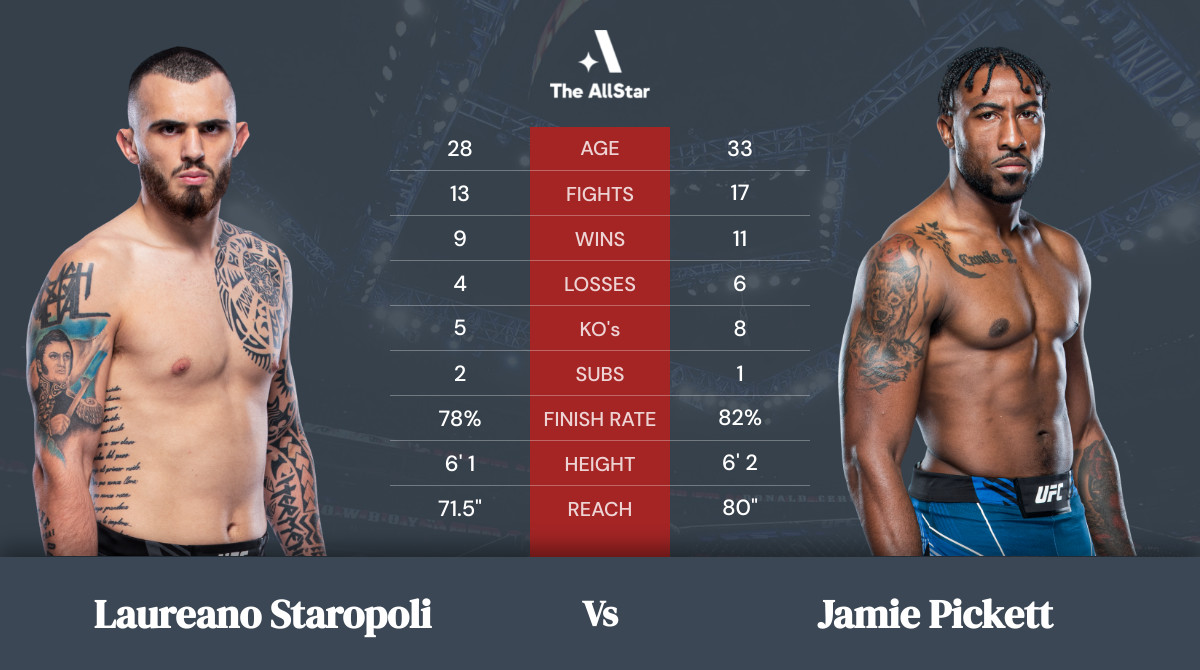 I believe both of these fighters want to trade and see what happens. While Pickett will occasionally work to the mat, both of these guys do prefer to strike. Pickett is a little more forward-oriented in his style. He uses a blitzing combination, which got him the contract off of the Contender Series via a KO of Jhonoven Pati. Staropoli is fine being the counter striker as we saw when he did so with Thiago Alves and ultimately won that by decision.
The Final Word
During that aforementioned blitz combination that Pickett throws, his hands never return to his face. As a result, when he can scare off his opponent, he does excellently. However, when his opponent is the type of guy to plant and counter, as Staropoli is, he's susceptible to getting hit. Staropoli by (T)KO.
The Skinny
In a lot of ways, these two UFC Vegas 41 fighters are quite a bit alike. Both of them like to stand and trade. Both of them have shown to have big KO power, especially on the regional scene. Finally, both of them also have shown to have a relative weakness in takedown defense when faced with high-level grapplers. This was problematic for Jai Herbert in the loss to Francisco Trinaldo before he got KOed. Worthy, meanwhile, nearly lost a decision to Luis Pena due to takedowns before scoring a late guillotine.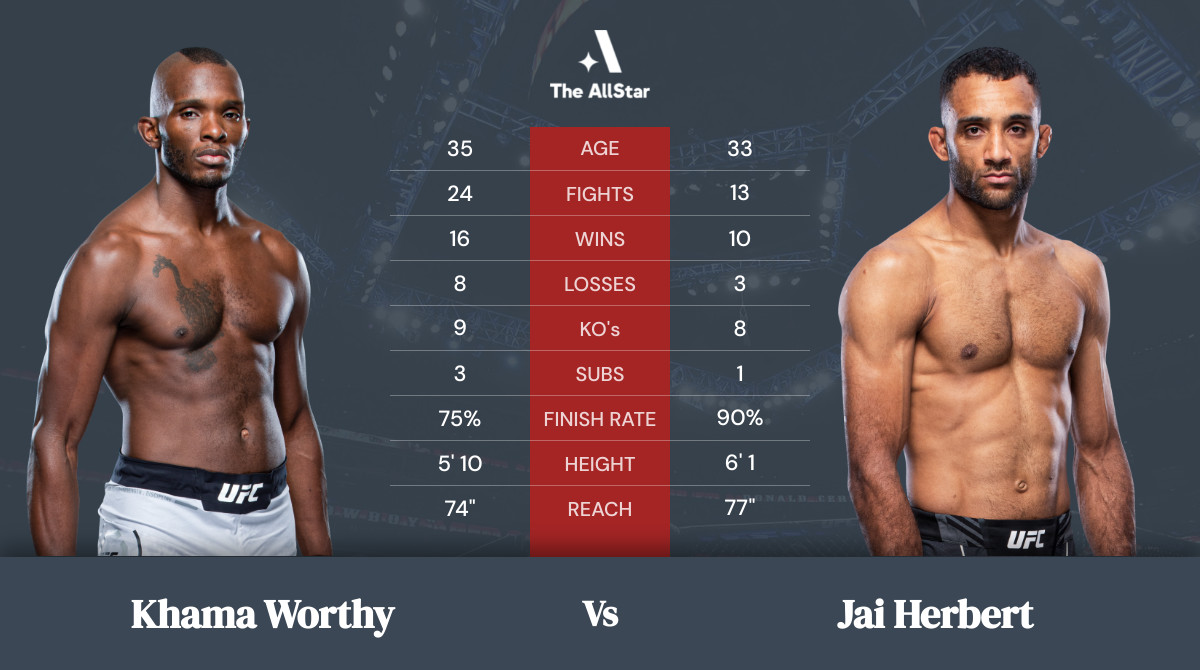 The interplay of styles for this one comes in with how they strike. Herbert tends to get backed up quite a bit more until he finds his rhythm. He usually tries to do this by leaving his lead hand out to measure his opponent. Worthy, meanwhile, is a little more of a trial and error style fighter. He isn't afraid to get in an exchange and see what he has over his opponent. While this can be tricky for opponents to deal with, it did get Worthy caught in his last fight with Jamie Mullarkey.
The Final Word
Ultimately, I think surviving the feeling-out process will be vital for Herbert. While he's not exactly been a risk of getting KOed all the time, he was pretty violently by Francisco Trinaldo. In addition, the way he feels for range seems dangerous for a guy like Worthy who lets it fly. All these things considered, I think it's going to be too dangerous for Herbert. Worthy by (T)KO.
The Skinny
For those unfamiliar with the UFC Vegas 41 newcomer, Onama is a really talented striker and one who, unlike some short-notice replacements, is 100% deserving of being in the UFC. He has an exciting 1-2 combination that turns the lights out. His strikes are also very fast and entirely without loading up, making everything deceptive. It's hard to comment on his grappling due to the level of opponent he's had, but everything I've seen looks technically proficient.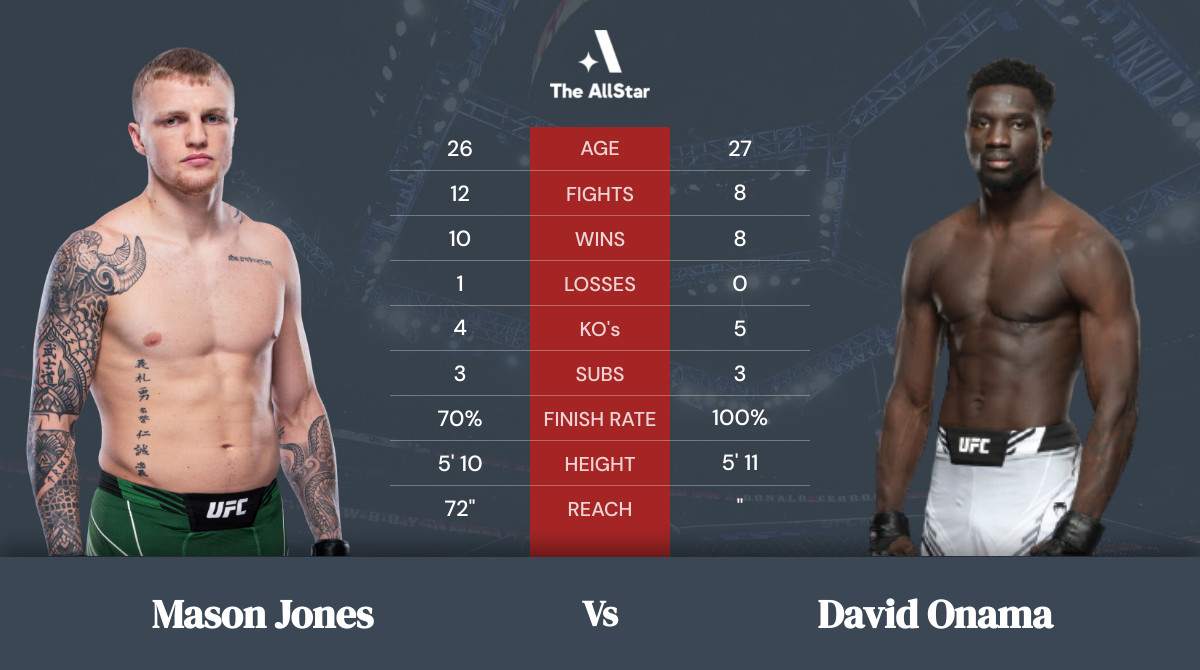 His opponent is a guy in Mason Jones, who just lost for the first time in his career. In January he lost a back and forth war with Mike Davis, a fight in which he really had some issues getting his usual grinding style on Davis. He followed that up by beating Alan Patrick to a pulp, but then taking a no contest due to eye pokes. He was supposed to fight Patrick again at UFC Vegas 41 before Patrick pulled out.
The Final Word
The suffocating style of Jones is one that Onama has never seen. While I did mention he's done everything right so far in that department, this will be a huge step up for him. Also, he has a tendency to defend strikes by backing out of range. Although this works, it means Jones can back him right to the fence with a few subtle moves. I expect Jones to do that and get this fight right where he wants it. Jones by (T)KO.
The Skinny
Jeff Molina is entirely the type of fighter you can tell has idolized James Krause for a lot of his life. He's originally from Krause's neck of the woods and trains under the Glory MMA head coach. You see it in his striking style. He's very loose and likes to mix the odd knee in there. He has great feints that get a bite from just about everybody. He doesn't just use them to enter into exchanges on his own terms, but also to disguise the stuff he plans on throwing in the future.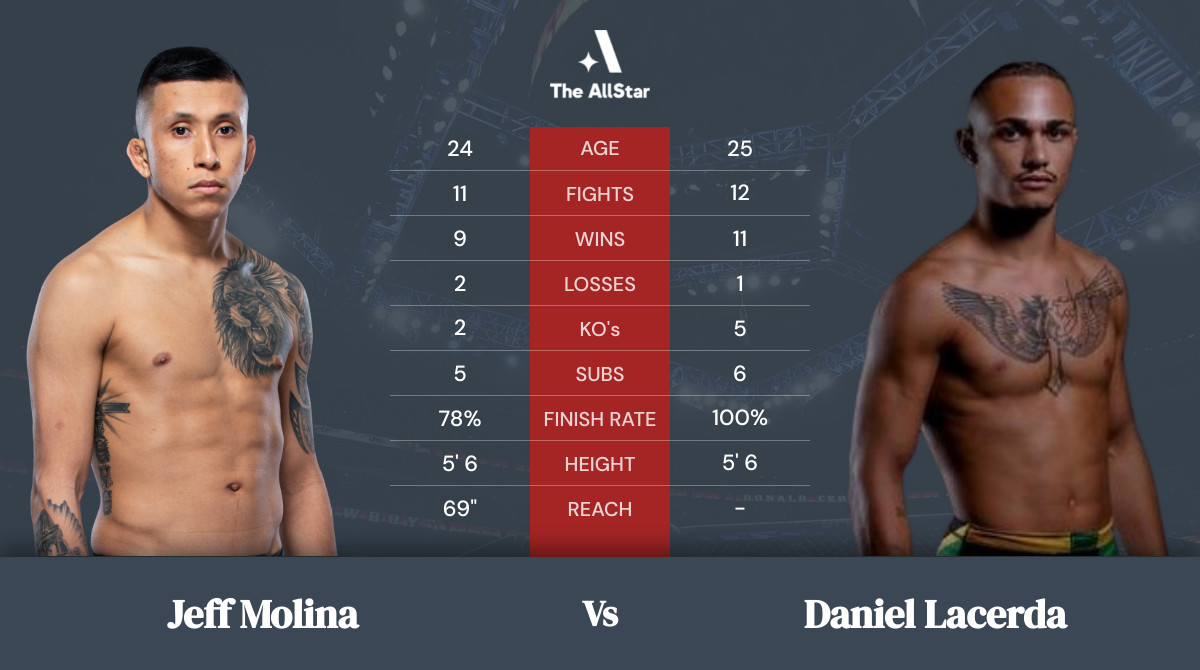 Lacerda is new to the UFC and he comes to us by way of Brazilian regionals. He's fought a few times for Brazil's most notable promotions Shooto Brazil and Jungle Fights. In the tape you can find on Lacerda, it's obvious that he has incredible speed. His kicks are the highlight, with the head kick KO clearly being his intent every fight. He also throws a nice sidekick to the body for spacing purposes.
The Final Word
I think the feints, which typically do great work for Molina, are going to be less effective against Lacerda at UFC Vegas 41, who is a little wild and willing to get hit. Although I worry about how low Lacerda keeps his hands, Molina hasn't finished anyone with strikes in some time. I think the advantage in the striking will go to the wilder Lacerda and the fight as well. This is also my pick for fight of the night. Lacerda by (T)KO.
The Skinny
Randa Markos enters this fight having lost four fights in a row. This has largely come from the inability to take the fight where she wants to. When Randa Markos can out-wrestle her opponents, she's been quite successful. You can see this earlier in her career when she beat Julianna Lima and Angela Hill. However, younger, better strikers have been the bane of her existence as of late.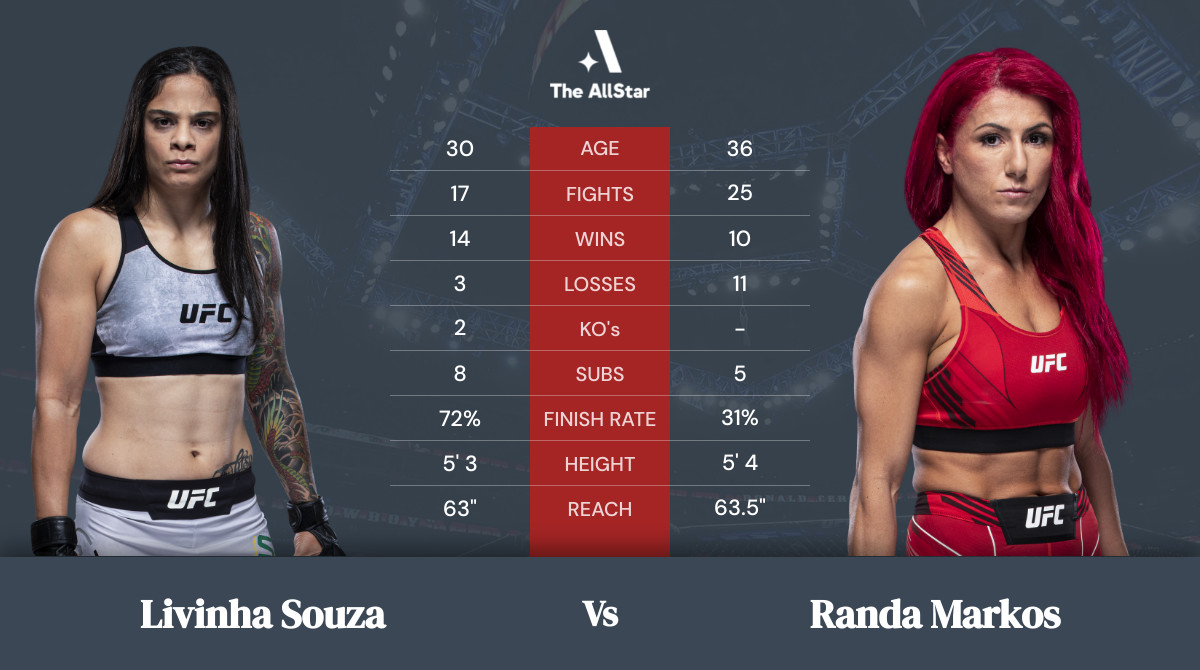 Livinha Souza has some grappling chops of her own. However, she too has had trouble scoring takedowns in her last couple of fights. The difference for her is that she's much more comfortable on her feet than Markos. She's quite light on her feet, particularly early on in the fight. She works in leg kicks nicely and also uses a pawing jab that helps to keep distance when that's what she's looking for.
The Final Word
This fight very may well come down to who can score takedowns and who can't. I tend to think Markos is the most likely one to get what she wants, but I'm ultimately not sure that either will have enough success. As a result, I'm leaning with Souza due to the striking advantage she'll have in this one. Souza by decision.