Wu Yanan looks forward to debuting a new version of herself at UFC Vegas 51 on April 16 with the support of one of the biggest and most successful MMA gyms in the world.
The Chinese bantamweight has committed to staying in the United States for training long-term, Wu revealed in an interview with The AllStar, through her translator Wang Le. She had originally relocated to Team Oyama in California to train since the pandemic began but has once again found a new home at the famed JacksonWink gym in Albuquerque, New Mexico.
Of the move to JacksonWink, Wu said, "Both gyms- JacksonWink and Team Oyama- are both fantastic gyms, have good coaches, good training partners. Like last time I had Carla Esparza at Team Oyama with me, but this time since I am planning to stay in the US for a longer term for training to improve myself. At JacksonWink I knew some coaches here before and I have some friends here. That's why I chose at JacksonWink."
Wu also mentioned several relationships in the gym that have brought connection and positivity to her world. She works closely with coach Joey Villasenor to strategize and break down film. ONE Championship strawweight Meng Bo also trains at JacksonWink, and the two have already become close friends.
Former champion Holly Holm has also been a source of inspiration and confidence for Wu, of whom she remarked, "Holly Holm is a very nice big sister, she takes care of [us] when we hang out in the gym. But in training and sparring, she is super serious, so you should be ready for how strong she is, even though she just came back from a knee injury. Some people think that she's getting older, but she's still very strong. [I] also feel that Holly Holm is still getting better and better every day, so [I] really feel fortunate to get a chance to train with the legend."
Although Holm's accomplishments in the UFC far outshine Wu's, the 25-year-old Chinese striker was surprised at how well she hangs with Holm in practice: "I think that it's a very nice experience to train with her. Before I came here, I thought that Holly Holm, a former champion is too far away from me. I don't know if I'm even close to her, but now we're training together every day, we spar and we drill, and that makes me feel that we're pretty close….That gives me confidence. To spar with Holly Holm is a very inspiring experience."
"Mulan" will need all the support possible to battle Mayra Bueno Silva on April 16th. Bueno Silva is moving up to bantamweight, and Wu was confident that she'd enjoy a strength advantage over the Brazilian. Although her performances have been up and down, Wu said, she knows that Bueno Silva is tough mentally and physically.
Come fight night, Wu will lean on the analytical minds at JacksonWink to defeat the BJJ purple belt: "Coach Joey and the team at JacksonWink has given me a game plan and I think the number one thing for me is to execute the plans. I believe I will win this fight, and that's a fight I have to win so I believe in myself that I will take the W this time."
---
Fighter profile
"Mulan" Yanan Wu is a 25-year-old female fighter from China with 12 pro wins and 4 losses. Wu is scheduled to fight Mayra Bueno Silva at UFC Fight Night: Luque vs. Muhammad 2 on Saturday, April 16, 2022.
Yanan Wu's recent form coming into this matchup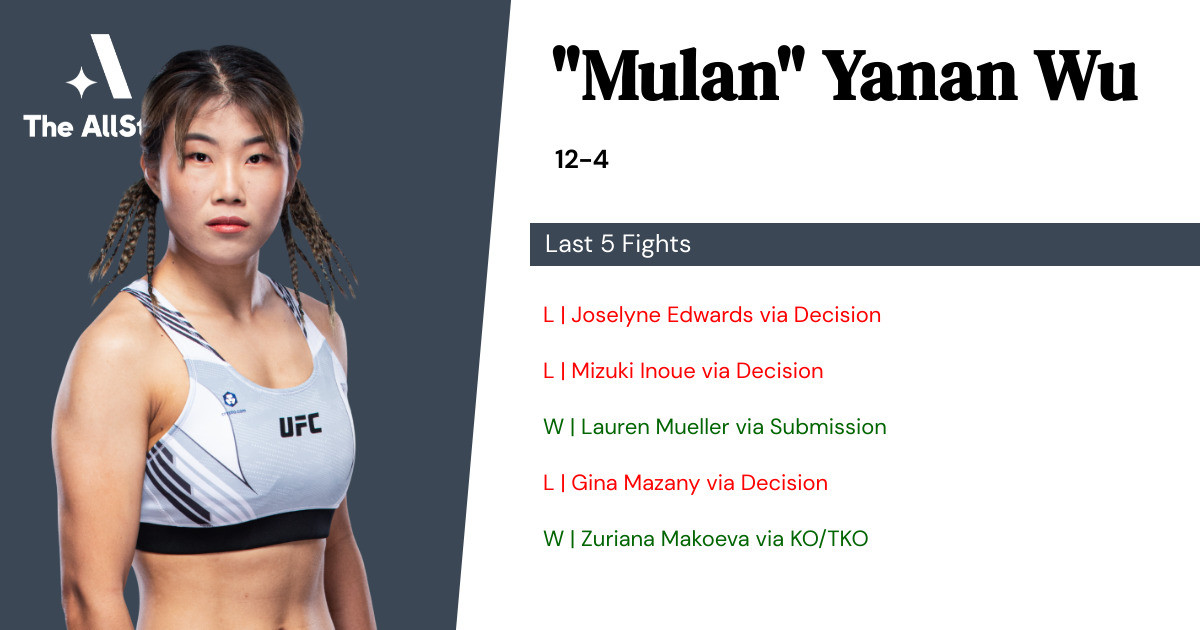 Yanan Wu has gone 2-3 in the last 5 professional MMA fights.
Loss vs Joselyne Edwards • Decision R3 5:00 • 2021-01-16
Loss vs Mizuki Inoue • Decision R3 5:00 • 2019-08-31
Win vs Lauren Mueller • Submission R1 4:00 • 2018-11-24
Loss vs Gina Mazany • Decision R3 5:00 • 2017-11-25
Win vs Zuriana Makoeva • KO/TKO R2 3:19 • 2017-03-11
Yanan Wu's next opponent: Mayra "Sheetara" Bueno Silva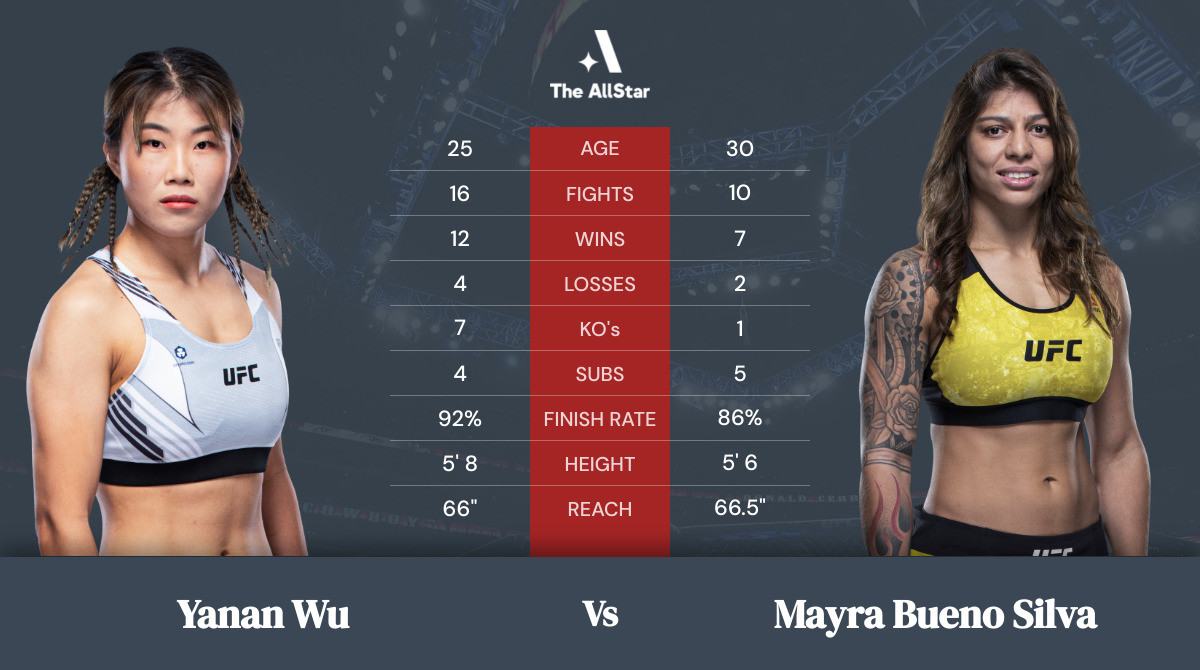 Mayra "Sheetara" Bueno Silva's recent form coming into this matchup
Mayra "Sheetara" Bueno Silva is a 30 year old female fighter from Brazil with 7 pro wins and 2 losses. Bueno Silva is scheduled to fight Yanan Wu at UFC Fight Night: Luque vs. Muhammad 2 on Saturday April 16, 2022.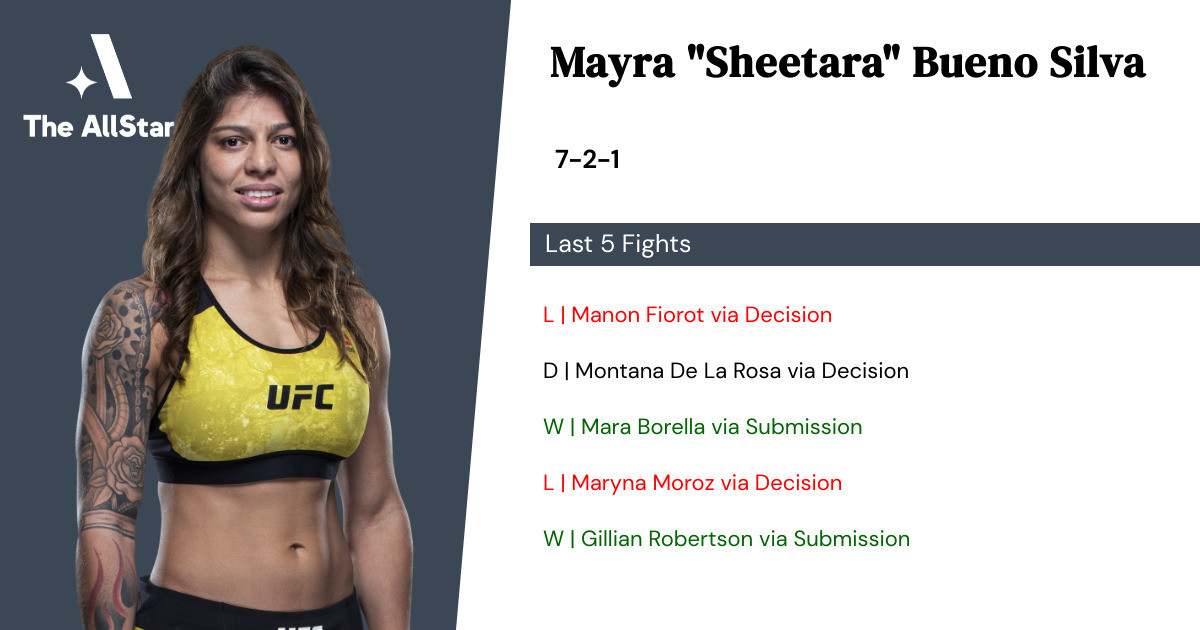 Mayra Bueno Silva has gone 2-2-1 in the last 5 professional MMA fights.
How to watch and bet on Yanan Wu vs Mayra Bueno Silva
Keep track of all the latest odds and line-movements at our bout page for this matchup.