Brian Kelleher just signed a new four-fight deal and is riding high on back-to-back victories.
The Long Island native's next test is against unbeaten pro Umar Nurmagomedov on March 5th at UFC 272 in Las Vegas, Nevada.
Speaking recently to The AllStar's John Hyon Ko, Kelleher struck a respectful tone toward his next opponent, whose cousin is UFC lightweight legend Khabib Nurmagomedov. Notably, "Boom" sees some stylistic differences compared to Khabib and other Russian fighters.
"For me without the name, I don't really see the same thing from these other Russian fighters that I do with him," Kelleher said. "Yes, he does seem to like to grapple and shoot takedowns. Time those shots and stay tight with his grappling. But to me, he seems to be primarily a kickboxer. With that karate stance, kind of throw that checkmark kick a lot, switch stances and stuff. But he's sharp. He's not the most aggressive guy on the feet but he knows what he likes to do."
"He has long legs and uses those legs to keep you outside. When he sees you coming in and he feels like he's getting pressured. That's when he'll look for those takedowns. Really tries to take your back and work position more than anything else. He does have some submissions but he seems to just want to get position. Not a really heavy ground and pound type of guy."
"But everyone's good in the UFC. To me, it's just another fight against another good guy that's undefeated. That's a big motivation for me."
Mystic cornerman
The fight will take on a very different complexion if Conor McGregor accepts Kelleher's much-hyped invitation to corner him against Nurmagomedov. It would add a new dimension to the famous beef McGregor has with Khabib, who will be in his cousin's corner against Kelleher.
The idea got some traction via social media shares and digital news coverage. But it was all fun and not a personal thing for Kellher. It was just a matter of giving fans something to get excited about.
"Why not shoot my shot and see if I can get some attention going," Kelleher stated. "This only builds these fights more. Fights like this we're not like two big-name guys. I mean, he has a good name because the Nurmagomedov name is already cemented in history.
"But we're two fighters that are not really big superstars and sometimes you gotta do stuff like to kinda stir the pot and build a little bit of hype behind these fights so that people do get excited about it. And then the UFC sees that and that's good business moves. That's what I was looking to do with that."
Aggression and power
It all comes down to two men getting locked in a cage and settling things there at the end of the day. To that point, the fight prediction Kelleher offered indicates we may see wrinkles to his game that we have yet to see inside the confines of the Octagon.
"Just have to be myself," Kelleher said. "I always go out there and every time I fight, I always feel like there's more to me. I do well but there's more to me. Have a lot more aggression. I do have a lot of finishes but I believe in my power. Know if I touch guys on the right spot, it's gonna hurt or they're going to go down. Going to gain their respect. I think that's one of the key things in this fight. Just gain the respect early. Make him feel my pressure and make him kind of panic.
"I think undefeated guys have a lot of pressure. He wants to keep that 0 and wants to stay undefeated with that name. Khabib went undefeated his whole career. I'm sure that's in the back of his mind to kind of repeat the whole thing. I'm out there to steal that and that's my motivation. Khabib might have to come out of retirement and redeem some cousin defeat right now (laughs). I'll go up to 155 and take a beating for $5 million, why not?"
---
Fighter profile
Brian "Boom" Kelleher is a 35 year old male fighter from United States with 24 pro wins and 12 losses. He most recently fought Kevin Croom at UFC Fight Night: Kattar vs. Chikadze on Saturday January 15, 2022.
Kelleher's recent form coming into this matchup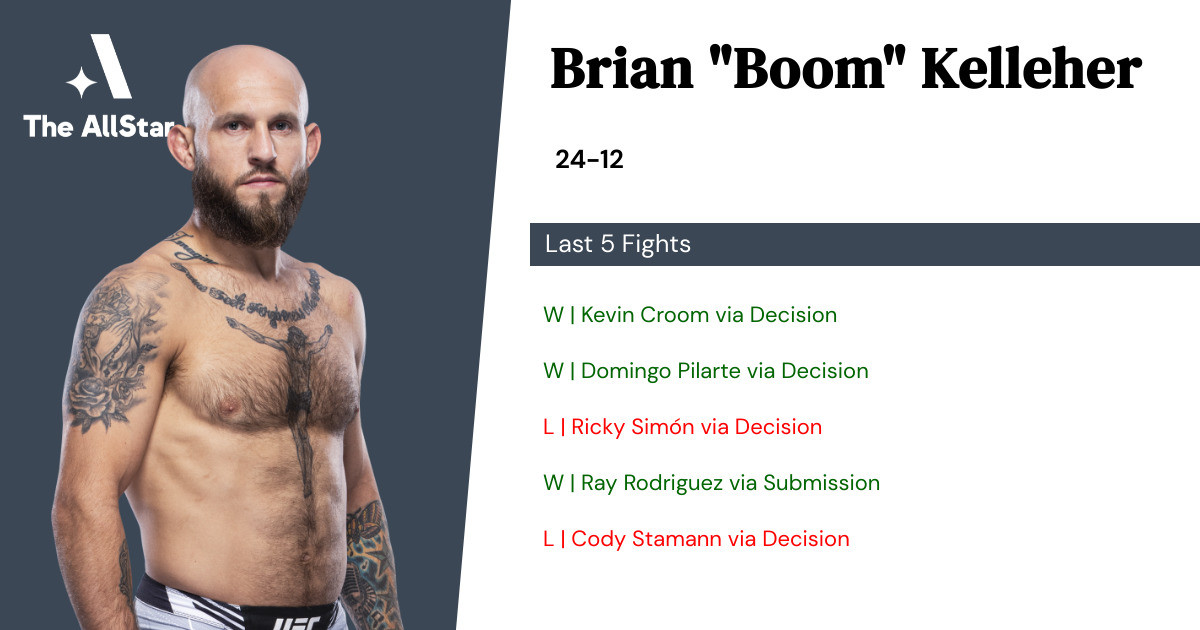 Kelleher has gone 3-2 in the last 5 professional MMA fights.