Time is flying by for UFC bantamweight Julio Arce.
Grinding his way into the UFC via Dana White's Contender Series, he immediately jumped into the deep end against current featherweight contender Dan Ige, winning a war. On the verge of his eighth UFC fight, he sees a familiar pattern entering a matchup with the debuting Daniel Santos. Except for this time, he hopes to put the young hopeful in his place.
Arce expressed his excitement for the fight and welcomed the opportunity to compete against a streaking up-and-comer.
"They're throwing a young prospect at me, and I'm ready for it man," Arce said. "I came back after my last fight, it didn't go the way I wanted, and I made my adjustments. I went back and worked on what I had to work on, and now we're back at it. That's it. He's the person in front of me that I have to beat in order for me to move forward…whatever camp he's from, it's whatever."
Despite their fight at UFC 273 being Santos' first fight in the promotion, he acknowledged the confidence the UFC has in the Brazilian as a prospect by originally matching him up with veterans like Timur Valiev and Marcelo Rojo. At this point, however, Arce doesn't believe anything "Willycat" can throw at him will surprise him.
Santos enjoys spinning techniques, but Arce's experience and training environment have him covered.
"At Tiger Schulmann's, we started a long time, back in the day- a little bit of Kyokushin karate and stuff like that, so we got a bunch of people in the room who love to throw spinning stuff like that, and make that part of their style…It's something that we're trained to be aware of but it's not something I haven't seen before," Arce said. "Especially back in the kickboxing days, you know, people would throw spinning hook kicks, spinning crescent kicks, they'd just spin like crazy."
Arce also sees a lot of young fighters poised for greatness- like his opponent Santos- at his side at Tiger Schulmann's MMA in New Jersey. While Arce is at the peak of his MMA career, he gets the perspective of hungry fighters on the way up every day in the gym.
He mentioned a host of hungry youngsters in the gym who recently turned professional or are about to turn professional, such as Rob Varricchio, Mansher Khera, Ryan Burgos, Christian McAuley, Ricardo Fuentes, and Gilbert Rosario.
Propelled by the youth of his team, Arce is ready for fight week to arrive. Arce was raised in Florida and is thrilled to fight in a place so close to his roots.
"I'm just in there to go," Arce revealed. "Whether it's a crowd or no crowd, it doesn't matter. It's me and him in that cage, and we're there to fight. All the talking is going to be done in that cage, and I can't wait for it."
---
Fighter profile
Julio Arce is a 32 year old male fighter from United States with 17 pro wins and 5 losses. Arce is scheduled to fight Daniel Santos at UFC 273: Volkanovski vs. Korean Zombie on Saturday April 9, 2022.
Julio Arce's recent form coming into this matchup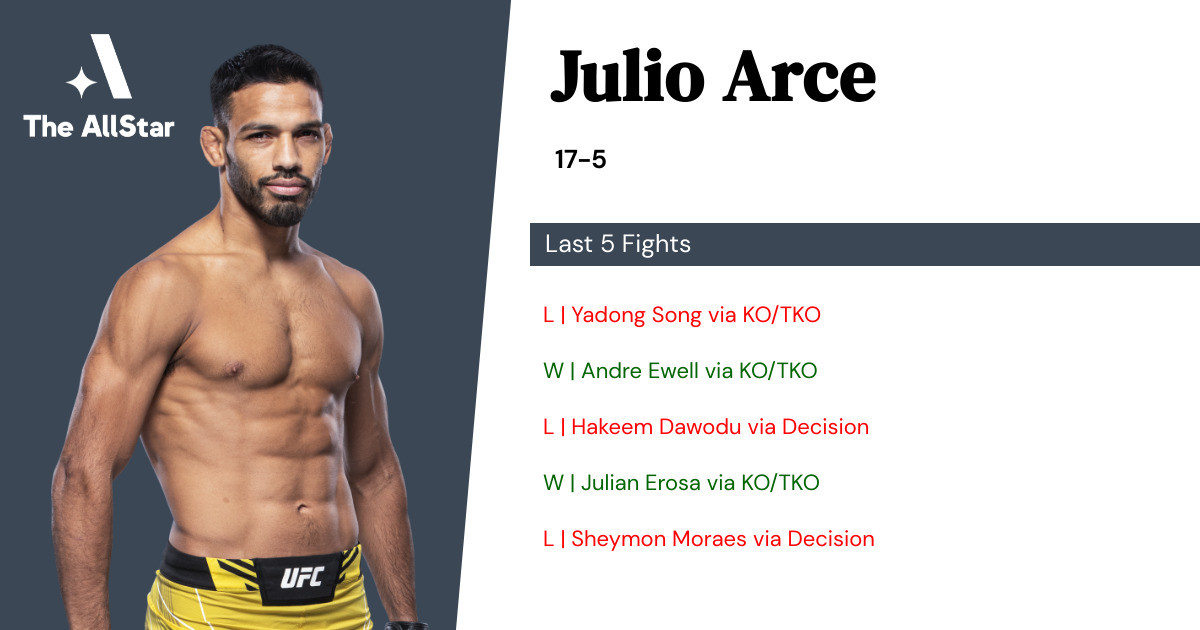 Julio Arce has gone 2-3 in the last 5 professional MMA fights.