Five African nations will be at the FIFA World Cup 2022 finals, having gone through CAF qualification. 2021 Africa Cup of Nations champions Senegal are likely to advance the furthest in Qatar. But can they do better than ever before?
Led by a Lion – Head Coach Aliou Cisse
Head coach Aliou Cisse is nothing if not passionate about his nation's football. And what it means to represent your country. He speaks from experience and first-hand knowledge, having captained the Lions of Teranga himself. He wore the armband during Senegal's greatest successes, until this year – when as manager he led them to Africa Cup of Nations victory.
In 2002, Cisse became the first captain to take Senegal to an Africa Cup of Nations final, only to lose on penalties to Cameroon (he missed one himself).
Despite the disappointment, he and his team picked themselves up and readied themselves for a bigger stage. 2002 was the first time Senegal qualified for the World Cup finals.
In the 2021 competition, Cisse's fifth Afcon campaign – two as a player, three as a manager – he was back in the final. His players respond to his passion and love for representative football, combined with a steadfast, stoic approach in the face of at times heavy criticism.
After their semifinal win, Sadio Mane said of his coach: "I think this man deserves all the success he gets because he is the most criticised coach I have ever seen in my life, but he never gives up." That tenacity runs deep in Cisse.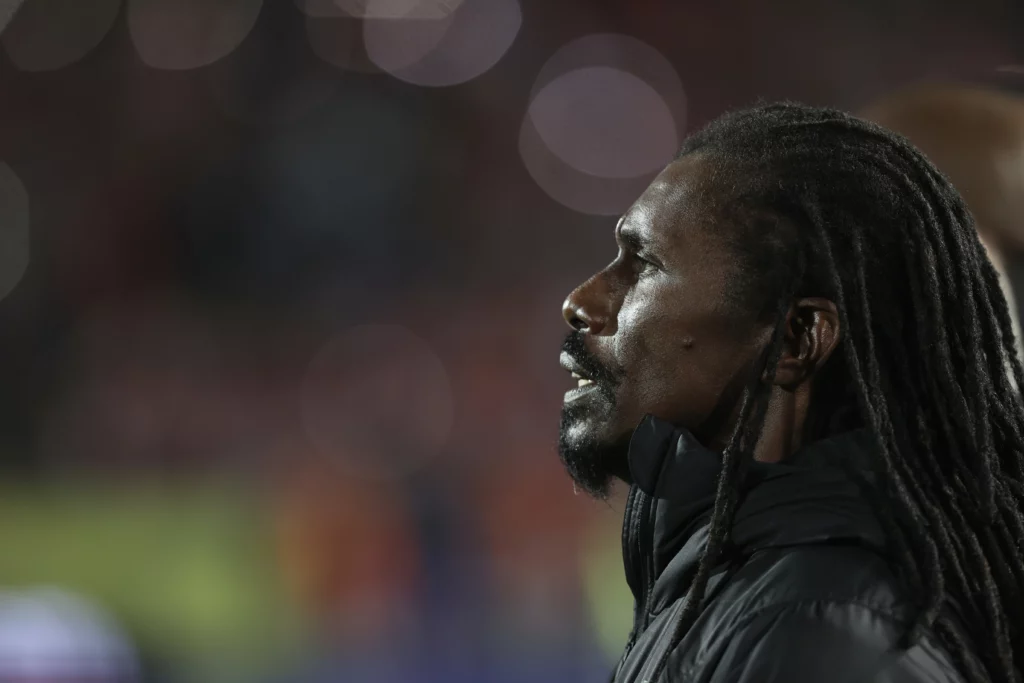 Download the AllStar App
Stay up-to-date with all player, team and tournament news. Available for download at both the App Store and Google Play.
Get all your World Cup news sent directly to your phone – free.
A Serious Senegal World Cup Squad
Underestimate the talent in this Senegal squad at your peril. Some play for clubs at the highest level across Europe, bringing top-flight experience to the table. Others offer youthful enthusiasm, which means fresh legs and a desire to shine while the whole world watches. A potent mix for any opposition to contend with.
Class Up Front
Senegal's most famous footballer at the moment is Sadio Mane. The former Liverpool star is already off to a great start at his new home in Bayern Munich. He was Player of the Tournament in the Africa Cup of Nations and will lead his country's charge up front.
At 30, Mane is one of the senior members of the squad – and the superhero that every Senegalese kid wants to be when they grow up.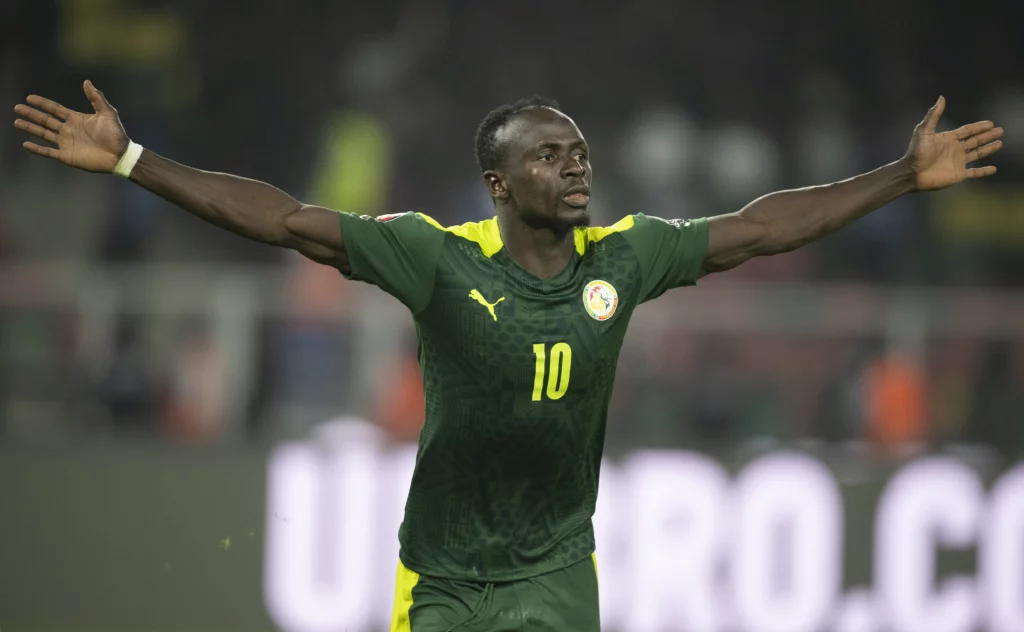 Mane can expect support from 24-year-old winger Ismaila Sarr, the subject of much transfer market chatter. Currently at Championship side Watford, the latest team to show rumoured interest is Manchester Utd.
Sound in Midfield
In the midfield, look out for 22-year-old Iliman Ndiaye. At Sheffield Utd, he has been touted as a potential answer to Liverpool's Roberto Fermino dilemma. As an attacking midfielder, his desire to push forward should make his presence known.
Younger still is Pape Matar Sarr, who will be barely 20 when he gets to Qatar. He is on the books at Tottenham but played the 2021-22 season at Ligue 1 side Metz.
Aliou Cisse can balance this youth with experience in the shape of Leicester City's Nampalys Mendy and Cheikhou Kouyate, who can tuck in to play more defensively. Kouyate is a free agent having left Crystal Palace and may yet move to Nottingham Forest.
Solid at the Back
In the centre of defence is captain Kalidou Koulibaly – a world class defender in anyone's book. His strength on the ball and in the tackle is remarkable, and that's not all he can do. After his GBP33 million deal from Napoli, he recently opened his Chelsea goal-scoring account in spectacular fashion.
Alongside the skipper, in the middle at the back, PSG's Abdou Diallo. Koulibaly is 31, Diallo 30: wiser, older, more experienced heads to marshall the defence and keep composure when required. As solid a pairing as any coach could wish for.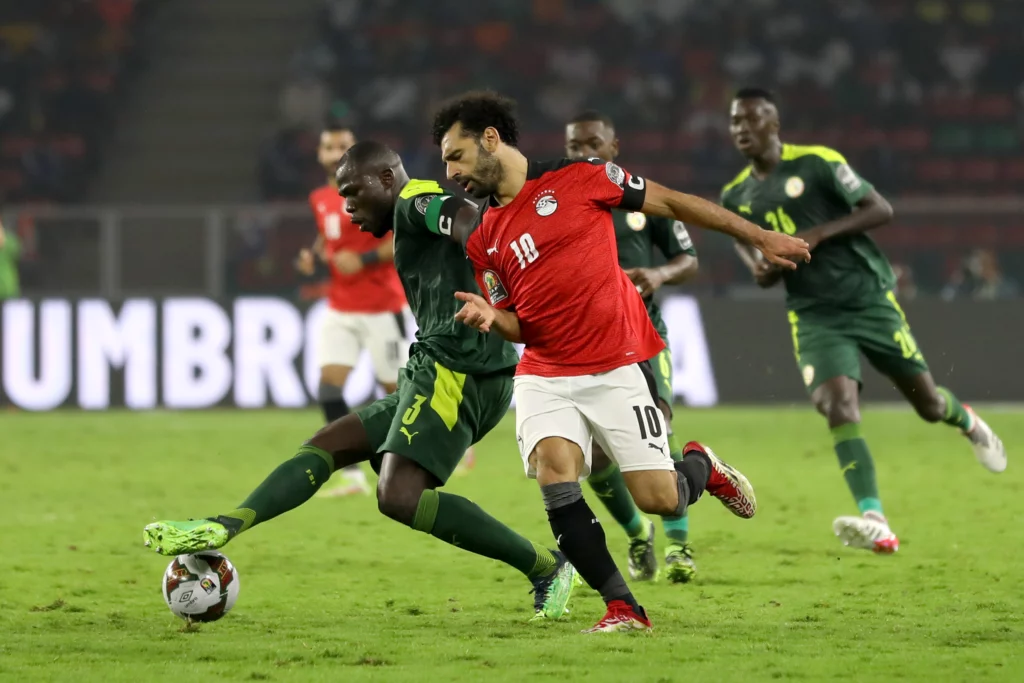 Wide of them, is Bouna Sarr, right back for Bayern since 2020, who can also play higher on the wing. Worryingly for any opposition, that's a talent he shares with Saliou Ciss at left back – a role he fulfils for Nancy in Ligue 1.
That could spell trouble for opposition midfielders in transition on the quick counter attack.
With a Star Between the Posts
New team mate with the captain, Chelsea keeper Edouard Mendy stands in goal. Voted FIFA Best Goalkeeper in 2021 and best keeper in the Africa Cup of Nations. Hard to ask for much more.
Is this enough talent to get beyond the quarterfinals?
---
Senegal 1-0 France: World Cup 2002
On Matchday 1 of the 2002 World Cup, the footballing world was treated to something very special in Seoul as Senegal produced one of the greatest upsets on the opening day of the tournament.
France were the reigning World Champions, having lifted the title on home soil four years earlier, 3-0 victors over Brazil.
The team that day was stacked with superstars – Zinedine Zidane, Thierry Henry, Patrick Vieira, David Trezeguet, Emanuel Petit, Djibril Cisse, Fabien Barthez and captain Marcel Desailly.
For added spice, there were some undeniable facts: France is Senegal's former colonial power. Every member of Senegal's team that day played his professional football in the French league. And the team was coached by a Frenchman, Bruno Metsu.
In the 22nd minute the first real chance fell to Trezeguet, who rattled the right hand upright having been played in by Henry. Soon after, in the 30th minute, El Hadji Diouf broke down the left and crossed into the box. The French defence made an uncharacteristic meal of it, and Papa Bouba Diop pounced to scramble the ball past a diving Barthez.
In the words of Bruno Metsu, "It wasn't a pretty goal, but it was a very important one."
Despite a spirited second-half from both teams – Khalilou Fadiga almost making it 2-0 but hitting the crossbar 19 minutes in, and Henry doing the same just 90 seconds later – France couldn't equalise.
A last chance fell to Henry as 45 minutes approached, his strike forcing a great save from Tony Sylva, the third-choice keeper who played a blinder that day. A late corner offered no real threat, and at the final whistle Senegal achieved a win that is celebrated to this day.
After a 1-1 draw with Denmark and a 3-3 draw with Uruguay, Senegal progressed from Group A to face Sweden, who topped Group F. A 107th-minute golden goal from Henri Camara put them into a quarterfinal against Turkey, where the dream ended in extra time.
---
Senegal World Cup Group – Group A
Senegal are in Group A for the tournament, alongside host nation Qatar, the Netherlands and Ecuador.
FIFA world rankings alone would suggest that the Netherlands (#8) and Senegal (#18) will progress over Ecuador (#44) and Qatar (#49). The question then becomes whether Senegal can beat the Netherlands for top spot in the group.
The Netherlands will arrive with a point to prove in Qatar, having underwhelmed on the bigger soccer stages in recent years, failing to qualify for Russia 2018 and exiting Euro 2020 in the Round of 16. However, maybe this provides a perfect opportunity for Senegal to capitalise on their momentum.
Read our Senegal vs Netherlands FIFA World Cup 2022 – Preview, Analysis.
One thing we do know is that this side has enough talent and firepower to test anyone on their day. That fact alone should keep the Netherlands on their toes.
While the Dutch will go in as heavy favorites there could be value in backing this underdog.
---
Who Do Senegal Play Next?
Teams that finish top of their group play the team that qualified second in their respective, corresponding group.
The draw sees the winner of Group A play the team that finishes second in Group B. The team that finishes second in Group A faces the winner of Group B in the first knockout round.
In Group B is England, the USA, Iran and Wales. Again taking world rankings, England (#5) and the USA (#14) should qualify over Wales (#19) and Iran (#23). England are clear favorites, though it's a very close call between the USA and Wales.
If results of both groups follow rankings-implied expectations, second-placed Senegal will face first-placed England. The Netherlands, topping Group A would face either the USA or Wales.
You can be sure that going into the opening game of the tournament, both sides will be well aware that they are also playing for the right to avoid England in the first knockout stage.
Of course, this current England team is far from unbeatable, but it would be an ask. Against either the USA or Wales, you'd be foolish to dismiss Senegal's chances.
Another Quarterfinal Run?
Still, should Senegal win their first knockout round match, who would they likely meet next?
Assuming Senegal qualify second behind the Netherlands in Group A, their Round of 16 match is number 51. The winner of match 51 plays the winner of match 52, between the top team in Group D and second team in Group C.
Group D holds France, Australia, Denmark and Tunisia. Group C consists of Argentina, Mexico, Poland and Saudi Arabia.
France are favorites in Group D, with Denmark likely to finish second quite comfortably; Australia and Tunisia are outliers.
Argentina are favorites to top Group C, and we expect some great football in the matches against Mexico and Poland.
Read our previews for both Argentina vs Poland – as Messi goes up against Robert Lewandowski – and Argentina vs Mexico.
If France tops Group D and Argentina tops Group C, match 52 is between France and either Mexico or Poland.
Wouldn't a quarterfinal rematch against France be something special? Sport sometimes has a way of throwing up circular, poetic fixtures.
It may be a long shot, but if you can't dream big on the biggest stage, when can you?
---
---
The Future's Bright
We can't get enough of the kids in this video, courtesy of Al Jazeera News. Hell of a way to perfect that first touch.
Not a baby elephant in sight.
---
How does CAF qualification work?
Qualification for the FIFA World Cup varies from continent to continent. In Africa, the governing body is the Confederation of African Football (CAF). There are 54 FIFA-affiliated football associations that fall under the CAF purview. The structure for 2022 World Cup qualification is:
First round: The 28 teams that are ranked 27 to 54 play home-and-away matches over two legs. The 14 winners advance to the second round.
Second round: The teams ranked 1 to 26 are joined by the 14 first-round winners. These 40 teams are divided into 10 groups of four, which play home-and-away round-robin matches. The 10 group winners advanced to the third round.
Third round: The 10 second round group winners play home-and-away matches over two legs. The five winners qualify for the World Cup.
How many teams from Africa qualify for World Cup?
CAF qualifying leaves places for FIVE teams from Africa to qualify for the World Cup.
Which African teams qualified for World Cup?
Five African teams qualified for World Cup 2002: Senegal, Tunisia, Morocco, Cameroon and Ghana.
More FIFA World Cup 2022 coverage from The AllStar