The Road to UFC is the UFC's latest addition to their current array of talent feeder programs. Follow our coverage as we help unearth exciting new prospects from the Asia Pacific region embarking on their own Road to UFC.
This weekend, all eyes turn to Abu Dhabi for the Road to UFC semi-final rounds.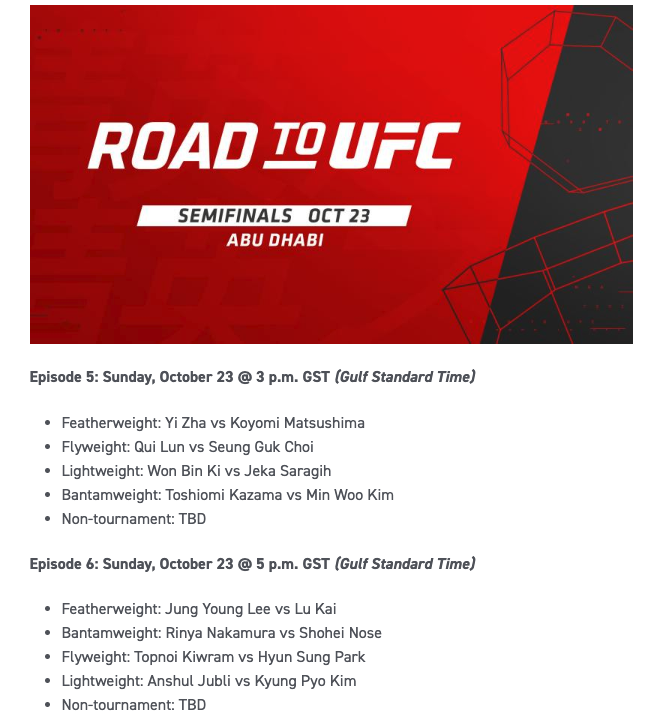 Latest Road to UFC stories
Derrick Lewis and Serghei Spivac battle in a heavyweight main event of UFC Vegas 68…
What is the Road to UFC?
The Road to UFC is a 'win and progress' contest, which aims to give top prospects in Asia a clear path to the 'big leagues.'
The first phase of the tournament was held in Singapore on June 9-10, 2022. It consisted of four separate episodes split over two days inside the Octagon at the Singapore Indoor Stadium.
Each event showcased five bouts; four from one of the four given tournament divisions – and one from a weight class not represented in the tourney that features highly touted up-and-comers from the region.
The semi-finals of the program are slated for later this year, with the finals of all four divisions to air on a UFC Fight Night card that's yet to be announced. All winners from each separate division will be awarded a UFC contract on the night the finals take place.
The four tournament divisions:
Each division will feature eight-man brackets.
Round 1 (quarterfinals) – June 9 & 10
Four fights in each weight-class (plus one non-tournament fight, a total of five fights per card); the winners moving on to the semifinals.
Round 2 (semifinals)
Slated for Abu Dhabi on October 23, the semi-finals feature two fights in each division; the winners of these bouts will move on to face each other in the finals.
Round 3 (finals)
Taking place on the preliminary card of a yet-to-be-announced UFC Fight Night card later in the year, the winner of the final bout in each division will be awarded a UFC contract on the night the event takes place.